10 Toddler Boho Bedroom Ideas
10 toddler girls boho bedroom ideas that are great for rentals and budgets. While sharing our own $500 bedroom makeover.
I have been meaning to share this quick makeover for weeks now, but with all the traveling and young kids, life just got too busy. But, today we're excited because we are finally going to reveal this renter-friendly makeover with you.
If you missed it, we just spent the majority of the winter in Florida at my parent's vacation rental.
You can see the full Florida Vacation Rental Tour
While we were there for almost three and a half months, I planned on doing at least one renter-friendly makeover on one of the rooms. I thought it was a fun way to get creative during that time, and kind of stretch the design muscle. While providing our readers who are also renters with some tangible tips and inspiration for making the most of their space.
So before we get started on the details and how to's of designing a rental bedroom, I wanted to share the post I wrote about my design plan. I'm really excited to show you how we were able to pull this design plan together on a $500 budget.
Toddler Boho Bedroom Decorating Ideas
We are calling this our toddler boho bedroom makeover, only because I didn't know what else we would call it. Part of me wanted to call it a brown room makeover because of the obvious paint choice.
The biggest hurdle for us when designing this specific rental was the paint color. Since it was a rental and we weren't able to change the paint color so we had to problem solve a way to add some fun elements.
Specifically, we wanted to show you how to add some personality without changing the wall colors or repainting. So in order to do this, we chose to use wall decals, and I am so happy we did because they turned out amazing.
Walls Decals
Not only were the wall decals from Wall Candy YYZ (a Canadian company), but they were really high quality, easy to install, and super easy to remove.
Instead of the high cost of wallpaper, the best idea for a big impact on a budget was using some pretty wall decals. I also wanted to mention that Esty is one of the best resources when it comes to decals.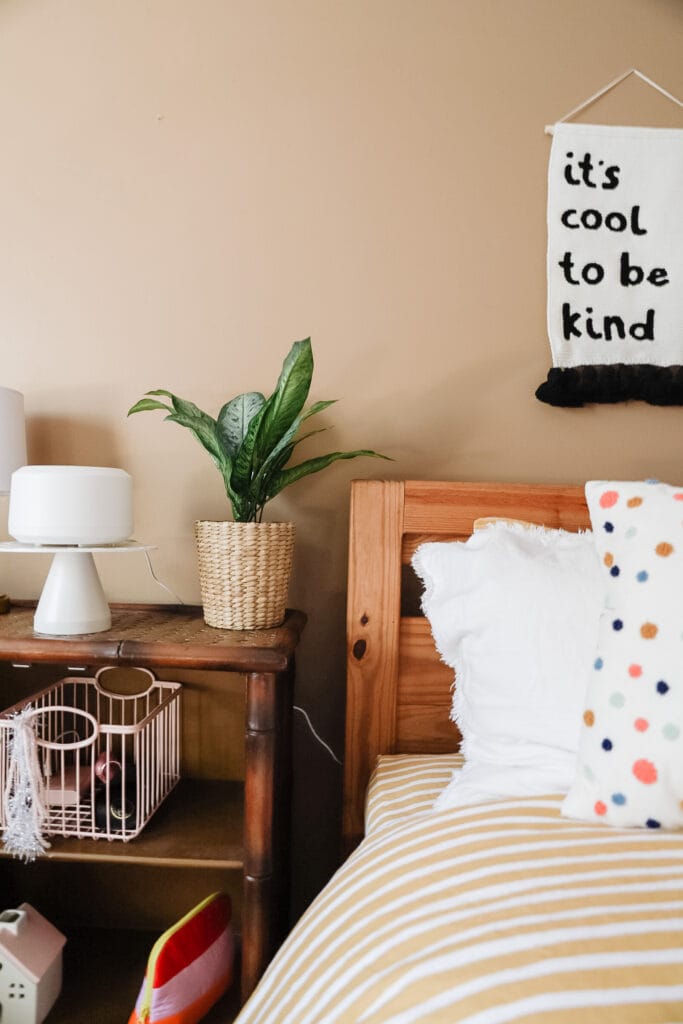 Add Plants
Regardless of whether you choose a real or faux plant, you should always have a pot waiting for it. I've seen too many people make the mistake of buying a faux plant and not the pot. It makes it look cheap and defeats the entire point of buying a "good looking fake plant".
Buying faux plants (or real) doesn't have to be expensive. This option we found some great ones from Target, and Pottery Barn.
But plants are always an inexpensive option for making over any room, it's why we love adding a bit of greenery every chance we get.
Wall Hangings
Wall hangings are another fun way to add texture and color to a child's room, without making any permanent changes of course.
In this case we wanted something that would take your eyes away from the brown walls.
Since Target was our go-to shop for this makeover, it's where we found this great inexpensive wall hanging.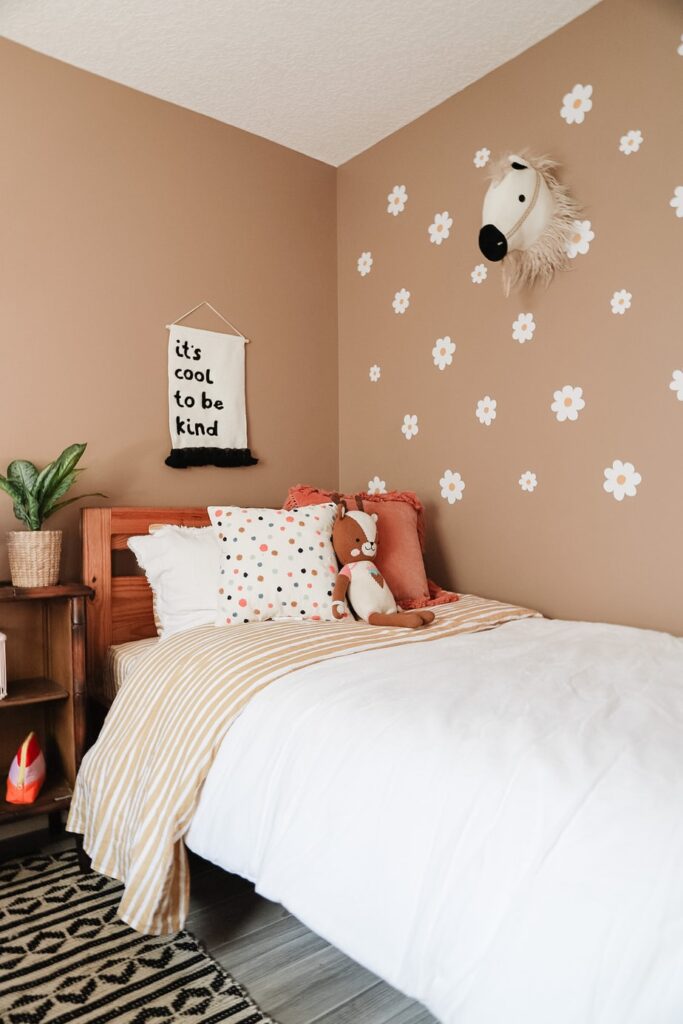 Thrift Decor
For almost every room we design I like to add at least one piece of thrifted decor or furniture. Buying used is an amazing way to keep the costs down, stretch your creativity, and of course, protect the environment.
Can you guess what we thrifted? If you follow along on stories you may have already seen it.
I think it's called a horse head? I'm not sure if that's right, but this $5 wall decoration was perfect. I like the way it turned out and so do the kids!
Oversized White Duvet
The reason why I say to buy an oversized duvet is that it looks more expensive than it is. But it's also something that your child will use for years to come, and you can take with you where ever you move.
For this makeover, we choose to go with a queen on a twin bed.
We also found the safest and highest quality linen blend duvet from Target. We couldn't have been happier with the quality of it.
Fun Sheet Set
I wanted to add a pop of color to the sheet set rather than the duvet. That way you could easily change out the sheets without having to go spend more money on a duvet.
In this case, we found some really cute yellow striped sheets from Indigo and loved how well they worked with the beigey-brown wall color.
Patterned Rug
In situations where it's impossible to add color to the walls of a rental, the best idea is always to add color to the rug.
This time we went with a Chevron Woven Area Rug that would go right beside the bed.
I'll be honest, it would have made more sense to go with a larger rug that fits perfectly under the bed. However, this rug we originally wanted was back ordered.
Baskets
Baskets have become an integral part of every makeover, especially when we're designing a kid's room. This toddler boho bedroom wouldn't be complete without at least one or two baskets.
We use baskets to hide clutter, papers, toys or to stay as organized as you possibly can.
Diffuser
We've been using diffusers for years now, and they have completely replaced our love of candles. Not only are they toxic-free but don't have chemicals that can damage children.
Learn more about the reasons we use diffusers here.
Decorate with Pillows
Last but not least, you need at least two decorative pillows per twin bed. We don't want to overwhelm the bed, and you certainly don't want to make more clutter in an already small space.
Making sure we have two different, but stylish pillows is another tip we use to make the space look well designed.
We use two different style pillows to help the room feel more inviting, and not overly done. We want it to feel lived in, and not like a store or museum. Matchy-matchy is not good for styling pillows.
Toddler Boho Bedroom Makeover Sources
Square Embroidered Dot Throw Pillow
Square Velvet Fringe Decorative Pillow
Wall Hanging "It's Cool to be Kind"