How to get Fresh Floral Arrangements all Year Long!
This article shares simple tips for creating the perfect floral arrangements in your home, and a list of my favourite flowers.
One of my favourite memories as a child, was my mom picking wild flowers and placing them in her beautiful vintage vases. Or my grandma's flower garden that she poured so much love into.
So it's no surprise that I always have fresh flowers in my home.
I've become a resource among my friends for what to ask my florist and taking care of the flowers in my home. I was inspired to share all my tips and tricks with you.
How to Ask your Florist for Perfect Floral Arrangements
Start with a Soft Palette
By now my florist knows exactly what I like and always sends me the perfect spring flower arrangement. I would always find that my eyes naturally picked out soft, neutral palettes. I like white and green blooms, especially the unruly ones that add character and charm to our home.
Keep reading to find out what flowers I ask for every time!
Foraged Blossoms
There is nothing more beautiful than nature itself, and I've been trying to incorporate more foraged blooms in my arrangements. Another way I've been able to achieve the effortless foraged style is by trimming each stem individually at different heights.
The more undone it is the more perfect it looks.

Taking care of your Floral Arrangements
These are the tips and tricks I've picked up over my many years of having flowers in our home.
Cut stems at a 45-degree angle ever day to allow them to absorb the most water.
I also recut the stems every 5 days and completely change out the water every day if I can.
Another good hack I use is adding ice cubes to the vase that will melt over time.
When you are placing your flowers in the vase be sure to get rid of any leaves that are touching the water. Some leaves carry bacteria that can prevent the flowers from properly flourishing.
Every other day I weed out anything that isn't looking as fresh, which also keeps the arrangement looking its best.
When trimming branches (either outdoor or something like the trimmed Bay Leaves) cut a slit up the stem to help them retain more water.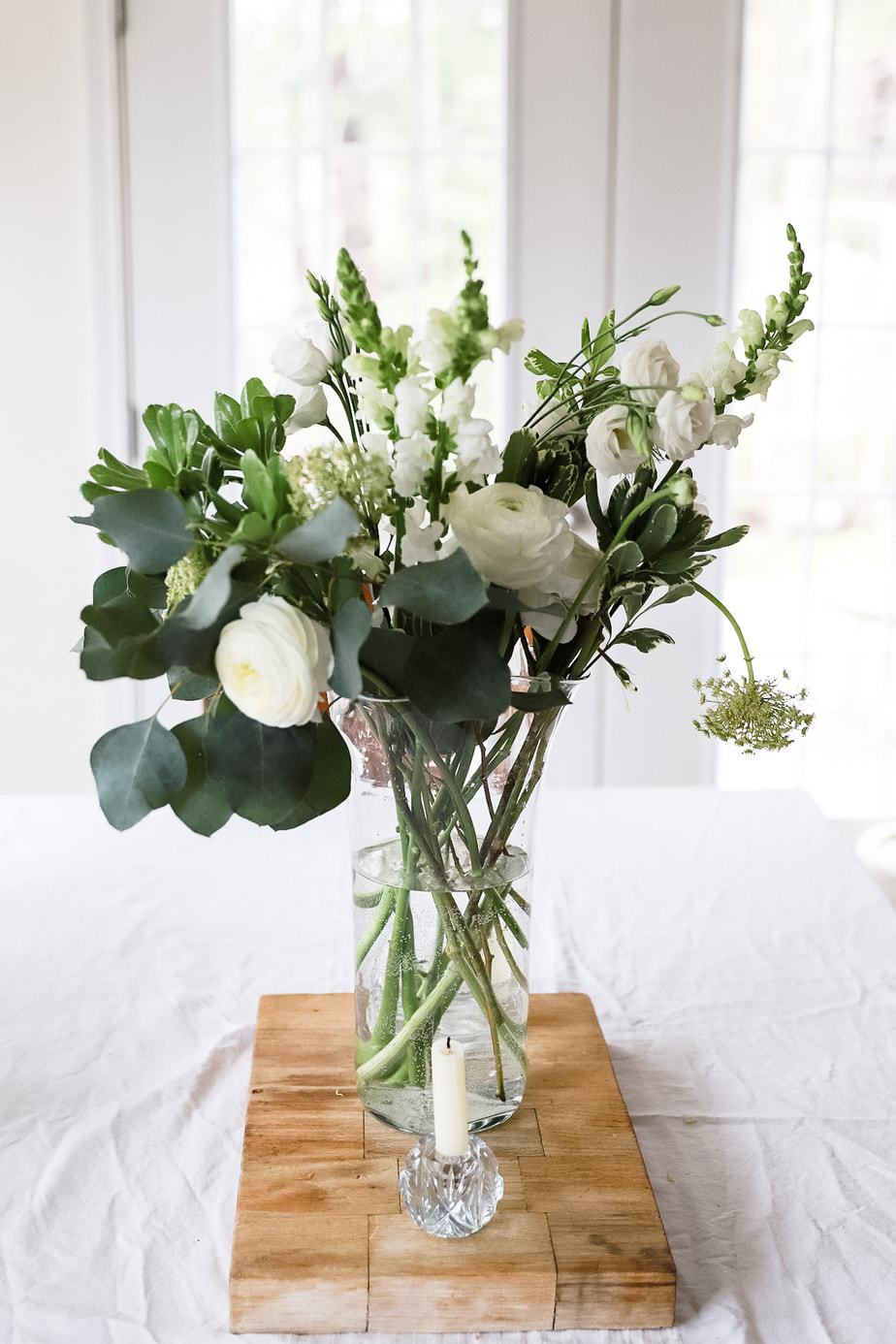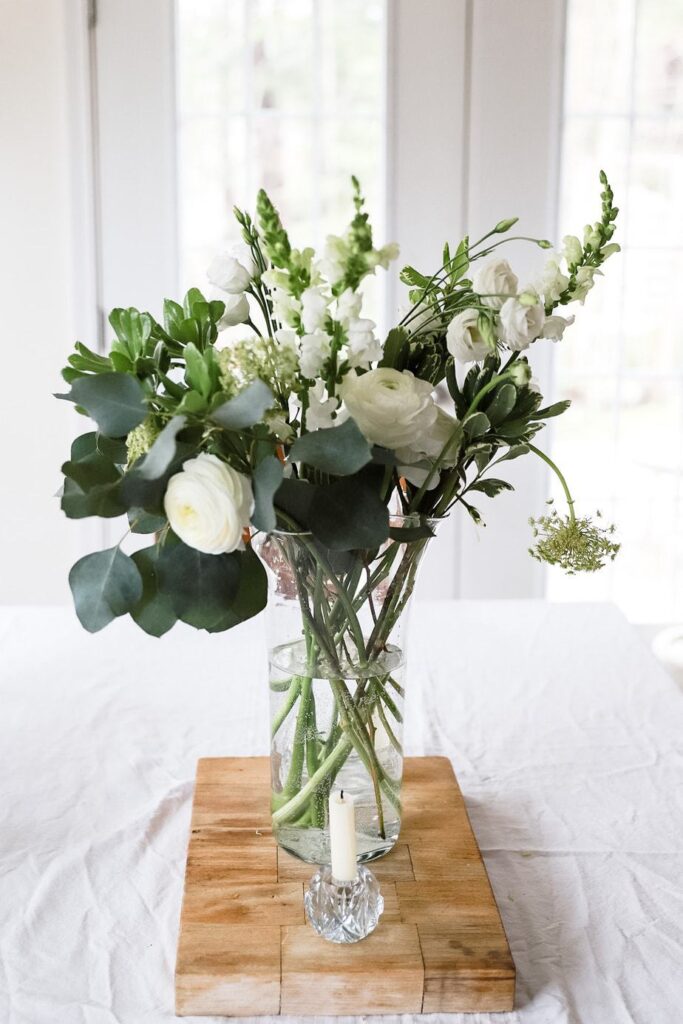 What Kind of Flowers Do I get?
Every 2 to 4 weeks I will put in an order for large floral arrangements. These are my favourite kind of flowers to ask for:
Note on placement: The Orchid branches and Snap Dragons will usually go in a tall vase on our nightstand because I love seeing the blooming buds climb along the tall stems.
As for greenery, these are my favourites:
Note: When planning your floral arrangements don't be afraid to ask your florist what are in season.
Looking for more content like our perfect floral arrangements:
Designing your Backyard and Patio this Spring
Flowers for your front porch and other styling tips