Amazon's Best Compact Gyms for Small Spaces in 2023
Post Summary: If you're looking for some of the best gyms for small spaces from Amazon, keep reading! We're sharing our reviews, as well as the pros and cons to help you find what you're looking for.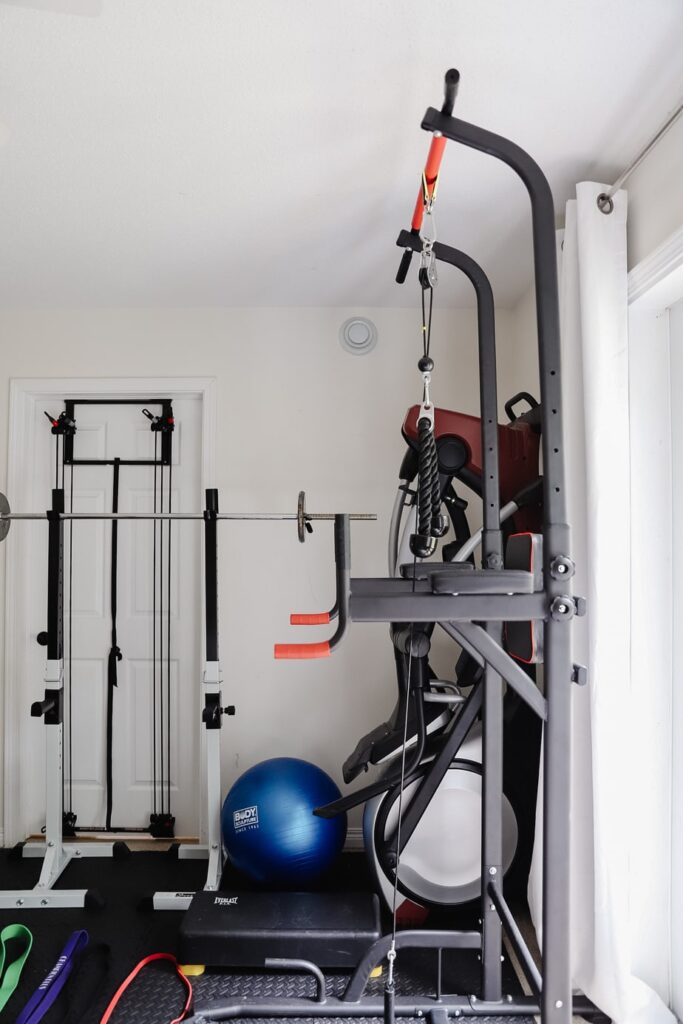 So you're looking to ditch that pricey gym membership and bring the fitness centers into the comfort of your own home, huh? But there's just one small catch… you're a bit limited on space. Don't worry! We've not only scoured Amazon and put together the ultimate guide to the best home gyms for small spaces, but I'm also sharing my experience of having a home gym in our small bedroom. So let's dive in, and let's get those fitness goals tackled, even with minimal space.
Keep reading to find out all about the best home gyms for small spaces, according to people who actually had a home gym in their bedroom.
Why Opt for a Home Gym?
The convenience of a home gym means you can sweat it out any time of the day without the need for a personal trainer or the background noise of commercial gyms. And guess what? Building your own home gym doesn't have to cost an arm and a leg, and you don't need a mansion's worth of floor space either.
Factors to Consider
Available Space
The important thing is to assess how much space you have. Whether it's a living room corner, a home office, or just a small footprint in your bedroom, there's a piece of exercise equipment for you.
Fitness Goals
Are you looking for strength training machines, a full-body workout, or just upper-body and lower-body exercises? Identifying your goals will help you pick the perfect home gym.
Price Point
With options ranging from budget-friendly resistance bands to pricier smart home gyms with monthly subscriptions, you've got choices!
Ease of Use
Compact design and easy storage are crucial for small home gyms.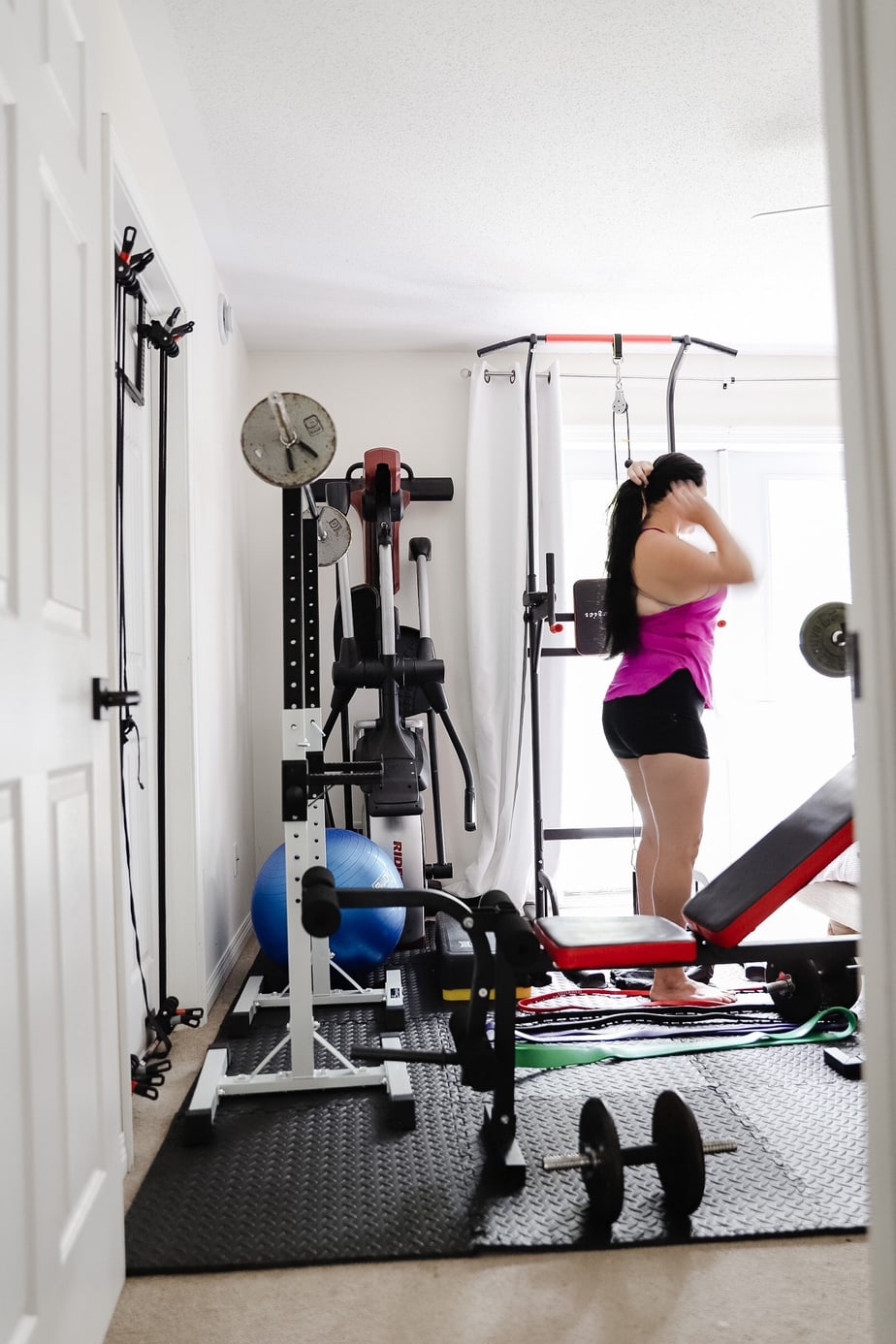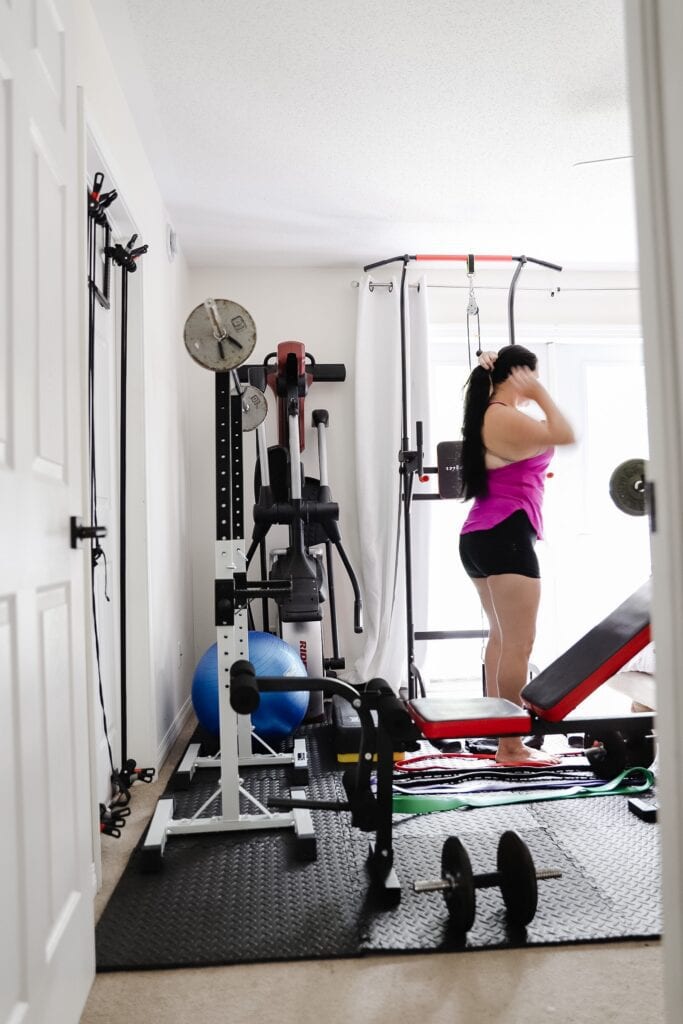 Dive into the Best Home Gyms from Amazon
We've tried tens if not hundreds of home gym equipment out there, and here are our personal favorites with all the pros and cons we could think of. As someone who lives in a small home and absolutely loves it, I've made it my mission to share all the best tips for storage, organization, and creating a happy life in a small space (which you can check out all our other blog posts on the subject).
Overview
The Bowflex Blaze Home Gym is part of Bowflex's line of home fitness equipment and is designed to bring a full-body workout experience into the convenience of your own space. It's known for its unique Power Rod resistance system, the Blaze promises versatility and adaptability. But how well does it deliver? Let's break it down.
Key Features
Power Rod Resistance System: The Bowflex Blaze uses a rod-based resistance system, providing a distinct departure from traditional weight stack systems.
Over 60 Exercises: From leg presses to chest flies, the versatility here is noteworthy.
Sliding Seat Rail: This feature allows users to perform aerobic rowing and leg presses, adding a cardio element to the mix.
Lat Tower with Angled Lat Bar: Target those upper back and shoulder muscles efficiently.
Multiple Cable/Pulley Positions: This increases the variety of exercises and the angles you can work from.
Upgradeable Resistance: The default 210 pounds of resistance is expandable to 310 or 410 pounds.
Pros
Comprehensive Workouts: With the capacity to perform over 60 exercises, users can ensure a full-body workout, targeting specific muscle groups or going for a general fitness routine.
Smooth Resistance: The Power Rod system offers consistent and joint-friendly resistance throughout exercises.
Compact Design: The ability to fold the Blaze up after workouts makes it reasonably home-friendly, especially for those with space concerns.
No Weight Changes: Transition between exercises is swift, given there's no need to change weight plates.
Cardio Inclusion: The aerobic rowing feature is a unique addition, providing a cardio component often missing in resistance-only systems.
Cons
Power Rod Durability: Over extended use, the rods may lose some of their tension, impacting the level of resistance.
Space Still a Concern: Though more compact than some alternatives, the Blaze still demands a good chunk of space, especially when in use.
Assembly: Some users might find the setup process to be tedious, potentially requiring additional help.
Not for Heavy Lifters: Individuals aiming for significant weightlifting might find the maximum 410-pound resistance limiting.
Resistance Feel: The non-linear resistance of Power Rods might not resonate with everyone, especially those used to free weights.
Our Thoughts
The Bowflex Blaze Home Gym undoubtedly brings a lot to the table. Its range of exercises, combined with the Power Rod system, offers a unique workout experience that merges strength training with an element of cardio. It's best suited for fitness enthusiasts ranging from beginners to intermediates.
However, for those accustomed to the feel of free weights or those looking for a powerlifting experience, the Blaze might fall a tad short.
In terms of value, the Blaze presents a compelling case for a one-time investment over a recurring gym membership, especially for those who prefer working out in the comfort of their own home.
All in all, the Bowflex Blaze is a solid choice for a home gym system, but, as with all fitness equipment, potential buyers should consider their individual needs and preferences when deciding.
So, you've probably seen that late-night infomercial for the Tower 200, right? You know, the one with the buff dudes showing off those muscles, making us mere mortals question our life choices at 2 AM. Well, I took the plunge, got myself one, and here's the lowdown on this bad boy.
The Key Features
Setup: Basically, the Tower 200 is this door gym that claims to be a full-body home gym system. You slap it onto any door, and bam! Your very own mini-gym is ready to roll. No screws, no weird contraptions, just simple hook-up and go.
Exercises: The big sell is that you can do 200+ exercises. I haven't tried them all, but man, there's a lot you can pull off: punches, squats, curls, and all sorts of twists and turns.
Resistance Bands: The resistance bands give you about 23 to 200 pounds of force. The higher levels are killer – but in a good, "feel-the-burn" way.
Pros
Space Saver: No room for a full-blown gym? No problemo! It's a door, it's a gym, it's a door gym!
Versatility: With over 200 exercises (if you're adventurous enough to try them all), it's like the Swiss Army knife of home gyms.
Price: Way cheaper than a year at most gyms or buying multiple pieces of bulky workout equipment.
Workout DVD: It comes with this cool workout DVD. So if you're a newbie or just need some inspo, they have your back.
Cons
Durability: I mean, it's cool and all, but will it last 5+ years? Not too sure about that. Treat it right, though, and you might be surprised.
Resistance Limit: Hardcore gym rats looking to get super swole might find the max resistance a bit on the lighter side.
Setup Hiccups: While it fits most doors, you might need to play around a bit to get it sitting just right. And yeah, slamming the door? Not a good idea.
Our thoughts
Alright, real talk? The Tower 200 Complete Gym is kinda amazing for those who are strapped for space or don't want to spend big bucks on gym memberships. It's versatile, compact, and pretty user-friendly.
However, if you're aiming to become the next Hulk, this might not be your forever solution. But for the average Joe or Jane wanting to stay in shape or get that toned summer body, it's a solid choice.
Bottom line: Perfect for a decent sweat session without leaving your room! And hey, next time that 2 AM infomercial hits, you can flex along with the best of them.
Resistance bands have been riding the wave of home workout trends, and the Whatafit from Amazon is one of the names you'll likely stumble upon. Tailored for versatility, these bands promise to deliver both for beginners and seasoned fitness folks. But do they live up to the hype? Let's break it down!
Key Features
Variety of Resistances: The set typically includes bands with varied resistance levels, allowing users to mix and match based on the workout intensity they desire.
Multifunctional: These bands are designed for a plethora of exercises, be it for your legs, arms, back, or core.
Portability: Compact and lightweight, you can essentially carry your "gym" in a small carry bag.
Accessories: They often come with handles, ankle straps, and a door anchor, expanding the range of exercises you can perform.
Pros
Adaptable Intensity: With the multiple resistance levels, you can easily adjust the intensity of your workouts, making it perfect for progressive strength training.
Durability: Made of natural latex, they're stretchy yet robust, ensuring they don't snap mid-workout.
Cost-effective: Compared to hefty gym equipment or monthly memberships, the Whatafit set is a budget-friendly option for those wanting to exercise at home.
Space Saver: No more bulky equipment! These bands can be stored in any drawer or corner, making them perfect for small living spaces or for those always on the go.
Versatile Workouts: From pilates to strength training, the range of exercises you can do is impressive.
Cons
Learning Curve: For those new to resistance bands, there might be an initial phase of figuring out the best ways to use them effectively.
Limited Resistance: Even though they offer varied resistances, hardcore weightlifters might find them lacking compared to traditional weights.
Latex Smell: Some users have reported an initial rubbery smell, though this typically fades over time.
Occasional Pinching: Without proper form, the bands can occasionally pinch the skin, so be sure to use them correctly.
our thoughts
The Whatafit Resistance Bands Set is a solid pick for those diving into the world of resistance training or looking for a portable workout solution. They offer versatility, durability, and adaptability, all without burning a hole in your pocket.
They're not a total replacement for a full-blown gym, but they're perfect for home workouts, especially in these times when heading to a gym isn't always feasible. For anyone from a casual user to a frequent traveler, these bands can be a game-changer.
In essence, if you're scouting for a compact, effective, and affordable fitness solution, the Whatafit set might just be the ticket!
The Sperax Treadmill-Walking Pad is designed for those who want to incorporate more movement into their day, especially if they spend long hours at a desk. With its compact design and smooth operation, it promises to let users walk while they work. But is it worth the investment? Let's find out!
---
Key Features
Slim Design: Built to fit under most standing desks with ease.
Quiet Operation: Ensures minimal disturbance while working.
Variable Speeds: Allows users to adjust their walking pace as per comfort.
Remote Control: Provides easy speed adjustments without bending down.
Safety Features: Emergency stop and non-slip surface for added security.
---
Pros
Space-Efficient: Its compact design means it won't dominate your home office space.
Multitasker's Dream: Perfect for getting those steps in while responding to emails or attending virtual meetings.
Easy Storage: Lightweight and slim enough to store away when not in use.
Maintenance: Requires minimal upkeep compared to bulkier treadmills.
Health Benefits: Helps combat the ill effects of sitting all day, promoting better circulation and burning calories.
---
Cons
Limited Speed: Being an under-desk treadmill, it's not designed for jogging or running.
Weight Limit: Might not support heavier individuals as effectively as traditional treadmills.
Lack of Incline: Typically, walking pads do not offer incline features, limiting the type of workout.
Shorter Track: The compact design might mean a shorter walking area, which could be a concern for taller users or those with longer strides.
Price: Quality under-desk treadmills tend to be pricier compared to their benefits and features.
---
Our Thoughts
The Sperax Treadmill-Walking Pad Under Desk is a nifty piece of equipment for those who are looking to move more during their workday. It's sleek, quiet and provides a decent workout without the need for a full-fledged treadmill setup.
It's perfect for urban dwellers with limited space or anyone who's trying to avoid the sedentary pitfalls of a desk job. However, if you're looking for intense workouts, longer runs, or more advanced treadmill features, this might not be the right fit.
All in all, for the right user, it can be a fantastic tool to merge fitness with work, ensuring you stay active, even on those endless Zoom call days!
Echelon's new smart mirror aims to bring the gym straight to your living room, bedroom, or wherever you choose to break a sweat. The Reflect Smart Connect Fitness Mirror promises immersive, instructor-led workouts combined with a sleek design that doesn't scream "gym equipment". Plus, the added perk of a 30-day Free Echelon Membership is the cherry on top. But does it deliver? Let's break it down.
Key Features
Sleek Design: A full-length mirror that doubles as a workout screen.
Touchscreen Interface: Interact directly with the screen without the need for additional devices.
Live and On-Demand Classes: Ranging from cardio and strength training to yoga and boxing.
Personal Training: One-on-one sessions with certified trainers.
Heart Rate Monitor Compatibility: Sync and monitor your heart rate during workouts.
---
Pros
Space Saver: Combines home decor with fitness; no more bulky gym equipment taking up space.
Variety of Workouts: With the Echelon membership, there's a class for everyone, regardless of fitness level.
Engaging Instructors: Quality trainers who motivate and push you during each session.
Real-Time Feedback: Metrics like calories burned, heart rate, and more are displayed, ensuring you track progress.
Community: Join live classes, compete with others, and feel like a part of the Echelon family.
---
Cons
Pricey: It's an investment. The mirror and ongoing membership can make a dent in one's wallet.
Dependence on Membership: To get the most out of the mirror, you'll need an active Echelon membership.
Installation: While installation isn't complicated, the mirror is heavy, so you might need assistance.
Connectivity Issues: Like all tech, it might face occasional hiccups with Wi-Fi or software updates.
Audio: Some users have mentioned the need for external speakers for better sound quality during workouts.
---
Our Thoughts
The Echelon Reflect Smart Connect Fitness Mirror is a fantastic blend of technology, fitness, and design. For those tight on space but wanting a comprehensive workout experience, it's a solid choice. The variety and quality of classes, combined with real-time feedback, provide an immersive workout experience.
The initial investment and the ongoing membership cost can be a drawback for some, but if you're looking for a gym experience without leaving your home and the added benefit of a sleek mirror as decor, the Echelon Reflect delivers.
Lastly, the 30-Day Free Echelon Membership is a great way to test the waters and see if it aligns with your fitness goals and preferences. A month is ample time to explore the offerings and determine if it's a good fit for the long haul.
The TRX Go Suspension Trainer is one of the brand's most lightweight and portable offerings. Designed for people on the go, whether you're at home, in a park, or on a vacation, this nifty piece of equipment promises a full-body workout with just your body weight. But does simplicity translate to effectiveness? Let's find out.
Key Features
Ultra-Portable: Weighing in at just one pound, it's designed to be thrown into a backpack and set up anywhere.
Adjustable Straps: Easy-to-adjust straps allow for varied resistance and challenge levels.
Workout Guide: Comes with a set of beginner-friendly workouts to kickstart your fitness journey.
Durable Construction: Despite its light weight, it's built for durability.
Foot Cradles: For exercises that involve your feet, ensuring comfort and security.
Pros
Versatility: Provides a full-body workout, targeting various muscle groups with hundreds of possible exercises.
For All Levels: Whether you're a beginner or a fitness enthusiast, the TRX Go can be tailored to your level.
Easy Setup: Can be anchored to doors, trees, or other secure points both indoors and outdoors.
Space Saver: No need for bulky gym equipment. The TRX Go is compact and can be stored easily.
Build & Stability: The construction is sturdy and can support heavier individuals without any issues.
Cons
Learning Curve: It might take beginners some time to learn the ropes (literally) and get the most out of the workouts.
Price Point: Some users feel that for a simple piece of equipment, it's a bit on the pricier side.
Surface Limitations: While it's versatile in setup, you do need a sturdy door, beam, or a similar anchor point which might not always be available.
Not For Hardcore Weightlifters: While it's fantastic for toning and general fitness, it might not replace heavy weightlifting for those looking to bulk up significantly.
No Advanced Features: Unlike some of its pricier competitors, it doesn't feature any smart tech or advanced tracking capabilities.
Our Thoughts
The TRX Go Suspension Trainer is a testament to the fact that you don't need complicated gym machinery to get a killer workout. Its simplicity, combined with its effectiveness, makes it a go-to choice for those who value both fitness and portability.
For city dwellers with limited space, travelers, or anyone looking to diversify their workout routines, the TRX Go is a fantastic addition to your fitness arsenal. While it might not replace a full-fledged gym membership for everyone, it's undoubtedly an effective way to stay fit on your own terms.
The initial investment might seem steep for what appears to be just "straps", but the versatility and durability make it worth considering. When used correctly, the potential for strength training, flexibility, and balance exercises is vast.
All in all, if you're in the market for a lightweight, portable, and effective workout solution, the TRX Go Suspension Trainer should be on your radar.
The Motion Space Smart Trainer claims to be an all-in-one solution for those looking to get a comprehensive workout at home. With its "6 in 1" tagline, it promises versatility and adaptability. But does it truly replace six different pieces of gym equipment? Let's find out.
Key Features
6-in-1 Functionality: Designed to simulate various gym equipment, from resistance training to cardio.
Smart Capabilities: Presumably integrates with devices or apps to monitor workouts and progress.
Space-Efficient Design: Suitable for home users with limited space.
Durable Construction: Built for daily workouts and prolonged use.
Guided Workouts: Offers instructional support for beginners and experienced users alike.
---
Pros
Versatility: A single piece of equipment that offers multiple workout options is ideal for comprehensive fitness routines.
Cost-Effective: Potentially replaces the need for multiple expensive pieces of equipment.
User-Friendly: The smart capabilities could offer interactive workouts and feedback, enhancing user experience.
Easy Storage: Given its multifunctional nature, it likely emphasizes a compact design, ideal for homes without dedicated gym spaces.
Guidance: For beginners or those unfamiliar with certain exercises, guided workouts can be beneficial.
---
Cons
Jack of All Trades: While it offers 6-in-1 functionality, it might not perfectly replicate each individual piece of equipment it aims to replace.
Tech Reliability: Smart features can be fantastic when they work but can be a point of frustration if glitches or connectivity issues arise.
Potential Overwhelm: For absolute beginners, the multitude of functions might be overwhelming initially.
Durability Concerns: Whenever a device claims multi-functionality, there's a concern if it can withstand the wear and tear of varied use.
Possible Limitations: Might not cater to advanced fitness enthusiasts looking for specific, intense workouts.
---
Our Thoughts
The Motion Space Smart Trainer is an ambitious piece of equipment aiming to bring the entire gym experience to your home. Its 6-in-1 functionality is undoubtedly appealing, especially to those new to fitness or with limited space.
While it offers a broad range of workouts, users might need to temper expectations in terms of replicating the exact feel and effectiveness of specialized equipment. However, for the average user looking to stay fit and incorporate varied routines, this could be an excellent addition to their fitness journey.
The smart capabilities, if executed well, can elevate the workout experience, making it interactive and personalized. But, as with all tech-integrated devices, it's crucial to ensure consistent updates and troubleshooting options.
In conclusion, the Motion Space Smart Trainer appears to be a promising solution for home fitness, especially for those who value versatility and tech integration. Still, as always, potential buyers should consult current users and perhaps even try it firsthand, if possible, before investing.
The Insanity Base Kit is a 60-day, total body conditioning program. You won't find any weights or gym equipment here; it's all about using your body weight to achieve results. With its high-intensity focus, it promises to get you in the best shape of your life.
Key Features
10 Workout DVDs: Covering everything from plyometric cardio circuits to abs and recovery.
Nutrition Guide: Provides meal plans and recipes to fuel your workouts and aid recovery.
Fitness Guide: A quick overview of the Insanity program.
Workout Calendar: A two-month wall calendar to track your progress.
Fit Test Tracker: Track your fitness level and see tangible improvements.
Pros
Efficiency: Offers an intensive workout in just about an hour a day.
Comprehensive: Targets all major muscle groups, ensuring a balanced fitness regimen.
No Equipment Required: Just pop in the DVD, ensure you have some floor space, and you're good to go!
Clear Instructions: Shaun T is an excellent instructor. He's motivating and clear but makes sure you know the right techniques.
Results: Many users report visible and tangible results in the 60-day period if they stick to both the workout and nutrition guide.
Cons
Very Intense: Not suitable for absolute beginners or those with certain medical conditions.
Potential for Injury: Without a personal trainer physically present, there's a risk of improper form, especially when fatigued.
DVD Limitations: In today's streaming age, using a DVD might feel a tad outdated for some.
Nutrition Guide: While helpful, it might not cater to all dietary needs or preferences.
Repetitiveness: Some users find the second month's workouts to be a bit repetitive as they're similar to the first month but with added intensity.
Our Thoughts
The Insanity Base Kit – DVD Workout isn't for the faint of heart. It's a demanding program that requires commitment, sweat, and maybe a few tears. However, for those who persevere, the results can be truly…well, insane!
Shaun T's energy and charisma make the workouts engaging, and the structure of the program ensures you're pushing your limits safely, gradually increasing intensity over the two months. The added nutrition and fitness guides ensure you're not just working out right, but also eating right.
A few drawbacks include its intense nature, which might not be everyone's cup of tea, and the reliance on DVDs in a world moving more towards digital streaming. But, if you're looking for a challenge and a program that promises results when followed diligently, Insanity might just be the ticket.
For potential users, it's crucial to consult a physician before beginning any high-intensity workout program. Always prioritize safety and listen to your body!
This is a great way to get a full-body workout without breaking the bank. With a cable and pulley system, adjustable bench, and resistance bands, it's versatile and compact.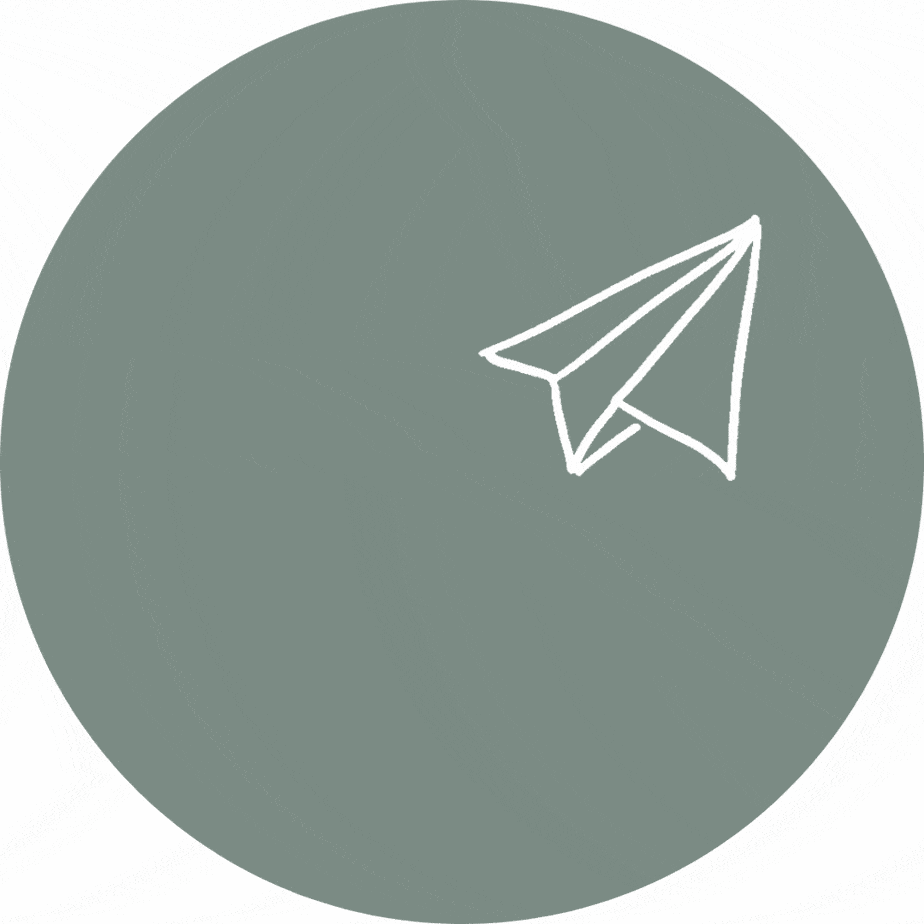 Whether you're looking to replicate the variety of exercises available at commercial gyms or just need a space-saving piece of equipment to keep up with your fitness goals, there's a home gym system out there for you. In recent years, the rise of smart home gyms like the Tempo Move and compact strength training machines like the Bowflex Xtreme have made it easier than ever to get a great workout in the comfort of your own home, even with limited space.
Small Space Design
How to Create a Home Gym in a Small Space
We're sharing exactly how to create a home gym in a small space, plus tips for design, storage, and ideas for budget-friendly equipment.
Remember, the best choice isn't necessarily the priciest or the most feature-packed; it's the one that aligns with your goals, fits your available space, and keeps you motivated to break a sweat regularly. After all, the most important factor in any workout regime is consistency.
So, roll out those yoga mats, hang up that TRX suspension trainer, or find that perfect spot for your new compact gym equipment. Achieving your fitness goals from the comfort of your home has never been easier. Happy exercising!