The Kids Shared Room Reveal – Before and After
We're kicking off the new year with the kid's shared room reveal with before and afters, some DIYs, and design talk.
This has been a long time coming, eight months to be exact. But I'm really excited to kick off 2022 with a reveal. We're setting the tone for the year ahead because we have some really exciting makeovers coming up.
But let's chat about the kid's shared room reveal today, which I actually started planning the day we found out I was pregnant with our second baby. It's an eight-month journey, that I thought would be done in six but product delays and shipping issues had other plans.
Needless to say, their bedroom came together slowly and I'm still planning a few more changes.
The Kids Shared Room Reveal
What is it like having a Newborn and Toddler share a Bedroom?
Okay for the big question everyone wants to know, what is it like having a newborn and a toddler share a bedroom?
Well, I'd be lying if I said I was a little unsure how our two young kids would be sharing a bedroom together. Especially since we know newborns have a rigid nightly feeding schedule and toddlers are notorious for waking early.
But to my surprise, it's been amazing! However, designing a space I felt sure of was a whole other problem. I was close to giving up our third bedroom (my office) for a nursery, but since I work from home and rely on that income I knew it would have a negative impact on our business if I did.
We stuck it out and saw it through and I can honestly say it's been great. It's nice to have one bedroom to clean, one toy closet, and one closet for both of their clothes (I'll get into that in a later post).
I will say that both of our kids are solid sleepers and fall asleep almost instantly. So depending on how well your kids sleep at night you're experience may be totally different. But I wanted to let you know that a toddler and a newborn sharing a room, safely and happily is possible.
The Kids Shared Room BEFORE
Reminder of what their bedroom looked like when we first moved in
This was the photo from the day we bought the house, and Im guessing it was used as a guest bedroom.
This is what the bedroom looked like as my office after we moved in
When we bought our 1200 square ft home I was pregnant with our first child, and we decided to give her the smaller room as a nursery and keep this as my office.
I actually made over this room with Bouclair to showcase some of their amazing office furniture. You can read more about that makeover here.
The Kids Shared Room Reveal AFTER
The Wallpaper
This was the picture that went viral on Instagram, for obvious reasons. The wallpaper is from Timberlea Wallpaper, and it's absolutely beautiful. Not to mention it's a Canadian business that makes the prettiest murals and customizable wallpaper options for any room including kids' rooms and nurseries. You can check out all their pretty options here.
The wallpaper we choose is called Jungle Friends. It's also the star of the design, and all the colors and accents we're chosen with it in mind.
Paint Colors
The paint color is Card Room Green from Farrow and Ball. It's one of my favorite darker greens to use.
I also wanted to give the room a modern, and intentional feel by painting the trim and baseboard the same color. Sometime this year we're getting rid of the carpets and replacing them with hardwood which means we will replace the baseboards as well.
Rug Details
Another one of my favorite purchases was the tiger rug! I'm so happy with how it turned out. My inspiration was actually a tiger rug from Doing Goods an Australian brand that has the cutest tiger rugs for kids' rooms. But I was worried about long shipping delays and thankfully found the exact one I wanted from Wayfair.
I wanted a cute little accent that felt fun in the kid's room, nothing too big in their already crowded space. So I opted for the 2'x3′ instead of anything bigger. I also thought about using it on the wall as a fun accent.
One of the biggest tips I can give for anyone who has a wall-to-wall carpet that they don't like is to choose a contrasting rug. We want to find a rug that has a different pile or a different color than the carpet. In this case, I opted for a natural jute rug in a 5×7 which will work perfectly with hardwood when were ready.
2 Easy DIYs for a Kids Shared Room
Since we aren't renovating this space anytime soon, I knew I wanted to make the most of it without spending a ton of money. We will probably install new carpet or vinyl plank floors this year. Which is why I decided to go with the jute rug so we could reuse it and it would look great.
The DIY Basket Light
I really love boho style lighting and a few years ago I made our own basket light using IKEA products (you can also use products from Amazon). It looked good, was cheap, and was easy to do. Here's the tutorial if you're interested.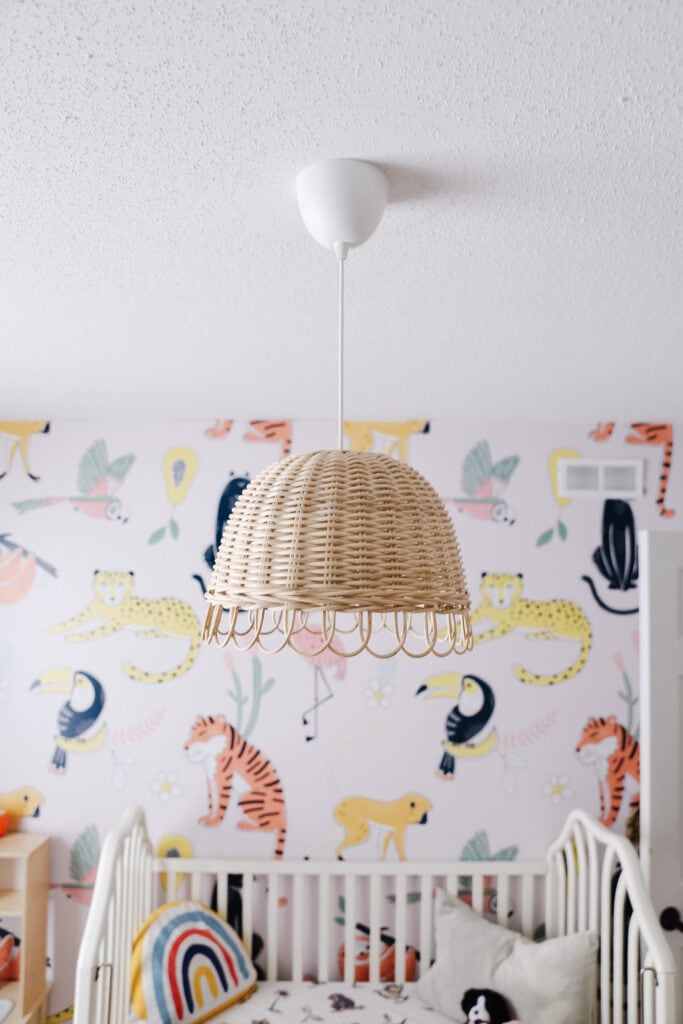 The Yellow Light
Like I said we're on a budget, and I really wanted a yellow reading light but the one I wanted was a little too expensive. So instead I bought this white wall sconce from Wayfair and some yellow spray paint from Rustolem and DIYed it. This was another easy project that turned out amazing, and it's exactly what I was looking for.
The Canopy
I really wanted to make a cozy space for Penelope, somewhere she can still feel is her own even though she shares it with her brother. I think the bed canopy over the bed did the trick and our almost 4-year-old loves it. We secured it with a simple ceiling hook securely to the ceiling. Not to mention the gallery wall that we're slowly filling with more fun paintings gives the space a nice separation from her brother's side.
The two flags are printables from Lindsay Letters.co and I hand-painted the lion using a dollar store canvas and some inexpensive oil paint.
The Play Area for the Kids Shared Bedroom
I had all these expectations for our kid's bedroom, but moving into a small home has totally changed all of that. I've learned organization and minimalism is the key to making small spaces work. Which is easier said than done for kids spaces, because they tend to have more toys, more clothes, and more of almost everything.
Welcome to toy rotation, something I will talk about more soon I promise. It's a great way to take advantage of the space you do have for kids to play in.
Reading Nook for Kids
Another one of the must-haves I was barely able to check off. Im actually proud of how well we used the space we have. The acrylic bookshelves fit seamlessly behind the closet door when open, and look great with it closed.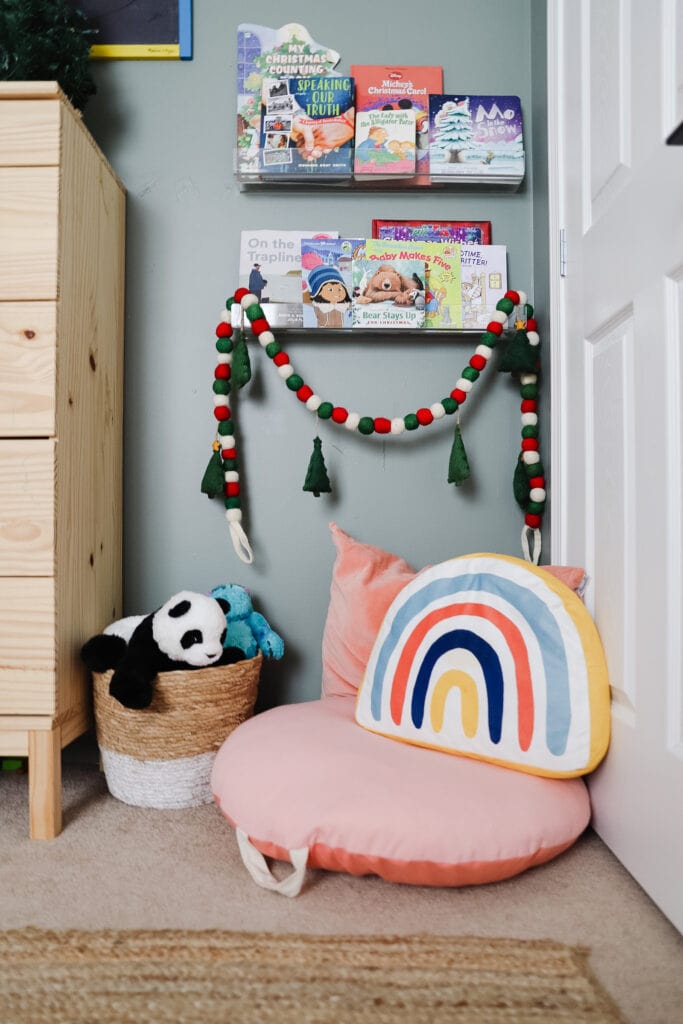 Speaking of the closet doors, one of the BEST and inexpensive ways to update any space is to replace the doorknobs. These closet door handles are from Yale, and are so pretty! I'll leave the link for the Valdosta with Square Rosette in Black here.
Links for our Kids Shared Room
I always feel so privileged to be able to not only makeover our kid's rooms but give them a safe, cozy, and happy place to call theirs. By reading this blog and following along on Instagram, we're able to give back to our readers and community members as well. Thank you for being here.