Decorative Cover Ideas for an Electrical Panel
Let's chat about decorative cover ideas for an electrical panel, and how to work with your off-centre or odd panel in a well-designed way.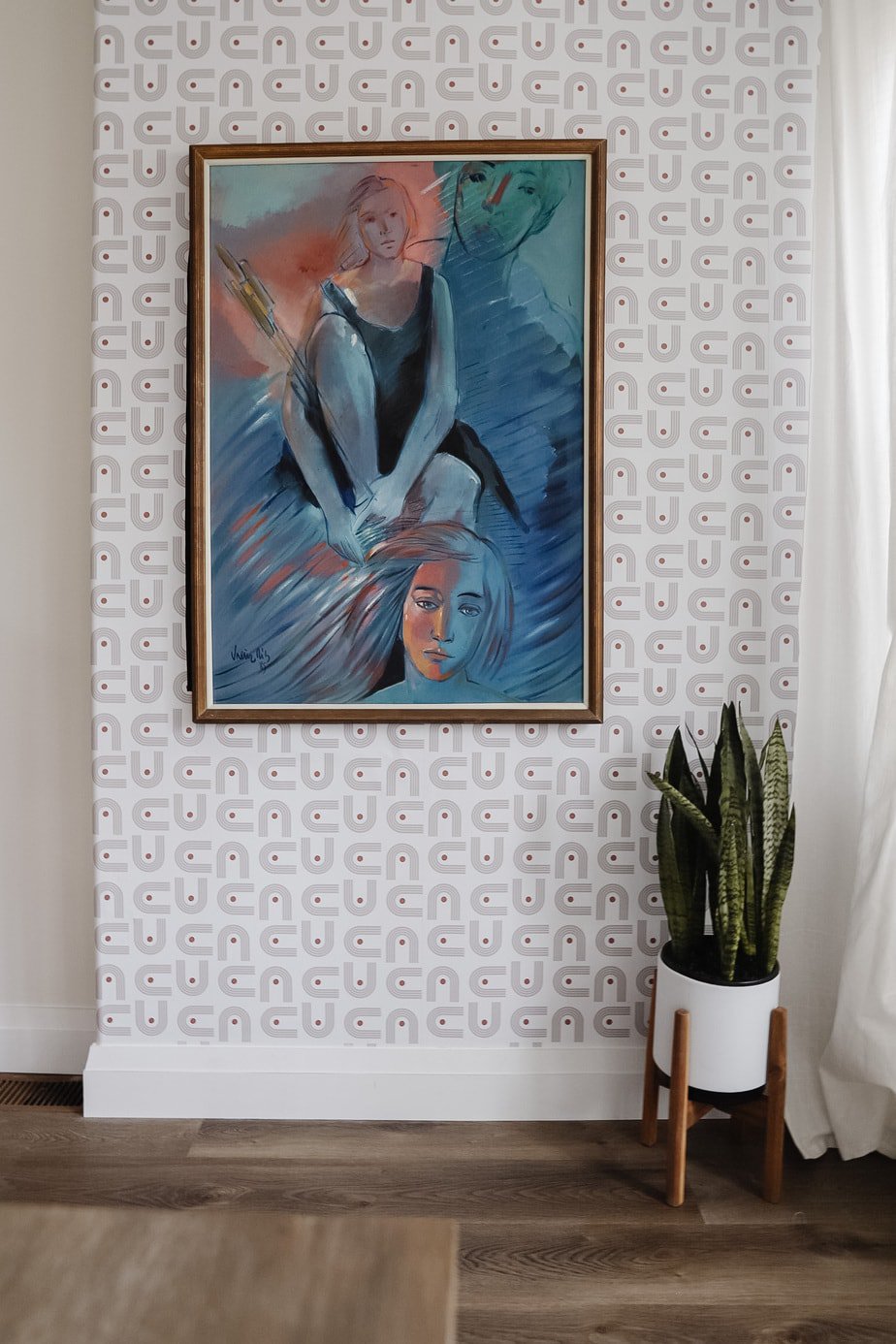 We are back with another episode in the dining room series, but this time we are exploring a design dilemma. This particular dilemma has kept me up way past my bedtime on several occasions.
Which is why we're going to see if we can figure out how to cover the electrical panel in a well designed way that makes sense for the space.
As you know we recently wallpapered the dining room, purchased a new dining room table and did a shopping trip to finish the space. However, this is the one area I'm still not 100% happy with and hopefully we can come up with a creative way to cover the odd panel and finally reveal this space with you all!
So let's take a look at our electrical panel, why I'm calling it "odd", and what options we've come up with to cover it.
How to Cover an Electrical Panel
I'm not sure why the builder decided to do this, but instead of a typical placement of an electrical panel that's usually installed flush with the wall, ours is inserted inside the wall. We now have this 40×70" opening that sits to the left, completely off-center.
Making it really hard to style.
But as I was researching this, I think it may have been unfinished. It's almost as if there was supposed to be some sort of cover there. Maybe a hinged door? or piece of drywall?
Either way, if it was centered we could have placed a large frame and called it a day.
Instead, we're here chatting about the placement of electrical panels and researching ways to style them, even when they are oddly placed.
Can you Cover an Electrical Panel?
I had no idea until I started researching it that there aren't a ton of options for decorative covers.
That might be because, even though you can cover electrical panels, you just can't cover them completely. There should always be a way for you to access the panel when you need to.
So I think most people just leave them since they are usually placed in a basement, furnace room, crawlspace, or closet.
They aren't usually found in the dining room.
I will also add that it's also important to check on your local electrical codes, as they may be different in certain areas.
5 Decorative Cover Ideas for an Electrical Panel
Macrame Wall Decor
Option number one is to use macrame wall art that will cover the entire panel. It's a really easy way to bring some texture, and color into your space. While still allowing access to the panel when needed.
Bookcase Electrical Panel Covers
Another option and one that our Instagram audience suggested was placing a bookcase to cover the panel. It may not be as easy to get to as the macrame wall art, but it can still easily be reached.
This is the safe way, in terms of design and usefulness. A bookcase can be great for families who could benefit from extra storage options, as well as blend seamlessly into any design style.
Gallery Wall Panel Covers
A gallery wall is another idea for off-center or "oddly" placed electrical panels. There are so many options out there in terms of style, and accessibility. My only suggestion would be to map it out before you buy the art and make sure you have the right size frame and you are happy with the layout.
Decorative Wall Panel Covers
This was a fun option we came across, and I spent hours looking at other decorative wall panel covers. Specifically, these options from Etsy, are hand crafted and made to order.
And I especially love how unique and fun these would look in a room. I would love to do something like #2 or #1 in our dining room. I could put small succulents on the shelves, or even jars of herbs, there are honestly endless options for decorating them.
Stickers for Wall Panels
The last idea we had was to use leftover wallpaper or order actual stickers that are meant to cover wall panels.
Again, another Etsy find that I love.
This would be great if our electrical panel was in a bedroom, kitchen, or even in our entryway. I could do a chalkboard or whiteboard in an office. Or a textured wall sticker like #1 in a bedroom.
What is our plan to cover the off-center electrical panel?
If the measurements work out correctly, I will most likely do the macrame wall art. I love the pop of color and of course the texture.
But, if not we might look into one of the bookcases we shared. Again, I love the mid-century modern/boho vibe and we could always use a little more storage in our small home. But the awesome shelves are cute too!
What would you choose? let me know in the comments.