I Tried a Chemical Peel-Here's my Take
Interested in an AHA chemical peel? or the results? I'm sharing the before and after chemical peel process, and why I think everyone needs an AHA peel!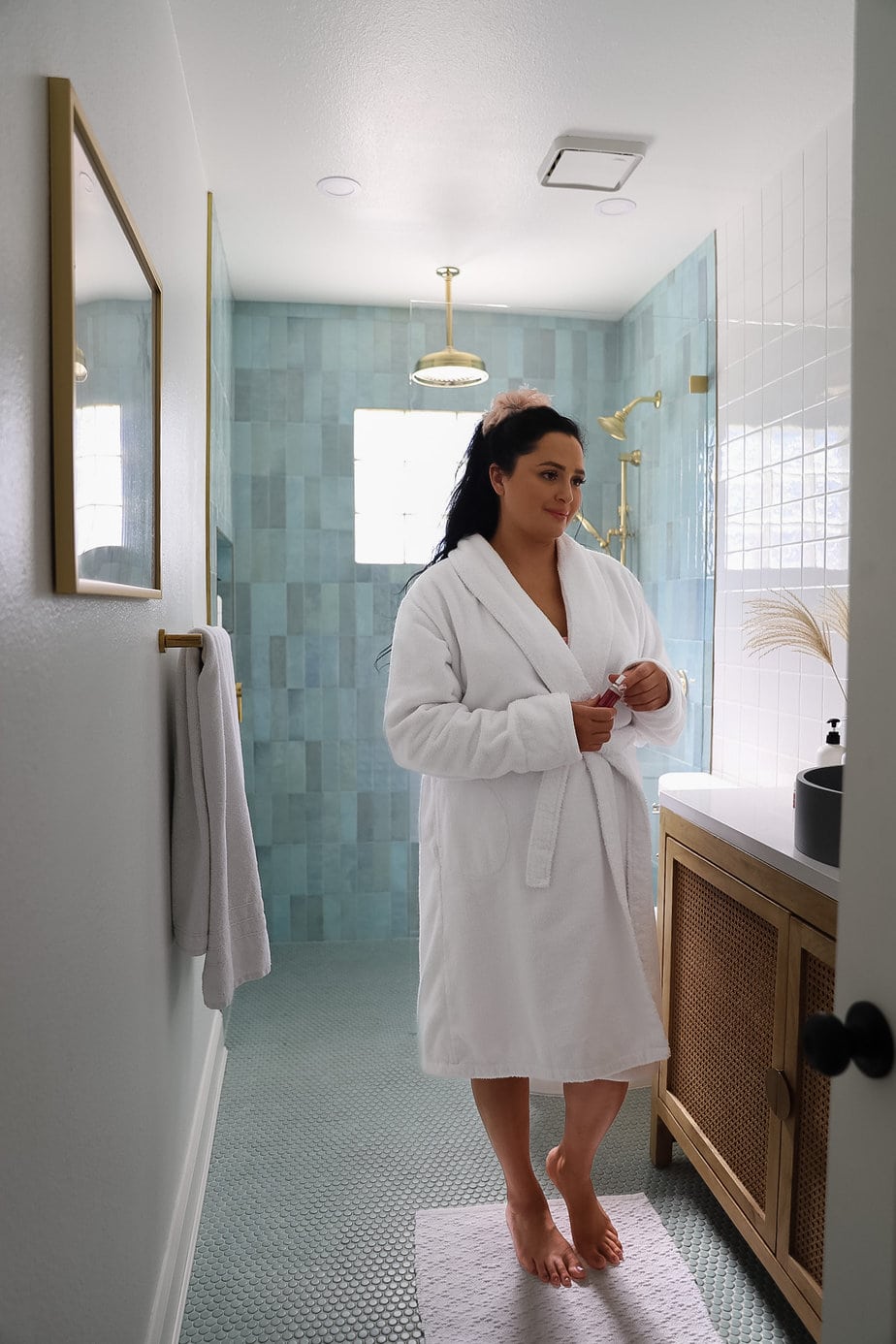 I just turned 32 a few weeks ago, and I'm definitely noticing changes in my skin. From tiny wrinkles around my eyes, and even more noticeable elevens.
But after I gave birth to my son just over a year ago, I really noticed the texture of my skin had changed too. As someone who has always tried to invest in quality products and regular visits to a dermatologist. I was surprised by the postpartum hormonal breakouts and loss of dewy complexion. While botox does help with fine lines and dull skin. I wanted to explore other options for those who are interested in a more natural option.
Before and After Chemical Peel
While most people think of Samantha from Sex in the City when they hear the words chemical peel. But let me be the first to tell you that's not how they all look.
In fact, I was interested more in fixing the texture of my skin and bringing back the dewy glow I loved much. So after a quick consult with Licensed Medical Esthetician, Natalie Sickinger from Ashley Tomasina and Co. she suggested I do the AHA Duo Peel.
What is an AHA Duo Peel?
The AHA Duo Peel is a mix of two acids, lactic and glycolic. Both are naturally occurring acids that are great for exfoliating and enhancing the natural exfoliation process in your skin.
Glycolic acid is from sugar cane and lactic acid is from milk. Both are "great for hyperpigmentation and visible signs of aging, but gentle enough that we didn't need to prep the skin first." says Natalie.
How many peels are needed to see results?
You will see results after the first treatment, but Natalie says they recommend "a series of at least three peels spaced out, at least two weeks apart for the best results". This is why most places like Ashley Thomasina & Co. offer peel packages that include customized skincare.
Do Chemical Peels Hurt?
Chemical peels do not hurt, but you may experience burning and tingling. I did a mild, low-level peel and it felt warm but I kind of liked that feeling.
Did the AHA Peel Require Preparation?
The AHA peel did not require any preparation for the treatment I did. However, some do and you should always consult first. Most times you may be asked to avoid exfoliating before your appointment, as well as remove any retinol or retinoids at least a week before your appointment.
My Experience
My appointment was planned around a day when I had very little to do. I wasn't sure how my skin would react and I certainly didn't want to be doing anything in the chilly winter wind. But my skin was ready for some help. I had a few concerns, like the milia, which is a type of cyst. It's harmless and essentially made up of a group of flakes, trapped under the skin's surface.
I've also struggled with age spots for the past few years, but I knew I wasn't ready for a stronger chemical peel just yet.
I stepped into the new studio with a clean face, and instantly loved the cool, modern aesthetic. Think industrial meets modern cool spa. Natalie is amazing and so nice. She also has advice and tips for anyone interested in any of the treatments they offer.
Personally, it's important for me to go to someone I can trust especially when it comes to any facial treatments and procedures.
We chatted for a bit about the treatment, and what I can expect as I laid down on the bed. She explained that the AHA Duo had no downtime, and didn't require any prep beforehand.
The treatment itself isn't painful, once the product was on my skin it felt a little tingly and warm. But not painful in the least.
What are the benefits of an AHA Chemical Peel?
Evens out skin tone
Smoothing fine lines and wrinkles
Lessen hyperpigmentation and age spots
Exfoliating dead skin cells to add a glow
Unclog pores which are great for acne-prone skin
Reduces texture and dullness
How long does the AHA Chemical Peel take?
The entire process takes 45 minutes to 1 hour
How much does the AHA Chemical Peel Cost?
Prices of course range, but they start at $149 to $200+ a session. But at Ashley Thomasina and Co. their three-peel package, is $429 and the prep and peel package is $599 which comes with $320 worth of skincare) and of course three peels.
Did we mention this would make a wonderful gift idea!?
How long do you have to wait between chemical peels?
"We recommend a series of at least three peels spaced out 4-6 weeks, depending on skin goals," says Natalie. The point is to give your skin time to heal since you are putting your skin through trauma. It takes roughly 4-6 weeks for skin cells to turn over and heal properly.
Chemical Peel Results: Day one to three
Day One
The first day my skin was a bit red, and it felt like I had been in the sun all day. But I wasn't in any pain and Natalie advised me to avoid working out, or anything that would make me sweat. She also told me to wait until tomorrow morning to wash my face.
Day Two
The next day I woke up and instantly noticed a new beautiful glow! I couldn't believe how smooth and soft my skin felt. I washed my face. applied my skincare and took this photo.
Day Three
Day three was when I noticed the most results. I woke up to my skin feeling like my 14-month-old son's face. I am amazed by how smooth and clear my skin is. The texture and milia I struggled with were completely gone after just one AHA chemical peel treatment.
I've noticed over the past few days that I didn't peel, which Natalie said could happen. But because it was such a light treatment with no downtime, she doubted my skin would become flakey. Instead, I was surprised by how quick the recovery was, and how impressive the results were for texture.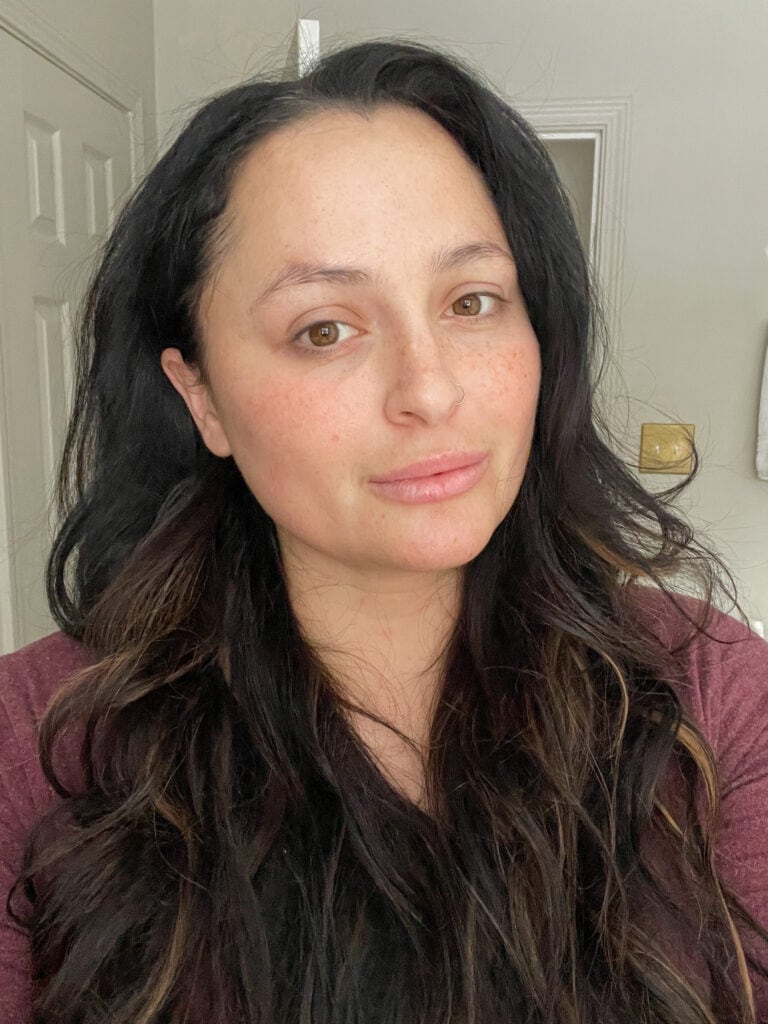 Natalie was kind enough to give our readers 15% off if you mention STEPH15! You can book online for their Penetangushine or Barrie location.
Let us know if you have a before and after chemical peel story or even photos! Send us an email to [email protected].