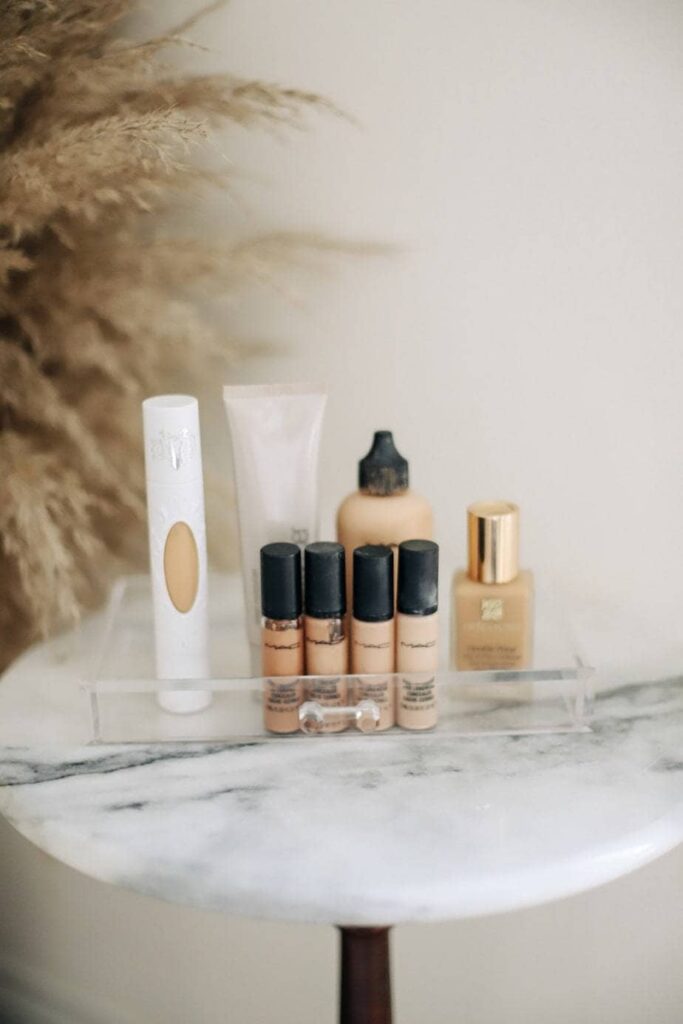 My favourite foundations haven't changed much in almost three years, I'm a fan of finding something I like and sticking to it. However not every day is the same and some days I feel like wearing full coverage foundations, some days are tinted moisturizers and the other day I don't wear anything.
Estee Lauder Double Wear
This is my tried and true foundation, and its a popular one among the beauty bloggers for a reason. The 24 hour foundation is considered buildable but I would say its more full coverage than anything. It is a matte product but also mimics your natural skin tone and its pleasantly moisturizing. This is my favourite foundation to wear when I am shooting content, on camera or at an event and it's become a product I really trust.
Kat Von D True Portait Foundation
When I think of Kat Von D products I think of heavy duty foundations used to cover tattoo's, which isn't the case for the True Portait Foundation. Its a light weight, medium coverage that turns from liquid to a powder and wont clog your pores. I tend to use this on a more day to day basis when I'm not on camera or shooting photos, but still want some sort of coverage.
Laura Mercier Tinted Moisturizer
Laura Mercier makes amazing products, but this tinted moisturizer isn't a favourite of mine. This foundation is meant for oily to problematic skin and since I have normal to combination it just doesn't look good on me. According to the website it can be reapplied throughout the day and offers moisture, oil controlling coverage.
If you have a good experience with the Laura Mercier Tinted Moisturizer and you have normal to combination skin, let me know in the comments.
MAC Face and Body
I've been using this foundation forever, it was a product I first bought to use with my airbrush machine (back when airbrushing was a big deal) and I totally loved it. This is a foundation I've used for clients with acne prone skin, because its buildable but light weight but doesn't clog pores. Ive always found it makes skin look luminescent and glowing, thats why I love using a little bit of Mac's Strobe Cream just to give skin a radient glow.
Pro Longwear Concealer
A tip I've picked up from other Professional Makeup Artists is to take Macs Pro Longwear Concealer with a moisturizer, to create your own foundation. The best thing about this concealer is it is full coverage and its great to cover age spots, skin discolouration and dark under eye circles. You can also use this under a lighter (tinted moisturizer) as a concealer for a more flawless look.
At the end of the day foundation isn't the cure all for making you look flawless, it starts with your skin care and taking care of your body. However, I do like to keep several types of foundation (full coverage, tinted ect.) for different looks I create, but I always gravitate more towards the Estee Lauder Double Wear foundation because it really is that good.
What is your favourite foundation? and if its one I haven't mentioned let me know so I can test it out!