15+ Arched Mirrors Perfect for any Cottage or Cabin
Post Summary: You'll learn why an arched mirror is an aesthetic and functional option, and how to incorporate them into your own home, along with tips for selecting and styling an affordable arched mirror.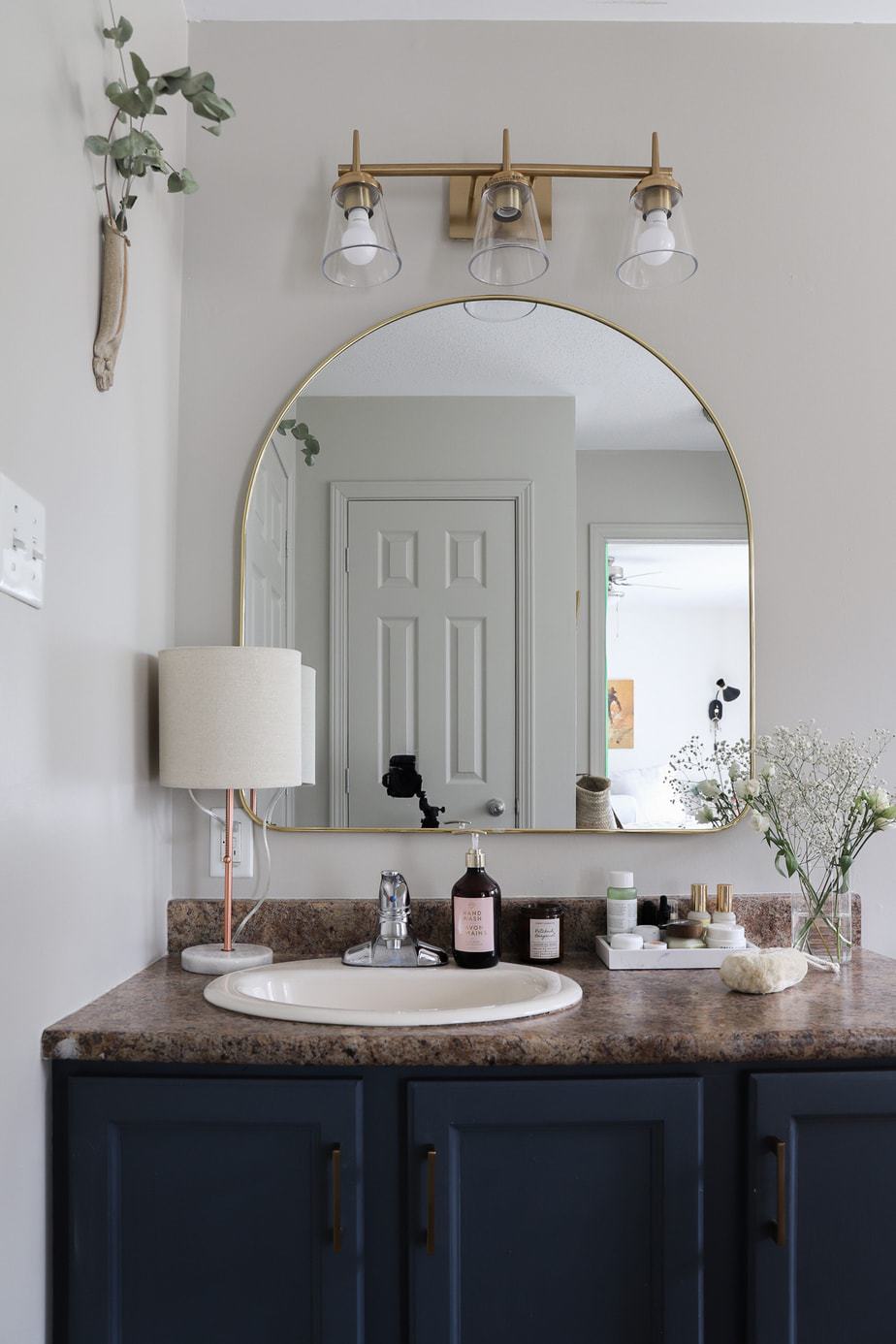 Arched mirrors are a classic, yet elegant choice that have been popular for centuries. Originating from the Roman era, these mirrors blend historical charm with modern aesthetic, making them a versatile addition to any style of home.
We've recently updated our bathroom with the modern-style Umbra arched mirror from Amazon. I love how it looks, we still have a few things to finish in this space but it works well in our small home.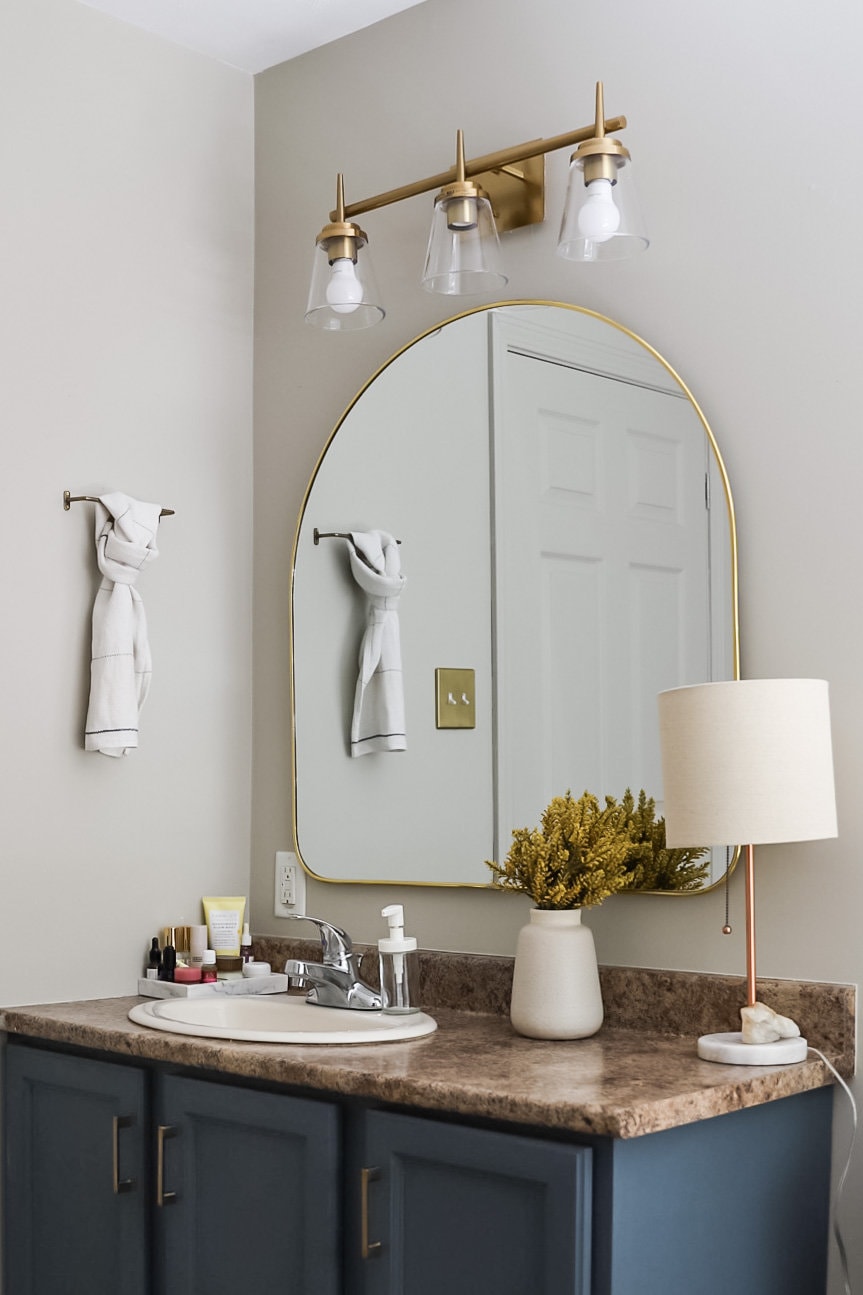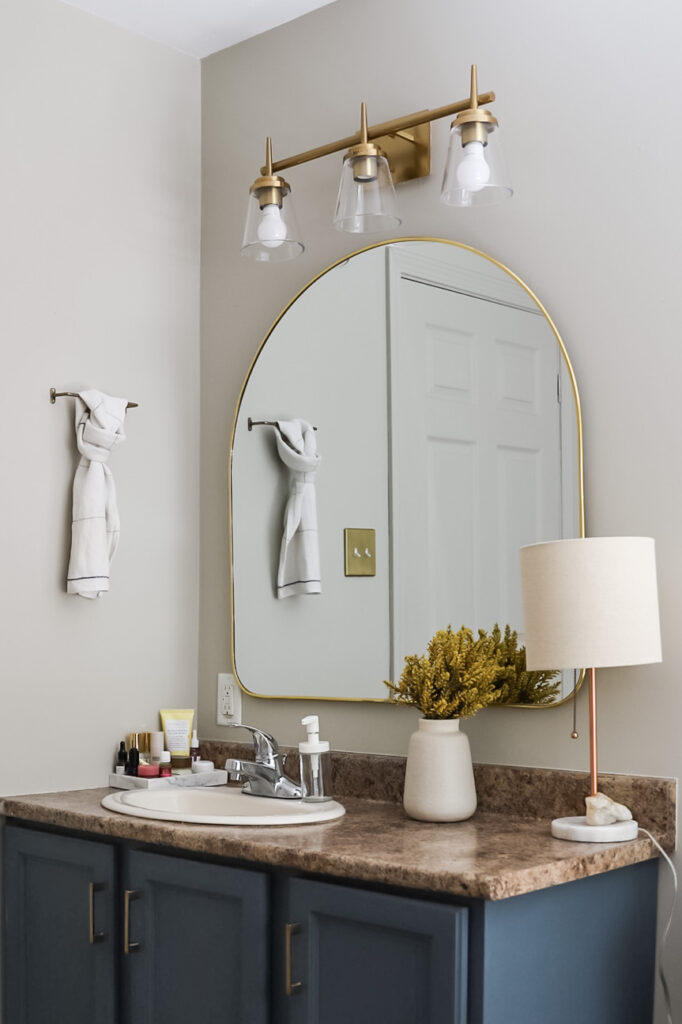 Affordable Arched Mirrors for Every Style Home
While arched mirrors have been popular for centuries, they are certainly having their moment. They look great in bathrooms, entryways, bedrooms, and even on top of a bench or credenza. There are so many options for anyone who's looking to incorporate one into their home.
Not to mention, they don't have to cost you an arm and a leg.
Keep reading to learn how to incorporate arched mirrors into your own home, and learn expert tips for selecting and styling them perfectly.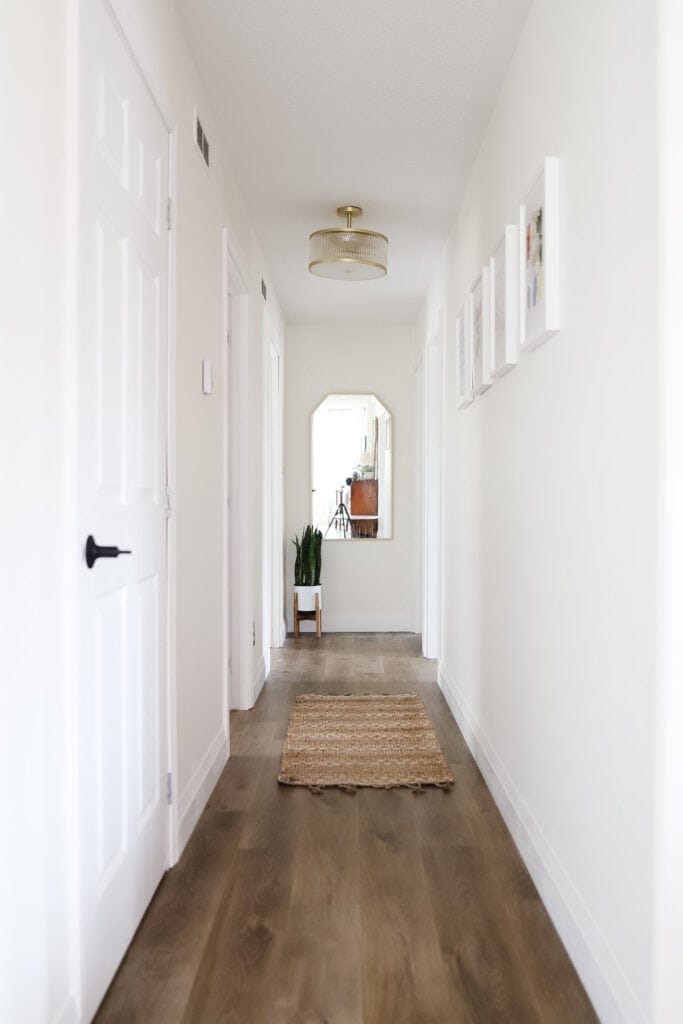 Why Choose an Arched Mirror?
Aesthetic Appeal
The unique shape of arched mirrors adds an artistic touch to any room. Their soft curves contrast beautifully with the straight lines of most modern furniture, creating a visually interesting space.
Illusion of Space
Mirrors are known for making rooms appear larger and more open. The arch shape, in particular, draws the eye upwards, enhancing this effect and adding an element of grandeur.
Versatility in Design
Whether you prefer a minimalist look, a vintage charm, or a contemporary feel, arched mirrors fit seamlessly into various decor styles. They can be a statement piece in a living room, a functional addition in a bathroom, or a decorative accent in a hallway.
Selecting the Perfect Arched Mirror
Size Matters
Consider the size of the wall and the room where the mirror will be placed. A large mirror can be a focal point, while smaller ones can be used to complement other decor elements.
Frame Styles
From sleek, frameless designs to ornate, vintage frames, the choice of frame can drastically alter the mirror's impact. Metal frames offer a modern look, while wooden frames provide a warmer, more traditional feel.
Placement is Key
The placement of your arched mirror can significantly influence its effect. Above a mantel, in an entryway, or opposite a window are popular spots. The mirror should be hung at eye level for the best impact.
Decorating with Arched Mirrors
Layering
Combine your arched mirror with other wall art or mirrors for a layered, textured look. This can create a gallery wall effect, adding depth to your space.
Lighting
Placing a mirror opposite or near a light source can amplify natural light, making the room brighter and more inviting.
Thematic Continuity
An arched mirror can complement other arches in your home, such as arched doorways or windows, creating a cohesive design theme.
Arched mirrors are more than just reflective surfaces; they are a fusion of function and art. Whether you're looking to add a touch of elegance, create the illusion of space, or enhance natural lighting, an arched mirror is a timeless choice that elevates any interior. Embrace the curves and let these mirrors reflect not just your space, but also your style.
How to Hang an Arched Mirror Properly
When it comes to hanging an arched mirror it can be super simple. Similar to hanging art, mirrors can be hung in a few simple steps.
What you Need
Tools you'll need
These are standard tools everyone should have in their home tool kits.
What to do before you hang the mirror
Check the back of the mirror, is it ready to be hung? Ours came with a wire. If you want you can use THIS hanging kit to add one.
Find the studs on your wall.
If the mirror is heavy, use an appropriate screw. There are things like THESE 100lb heavy-duty Duty Frame Hooks that make hanging heavier mirrors a breeze.
5 Steps to Hanging an Arched Mirror
Once you know where you want to hang the mirror, find a stud with a stud finder.
On the backside of the mirror make sure you have the appropriate materials.
Drill your screw into the stud
Next, hang your new mirror and enjoy!
Styles of Arched Mirrors
One of the most popular arched mirrors in recent years is the Gleaming Primrose Mirror from Anthropologie, so this look-a-like from Amazon is a great affordable option. But it inspired us to dive more into the world of arched mirrors, because regardless of the size of your home.
Traditional arched mirrors often feature intricate designs, elegant curves, and classic finishes like gold or silver. They may have ornate details such as beveled edges, floral motifs, or carved frames, embodying a timeless and sophisticated look.
.
Modern arched mirrors are characterized by clean lines, minimalistic designs, and sleek finishes. They often use materials like metal or glass and may have unique or unconventional shapes. The focus is on simplicity and functionality, making them a great fit for contemporary interiors.
Rustic arched mirrors typically incorporate natural materials like wood, with a distressed or weathered finish to give them an earthy, rugged appearance. These mirrors often have a simple, sturdy frame, reflecting a sense of warmth and coziness that complements rustic decor.
Coastal arched mirrors often incorporate light, airy colors like white or pastel, and materials such as driftwood or wicker. Their design is inspired by the beach and ocean, evoking a relaxed, breezy atmosphere. They may include nautical-themed accents or a weathered finish to enhance the coastal vibe.
Arched Mirrors for Every Budget
Like, we said, we wanted to share a variety of arched mirrors, sizes, and prices. That way you can easily choose the perfect mirror for your home. So tell me, which one is your favorite?
Hub Arched Wall Mirror | 2. Metal Arched Mirror | 3. Black Rimmed Arch Mirror | 4. Floor Length Gold Mirror | 5. Bathroom Mirror with Shelf | 6. Farmhouse Style Arched Mirror | 7. Mounted Decorative Mirror | 8. Brynnlee Floor Length Mirror | 9. Black Mirror | 10. Floor Length Mirror | 11. Brass Arched Mirror | 12. Floor Length Arched Mirror | 13. Modern Mirror | 14. Gold, Metal Arched Mirror | 15. Floor Length Mirror
Let us know if you have an arched mirror you love. Or if you bought one for your home! Send us a picture, we'd love to see it.