Today we're sharing 15 arched mirrors, including a few beautiful arched floor mirrors that will instantly upgrade any space.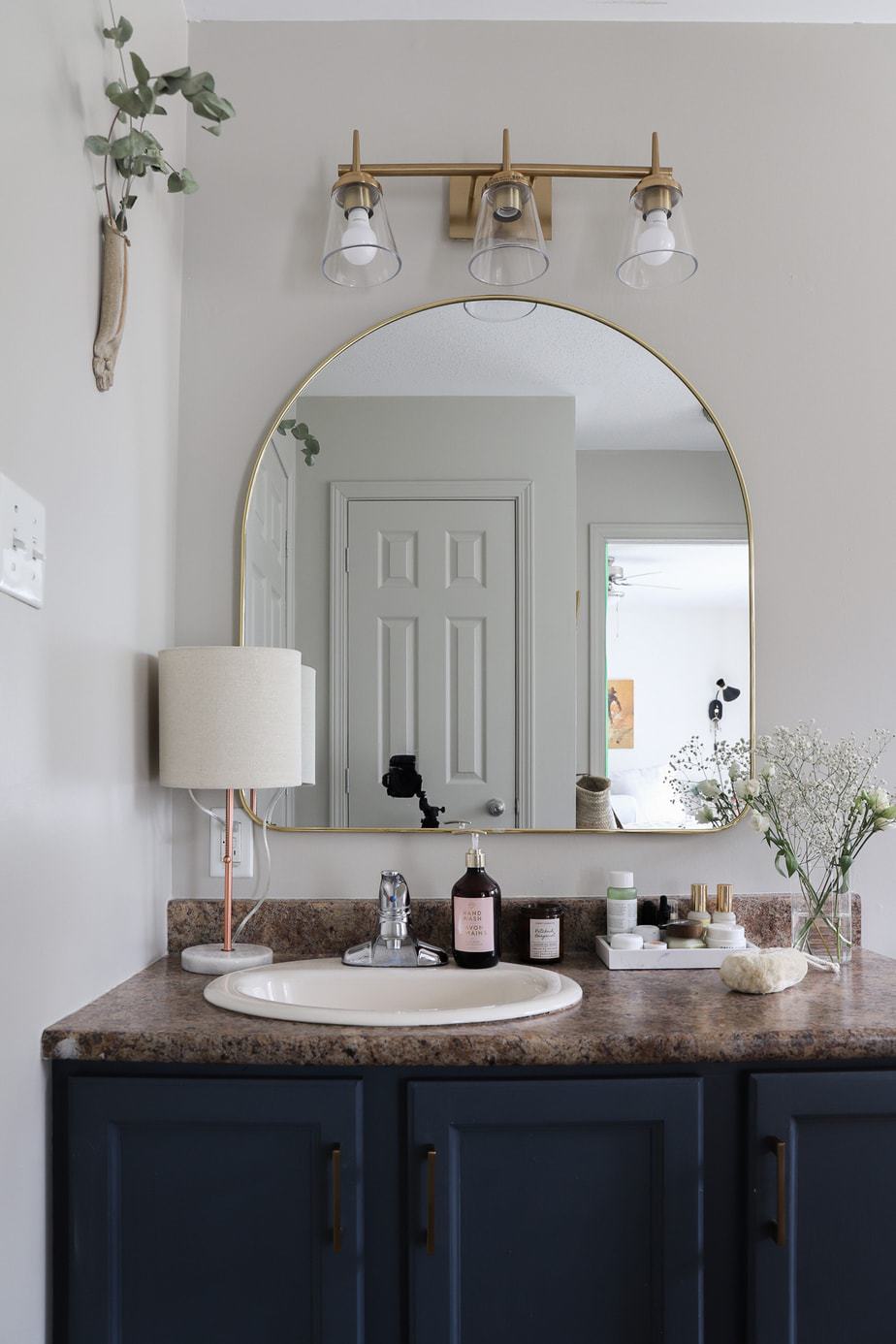 We started our bathroom renovations earlier this week, and it is looking so good! I finished painting everything in Revere Pewter by Benjamin Moore which gave us the modern cottage look we love so much. But there are still several major things we need to order before we can work on it some more.
While I was making a list of our design choices for the room, and getting quotes for replacing the counter top. I noticed this beautiful arched mirror in gold and I knew it would be the perfect addition to our bathroom makeover.
As soon as I shared it hanging on our bathroom wall I couldn't believe how many of you loved it too. So I wanted to share 15 arched mirrors that will instantly upgrade any space!
15 Affordable Arched Mirrors Perfect for any Space!
I love arched mirrors in bathrooms, entryways, bedrooms, and on top of a bench or credenza. There are so many ways to incorporate one into your home and I'd love to show you some affordable options.
Hub Arched Wall Mirror | 2. Metal Arched Mirror | 3. Black Rimmed Arch Mirror | 4. Floor Length Gold Mirror | 5. Bathroom Mirror with Shelf | 6. Farmhouse Style Arched Mirror | 7. Mounted Decorative Mirror | 8. Brynnlee Floor Length Mirror | 9. Black Mirror | 10. Floor Length Mirror | 11. Brass Arched Mirror | 12. Floor Length Arched Mirror | 13. Modern Mirror | 14. Gold, Metal Arched Mirror | 15. Floor Length Mirror
I can't wait to show the process of our renovation, I assume you love it just as much as I do. It's one of my favourite things to do, especially during this time when we're spending more time at home than ever.
What's on your list for bathroom updates? I'd love to know what to share next.
Looking for more affordable updates?
An Affordable Kitchen Upgrade with Glacier Bay Faucet
9 Affordable Marble Coffee Tables