Country Home Hallway Ideas & Mood Board
This article is all about our Country House Hallway Ideas. Plus we're introducing our next project and sharing the mood board.
Hallways are notoriously difficult to design, with narrow areas, limited wall space, and they're often too dark to decorate properly. But they are also a great opportunity to display an appreciation for your country-style house.
When we think of a country-style home, we often think of certain elements like wooden floors, muted colors, pottery, and linens.
But there are plenty of ways you can decorate a hallway so that it will tie into the rest of your home. Our goal is to have it flow together and look like it's a part of your home instead of an afterthought.
So today, I'm sharing a round-up of some country house hallway ideas that can help you figure out how to decorate a beautiful and functional hallway.
Country House Hallway Ideas
We're officially starting the hallway project at our county home this week. And one of the hardest things to figure out was how to design the awkward space at the end of the hallway. It's a 3 ft. area between the back wall and our bedroom door.
Currently, we have a storage bench from our bedroom that houses all our linens and sheets. But it's impractical, low quality and I would rather get rid of it. My first initial thought was to create a space for storage at the end.
So I wanted to share a few design tips that helped me work through our own struggles.
Hallway Storage Ideas
If you are lucky to have space at the end of your hallway, think about including some storage options into your design.
Storage options can come in a variety of shapes and sizes, from a small console table to a huge family heirloom perfect for linens.
We see a lot of people who play it safe, and in turn the space feels boring. So if using bright colors isn't your thing, why not incorporate statement pieces, large furniture items or eye-catching decor.
Julie Blanner shared her family's antique linen closet, and it caught my eye. It would be perfect for a country house hallway. If you're looking for a similar look, try a local flea market, Facebook marketplace or even, Craig's list.
Another idea I've seen shared by other Interior Designers is built in shelves, and bookcases either flanking the hallway or at the very end. It's a perfect and often under utilized area you could fill with baskets, books and decor pieces.
If you have a hallway closet, you can remove the door, paint the shelves or even install new ones! Before you know it you'll have a very good looking build in shelf to house all your collectables.
Decorating Tips for Long Hallways
Decorating long hallways can be problematic as well. Too much space can make things look out of proportion.
So making sure you have furniture and decor in the appropriate sizes for the hallway is really important.
That doesn't mean you can't have fun decorating it. Try adding a large painting or tapestry to the back of the hall. The trick is to create a focal point, preferably a contrasting color because it will draw the eye in, making the long hallway appear shorter.
Emily Henderson created interest by hanging a dark tapestry. She created the perfect focal point and was able to draw the eye forward with an appropriate-sized runner.
Another tip when your designing a long hallway is to have repeating elements.
This can be done by repeating picture frames, adding flush mount lighting or installing some beautiful old world beams.
Whatever your budget allows, you can translate this into something that fits your style and your family.
Shayna from the Woodgrain Cottage used three picture frames at the end of her hallway and it was an inexpensive way to add a touch of character to an otherwise blank wall.
I also loved how she chose to use oversized picture frames. They make a great statement, and filled with family photos gives the whole look a cozy vibe. But you can also group together smaller picture frames, and create a gallery wall.
Decorating Tips for Short Hallways
When it comes to decorating short hallways, we want to focus more on the details.
Try incorporating an eye-catching chandelier, a bright or busy rug, or board and batten to the walls.
We've also seen a lot of colorful hallways lately, in rich tones like pinks, beiges and deep blues. I've always loved muted colors for country homes.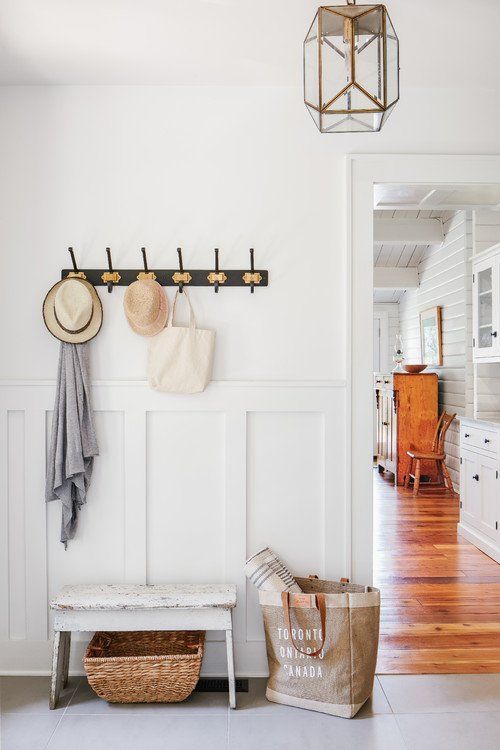 Another thing I love is peg rails because they serve as both function and decoration. Add some board and batten, a basket and a rustic stool or bench and you have a complete look for your country house hallway.
Styling a Country Hallway for Different Seasons
I also wanted to touch on a few tips for styling your hallway for different seasons. It's an area we often forget to decorate when we're changing out our decor. But it can be fun and really easy to do.
Summer Styling Must Haves
Straw bag
Faux or real flower arrangement
Light linen
Rustic bench
Adding simple summer touches to the hallway is all you need to help bridge the gap between it and the rest of your home.
Fall Hallway Styling Must Haves
A pair of boots
Fall folage
Burlap material or some kind of textured material
Straw basket
My favourite season to decorate for is fall. Theres so many fun colors and decor options available. Why not incorporate some of the fall decor into your hallway?
Adding simple fall elements to your hallway like a pair of boots, faux branches, baskets and apples are a great inexpensive ways to decorate. But it also makes your home feel cozy and inviting.
Our Own Country House Hallway Mood Board!
Now that we understand what a county hallway looks like, we can use these tips to design our own. We don't have a long hallway or a short one, but we do have a dark hallway that needs some brightening.
Our hallway also lacks character, its builder grade flooring, walls and boob lights separate it from the rest of our home. It feels incomplete.
*Check out "Shop the Post" for all the links and information on products below.
The plan to makeover our hallway:
First things first we need to replace the flooring tiles
Paint walls a bright color
Change out the light fixture
Add a muted but textured runner
Finish the desigh with rustic elements and of course a beautiful flower arrangement.
But did I mention I'm super excited to share more of our hallway makeover this week! Don't forget to follow us on Instagram, where we share daily content and it's a lot of fun.