The 8 Small Kitchen Tile Ideas We Considered for the Cabin
When it comes to choosing the perfect tile for your small kitchen, there are a lot of options out there. Which is why we're sharing the small kitchen tile ideas that we considered using for the cabin kitchen project.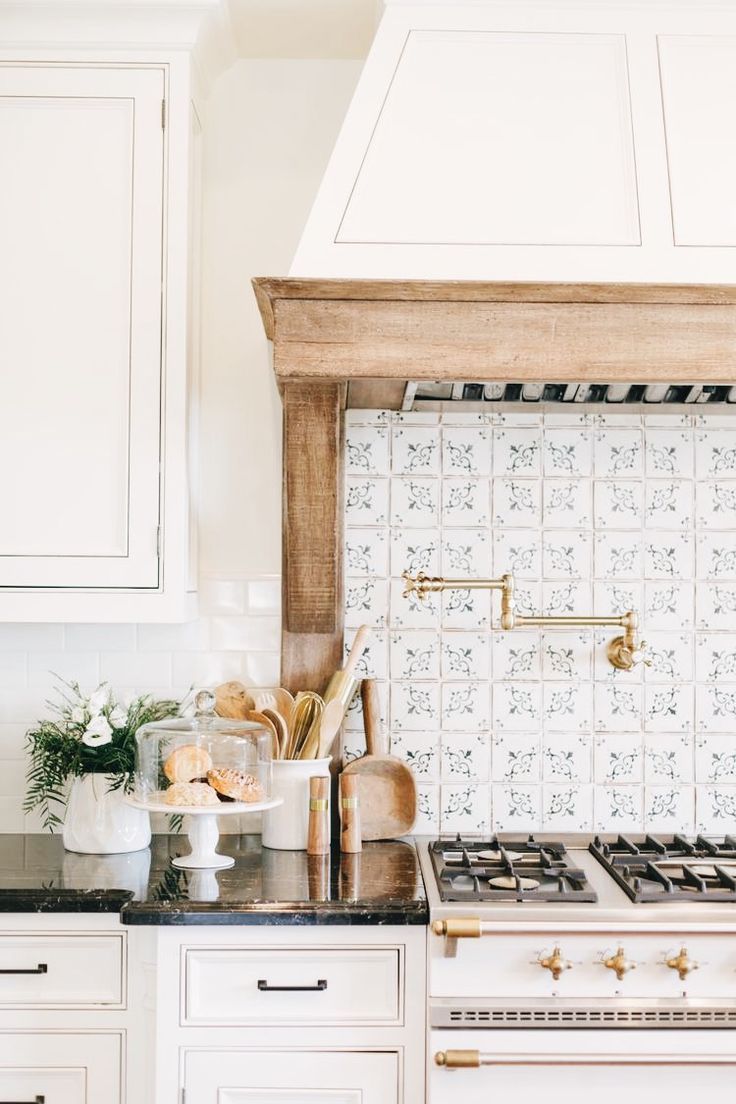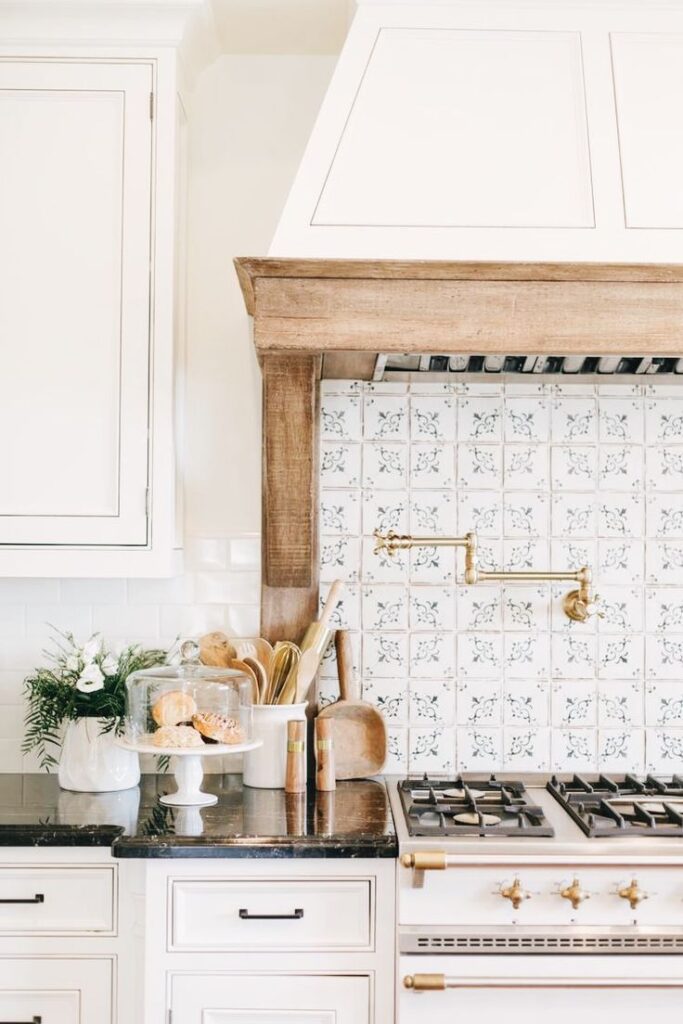 One of the most exciting parts of a kitchen remodel is choosing the tile. It's the jewelry of the room? or is that the hardware. Maybe it's more like the eyes of the room. But however you want to think about it, tile is even more important when you're working with a small space.
Since tile is one of the first things people notice in the room, it needs to be intentional. And as practical as backsplashes are, they should still be beautiful.
Which is exactly why we're going to take a look at some kitchen tiles we considered using for our own tiny kitchen remodel. I'm sharing why we love each of these cottage-style tiles and how each choice will bring together the rest of the kitchen design.
As a reminder, we kicked off our own small kitchen remodel recently, and as promised I'm taking you along on the design journey. I'm also sharing a big update on the kitchen remodel and I'm revealing the tile we chose.
I seriously hope this post will also help you narrow down the tile design, material, and layout you want.
Let's take a look at these beautiful small kitchen tile ideas, and how each one will be the piece that pulls your kitchen design together.
Small Kitchen Tile Ideas
Before we get into all the small kitchen tile ideas, I wanted to share three things you need to know before you start looking for tile.
What is your budget
What type of material do you plan on using
How well do you know your style or the style of the room you are designing
The reason we start the design process like this is so that you don't go over budget, you know the material you are using and how it will work with your lifestyle. For example, you don't want marble if you don't want to spend time caring for it.
And finally, how well you either know your style or the style of the kitchen. It's important that you don't make a mistake and choose the wrong tile because it can be a costly mistake.
So without further ado, let's take a look at the kitchen tile we considered using for the cabin kitchen remodel.
Subway Tile
When in doubt go with subway tile. Not only would this be a show stopper, but it's also a classic choice. It would look fabulous in almost any style of home.
Not to mention, its versatility with the layout. You could choose to do the subway tile in a classic layout, a herringbone pattern, or even a modern stacked look.
Marble Tile
After doing a little digging on Pinterest, I came across the photo below and thought why not combine the two tile ideas, and do a marble subway tile. Since the square footage isn't that much, I thought it might be nice to use a luxe material. I could totally use this time to get creative with my design.
Square Ceramic Tile
This 5×5 ceramic white tile is one of my favorites, and I really want to highlight it in a future blog post. Not only is this photo beautiful, but it's a great option for the cabin's uneven walls. I did share my love of this particular style of tile on Instagram stories the other day, and several of you sent me photos of these tiles in your kitchens and bathrooms. Some had grout lines and some didn't. Both looked amazing so it's all about personal preference.
However, I was also told that this tile is extremely hard to clean and dust. So that's another thing to think about.
But overall, I love how the old-world cottage charm. I think it could be a great juxtaposition when paired with modern elements and decor.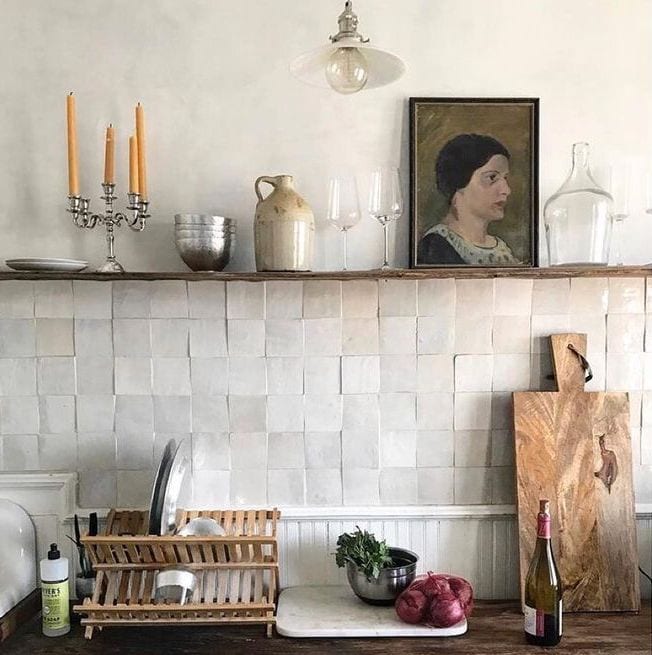 Geometric Tile
I would say choosing this tile is a great option for those who enjoy geometric patterns but want the subtle look of clean lines and white tile. We thought it would be fun to inject some creativity into our space. In recent years, we've been seeing a lot more creativity with geometric tiles. This style can easily make an older kitchen feel modern and intentional.
However, I wonder if this is bold enough for us. I want to use a tile I love for this space, and this is a little too safe for me.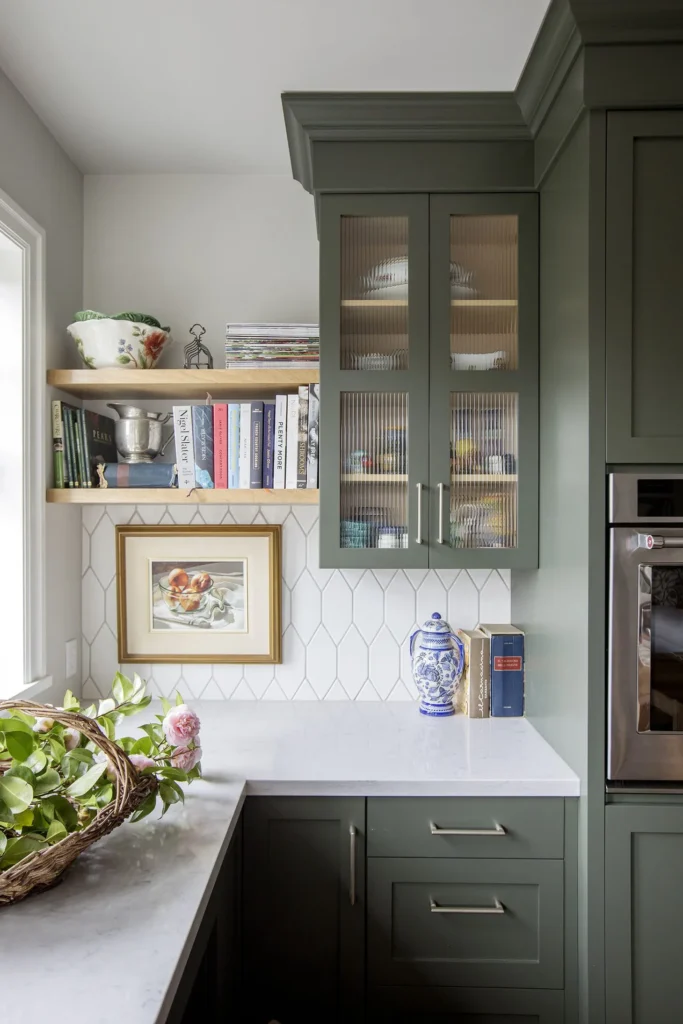 Colorful Tile
You have two options when designing a small kitchen, you can either make it a focal point or not. But a great way to do this is by choosing a bright color scheme for the backsplash tile.
Because let's be honest, the biggest struggle for me wasn't just choosing a tile, it was choosing a color for our tile. I love the green tile and brass elements paired together with the natural wood shelving. But would I regret the color choice in a few years? is it too trendy? It's like glass tile, it can date a space if it's not done correctly.
Either way, this kitchen design works because they choose a neutral countertop that didn't compete with the beautiful tile. They also choose to do contrasting grout in white, and I thought that would be a great idea for a tiny kitchen.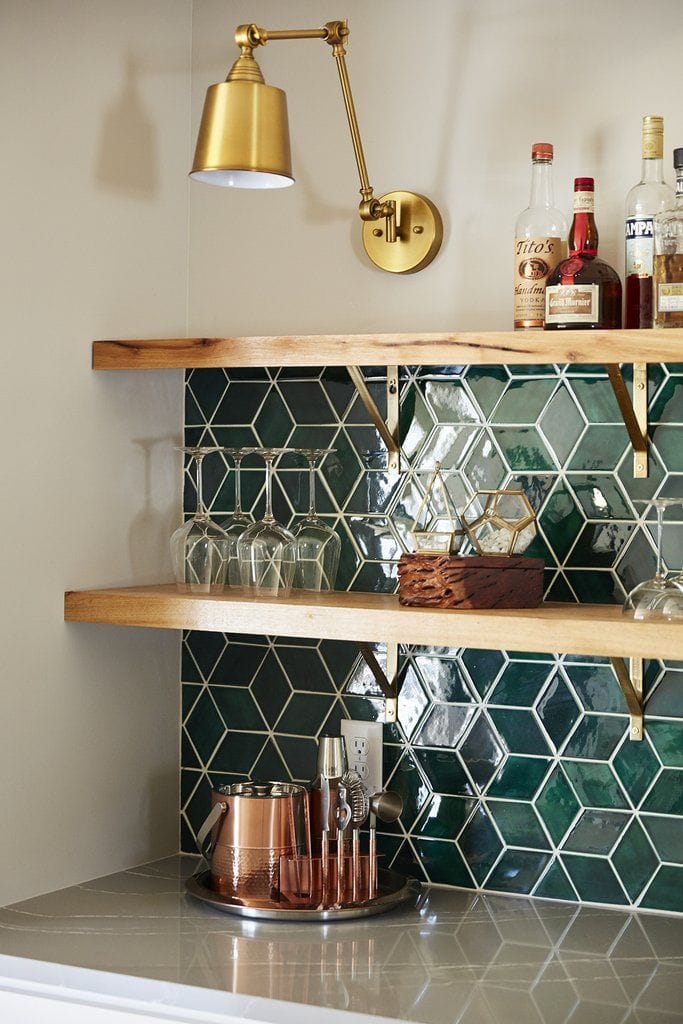 Floral Printed Cement Tile
As I said, small kitchens can either be the focal point of the space or they can blend in. In this case, we really loved this floral print tile, it's whimsical and feminine. This would be a beautiful tile to use anywhere, let alone in a small kitchen.
I think the beauty is in the details, and I'm a huge fan of utilizing tile as a focal point.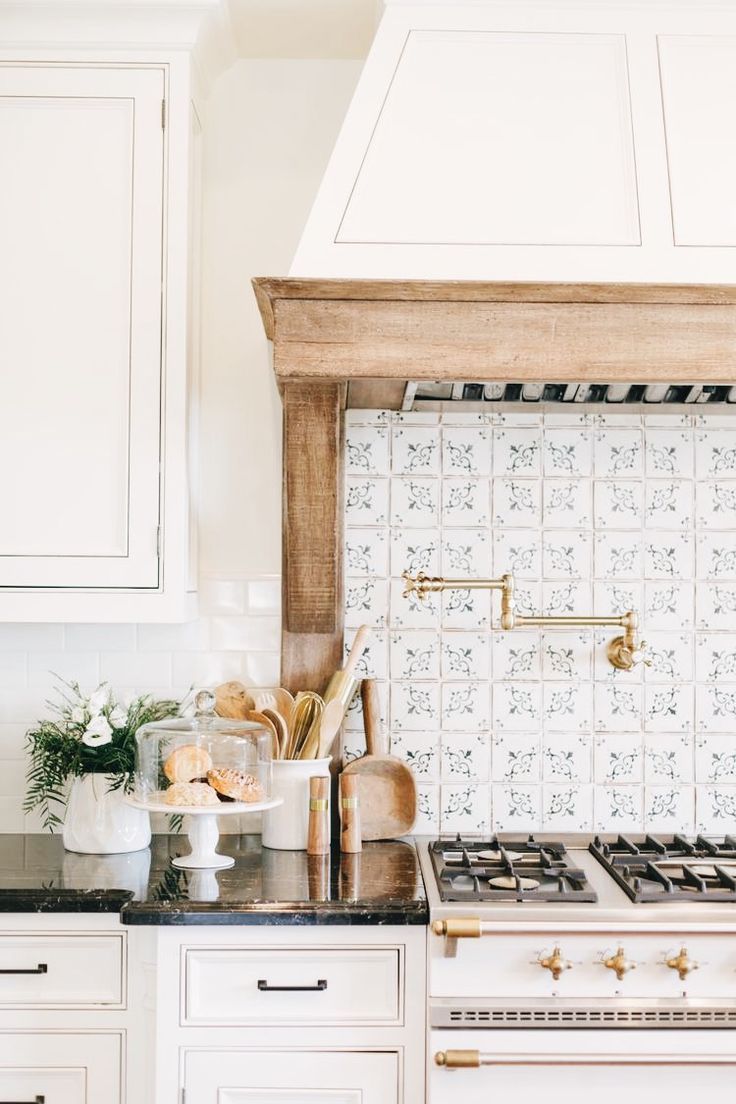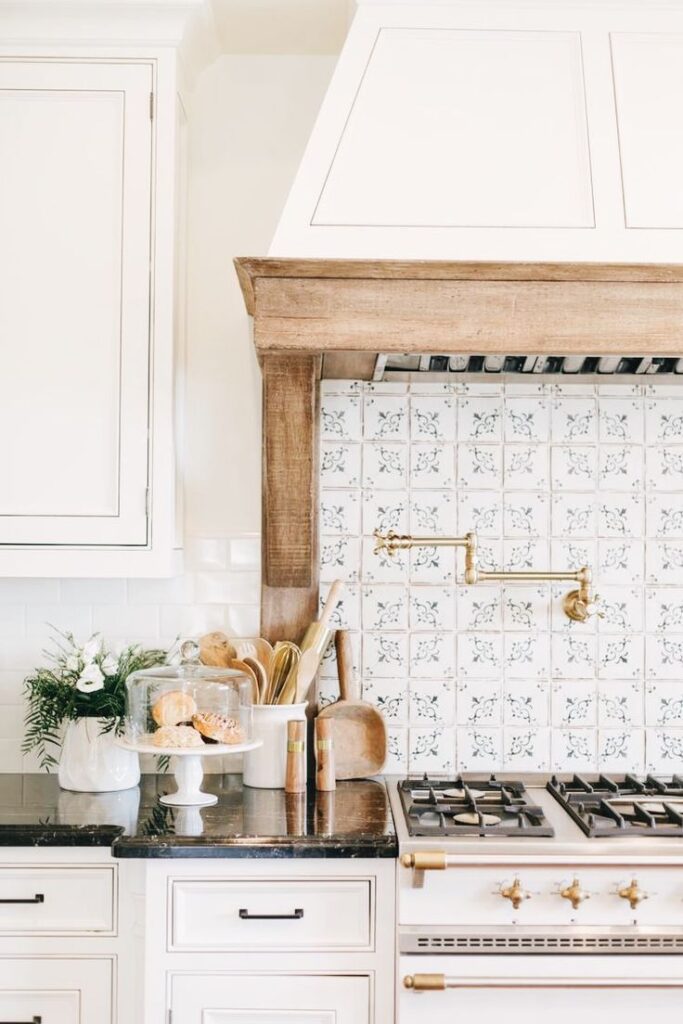 White Subway Tile
Since we shared subway tile earlier, I thought why not share this popular choice as well. Not only is subway tile a budget-friendly option, but it's also an easy one to install.
You can get creative with porcelain tiles because they are inexpensive, and come in a ton of different colors. In the photo below, they used contrasting grout to make the tile pop. They also did a quarter wall instead of going all the way up. But I really like it because they did a few open shelving for plants and glass containers. It's perfect for a cottage-style kitchen.
Square Mediterranean Tile
While this is a Mediterranean-style tile, the whimsical blue pattern on the white tile leans well into a cottage-style home. Paired with natural wood, antiques, brass, and natural stone, this is a beautiful choice.
This was actually one of the serious contenders when I was designing our space. And if I don't use it at the cabin, I'll hopefully use it at the cottage.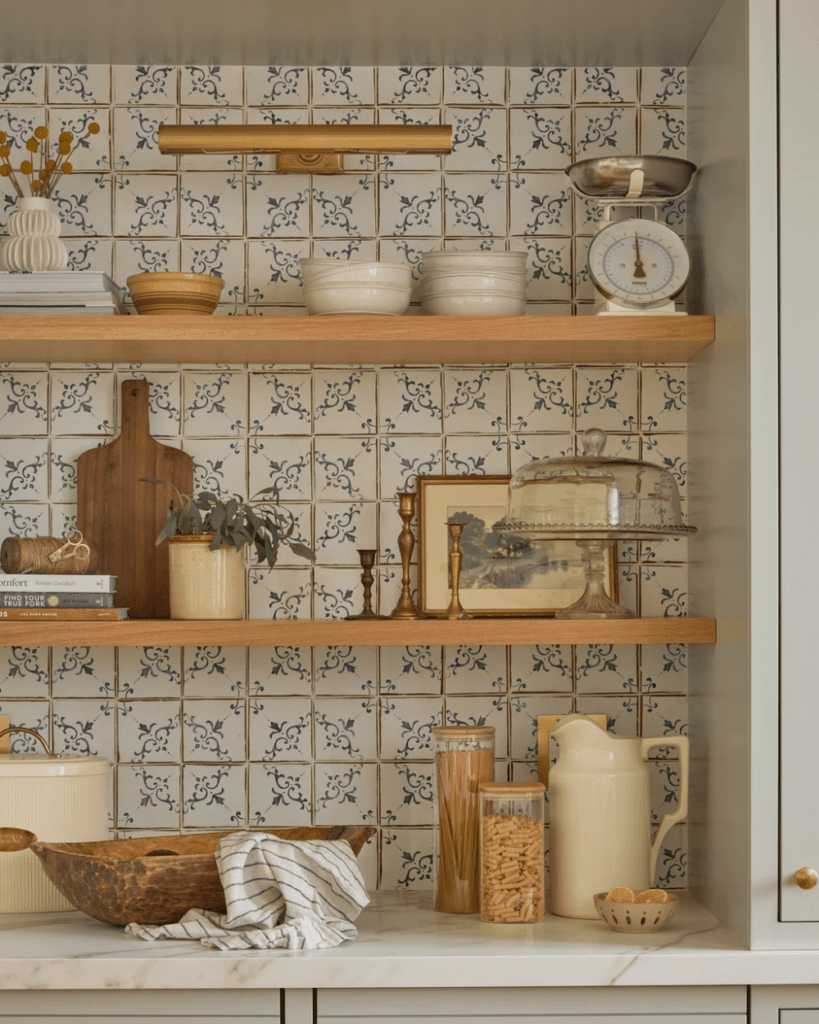 I hope those small kitchen tile ideas were helpful because I know they helped me narrow down what I liked. This is why we're here and I finally get to share the tile I chose for our own small kitchen, and some tips I have for installation.
The Tile we choose for the Cabin Kitchen
So, I chose to go with the Chloe 5″x5″ Ceramic Tile in White from Bedrosians. The tone-on-tone and all the imperfections were simply perfect for the cabin wall. Not only are the cabin walls a bit uneven, but using smaller tiles seems to make the entire kitchen look larger.
When we were first planning the tile design, I thought it would be a good idea to lay it all out. That way I could plan how each white tile would look next to the greyish-white (tone on tone). But I started overthinking it and it quickly started looking more like a checkers board.
So I went rouge, and just picked up one at a time and stuck it to the wall.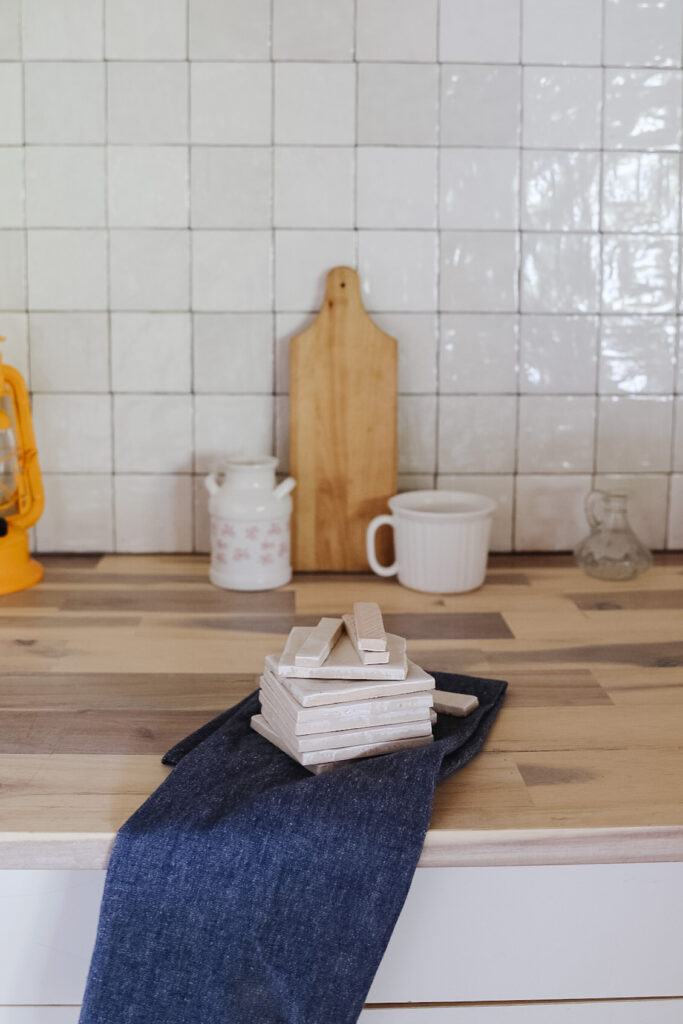 Looking at it now, I would say this is the right tile because it's perfectly, imperfect.
Installing Tile in a Small Kitchen
This is my first time installing tile myself, and it took me a second to get used to it. But I wanted to learn, and now I can give some tips.
So the best tip I have is to go with a tile adhesive like the one below. In the photos below the one with the adhesive, you will notice we used a different type of tile adhesive. It was good, but maybe the bag was old. It was hard to use.
The one I recommend using is called AcrylPro Ceramic Tile Adhesive and it's used for floor and wall tile installation. Not only was it really easy to use, but it wasn't messy and dried quickly.
Grout Ideas for a Small Kitchen
As you can see, we didn't grout yet. I had a hard time making a decision on the color. But after sitting with it for a while, I think I made a decision. I know I'm going to go with something light, perhaps a light grey or white grout.
It seems to work best with this style of tile.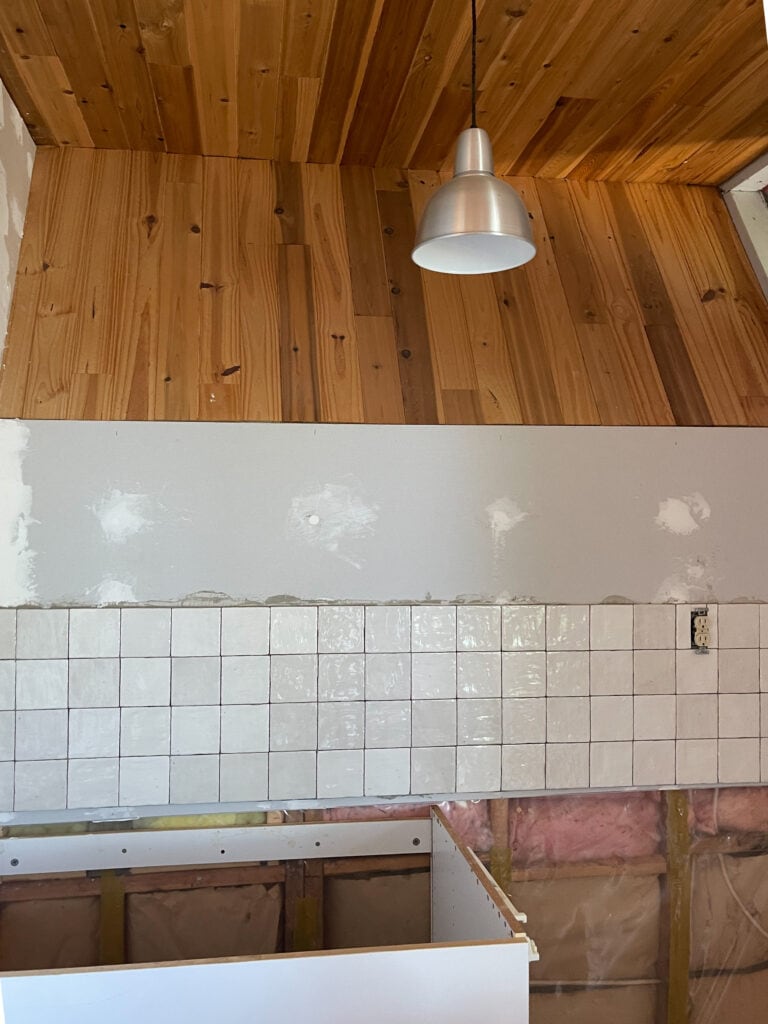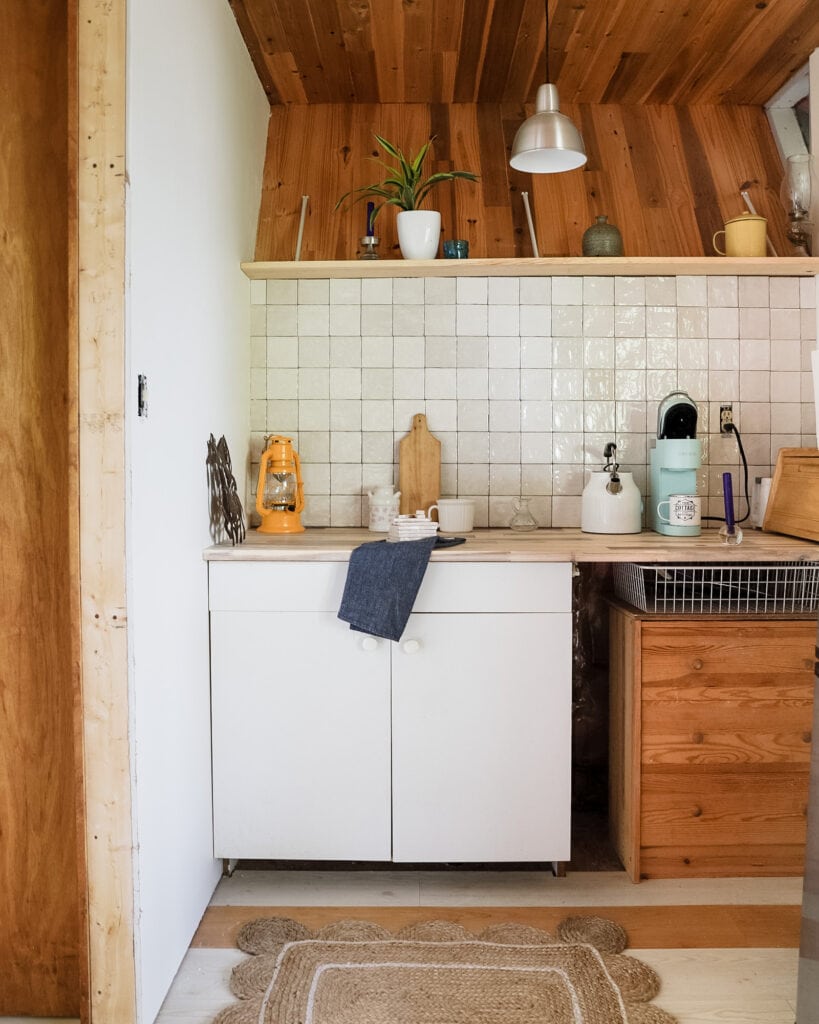 The Budget for Our Small Kitchen Backsplash
The entire backsplash of our small kitchen is only 42 sq. ft. It's 7′ by 6′ and I figured we would spend around $300 on the backsplash. But after I ended up getting the tile for $13/sq.ft, making it less than my budget.
Speaking of budget, I do have a fun post coming up on shopping Facebook Marketplace that I think you guys will enjoy. I had a ton of requests for thrifting finds and tips for buying used, so I figured this was the perfect time to share our finds with you.
You're probably looking and wondering what were planning to do next. I want to say we were updating the kitchen flooring but I honestly don't think that will happen this year. Instead, we're focusing our attention on swapping out the refrigerator, and then styling this space really well.
So if you want to see more, make sure you stay tuned for more of our Tiny Cabin Remodel. Don't forget to let me know if you have any questions specifically about small kitchen tile ideas. I'd love to update this post in the future.