The 5 Cottage Projects We're doing in 2021
This article shares all the cottage projects we're planning for 2021.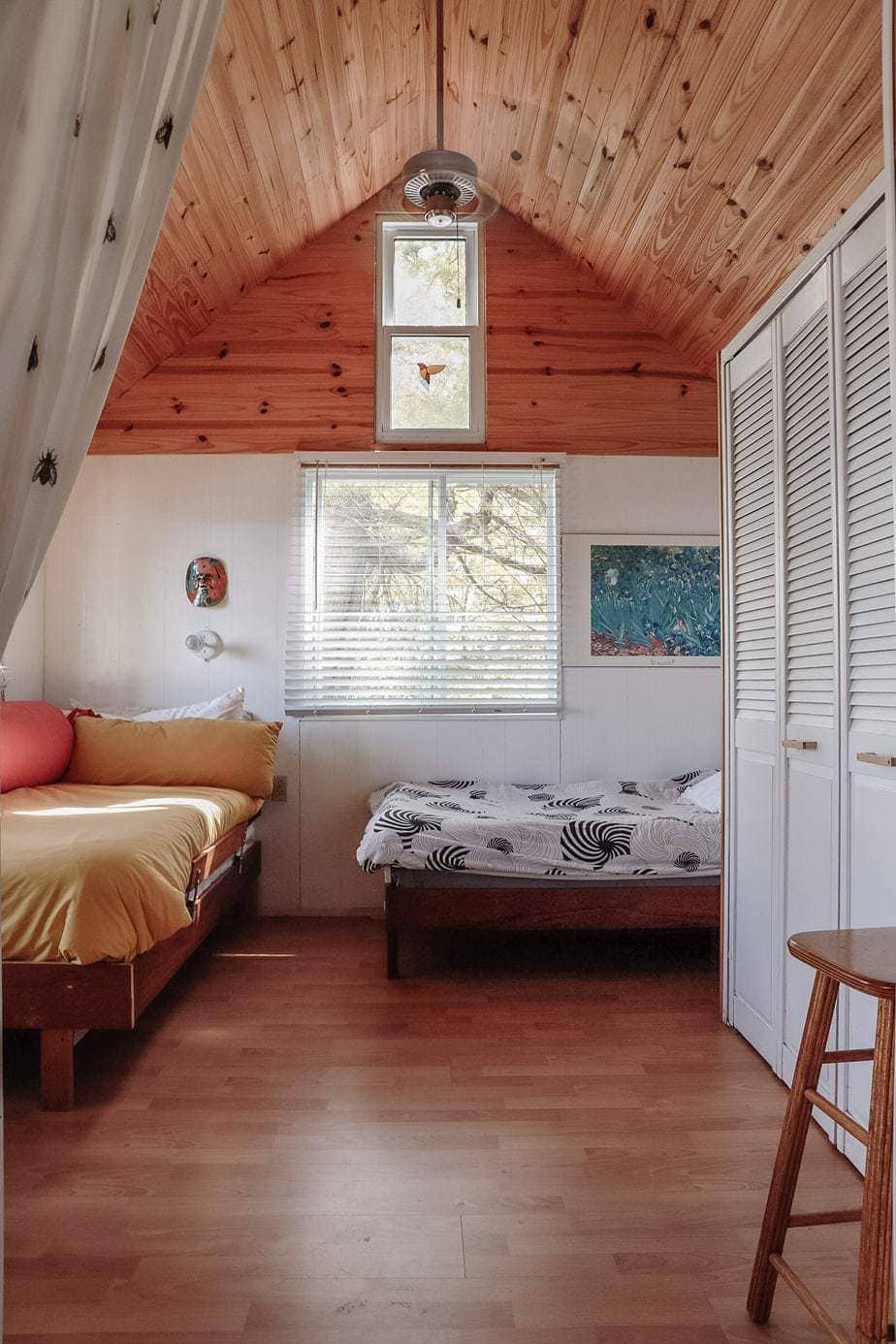 The summer of 2020 we barely left our house, and I know many of you didn't either. This year I'm hoping will be different, with more freedom to visit our island cottage and get started on some of our projects.
At the beginning of every cottage season, we go over our project list that we hope to check off over a few summer months.
I'm still planning on writing a post on the history of our cottage, because it is quite interesting. In fact my dad and grandfather built it back in the early 70's. Since then it's been our cottage, full-time home and back to a seasonal place for us to unwind.
Let's walk through our project list for the cottage in the summer of 2021.
5 Cottage Projects we're doing in 2021
1. Getting rid of the beds
The bedroom in our little granny suit cottage has two single beds, and sleeping in them feels like your in a hammock. They are so bad I do not know how my grandma did it for all those years. So our plan is to rip both out and either build a queen size bed or buy one. But we'll defiantly be purchasing a new mattress for the time.
2. Stripping the deck
Over 10 years ago my grandma painted the front deck this deep red. It's more of a look you'd see in Dominican Republic or Mexico than in an island cottage. This year I want to stip the deck, exposing the natural wood underneath if I can. I'll probably end up staining it a dirty oak colour, something muted and not orange.
3. Finding where the smell is coming from
Oh my god,, we have a smell! Most older cottages have a distinct smell but because ours was build fairly recently we don't understand where it's coming from Every summer my dad and me have tried to find out where it's coming from, but we haven't had much luck. The only thing we can think of is the crappy panelling on the walls, a few of them are made from chipboard. Which never holds up for too long, especially in humid conditions like we have. We're basically prepared to take it all down and put up dry wall instead.
Anyone have a similar issue? I'm looking for some advice on finding where a smell is coming from.
4. The Kitchenette
The kitchen is okay, but it needs a serious cleaning. It's been years since we had time to do anything but sleep there. But I want to completely clean it, and make it useable for at least a breakfast or coffee bar.
It's also good to mention if you were a little confused about the kitchen. But we have what you might call a granny suit that's attached to my parents cottage. Even thou it has a kitchenette, bathroom and bedroom, we spend most of our time eating and cooking on their side.
5. The Garden
The garden was once a beautiful, thriving oasis. It was my grandmother's pride and joy! I loved everything about it, but as she got older the garden got more wild and unruly. So I've made it my mission this year to revive some of that. To pulls weeds, replant any thing I can and maybe create a new plan for that garden as well.
We hope 2021 is better to us than 2020, and that we can actually spend time at the cottage this summer. I'm optimistic that we can get this list done, even thou we will be having another baby this summer. What projects are on your list this year?
Looking for more cottage content? Check out these articles
A Tour of the Granny Suit Cottage
The 12 Things You Can't Leave to the Cottage Without!
How to Update Old Panelled Walls on a Budget