The Ultimate List of Boat Snacks
This post contains links to affiliate websites, such as Amazon, and we receive an affiliate commission for any purchases made by you using these links. We appreciate your support!
Post summary: These are the best foods for boating according to an avid boater with small children.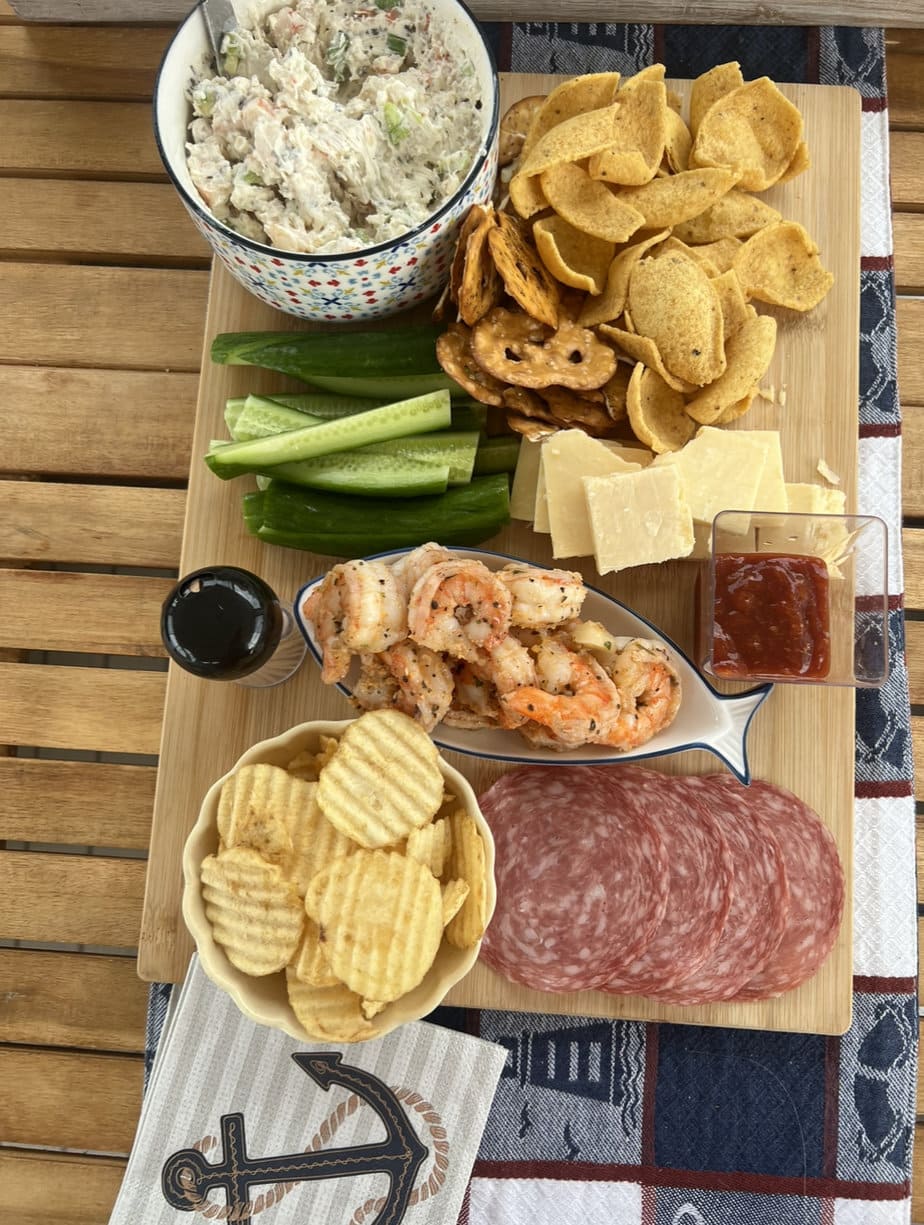 Are you planning a day on the boat? Boating trips offer a fantastic opportunity to unwind, soak in the sun, and enjoy the beautiful sights. But what's a boat day without great food? We've compiled a list of the best foods for boating, ensuring you have the tastiest treats and wholesome meals on hand for a memorable day on the water.
We are so lucky to call Georgian Bay, Ontario home. Living close to the lake and owning a tiny island cabin, means our family spends quite a bit of time on the water. From swimming, fishing, and paddleboarding. But our favorite way to spend a beautiful day is by going for a boat ride. Over the years, I've become quite an expert at packing the best snacks and meals for the boat. 
Best Foods for Boating
Keep reading to find out what the best foods for boating are!
The Best Foods for Boating
Anyone who's ever been on a boat, or owns a boat knows there are some foods that you shouldn't bring. I'm not just talking about bananas, which are notorious for being bad luck for fishermen. But messy foods that stain, like cheezies are also a no-no.
But don't worry let's dive into the best boat food that everyone from kids to adults will enjoy.
What to avoid bringing on the boat
Bananas – While this is a superstition, many still believe they bring bad luck.
Orange Foods – Any food like Cheezies, Cheetos, or anything with orange dust, can stain the fiberglass, seat covers, and floorboards.
Avoid Red Wine – Red wine stains, and just like Doritos and Cheetos, it's better to avoid them when on the boat.
Prepare Everything – Remember to cut veggies, peel apples, and prepare everything ahead of time to make it easier to eat on the boat.
Chocolate – Chocolate melts and gets everywhere. It's better left at home.
What kind of food should I bring on a boat trip?
Stick with no-mess foods like vegetables, fruit, charcuterie, cheese, crackers, and other hand foods. The idea is to have mess-free options whether you have small children or adults on board.
What is good to have on a boat?
If you're going on a boating adventure, make sure you have the following:
license and registration
life jackets
anchors and ropes
first aid kit
fire extinguishers
radio or emergency distress signals.
What is a boat food?
Boat food or boat-friendly snacks include things like fruit salads, vegetable trays, sandwiches, and other finger foods which we're sharing more about below.
Pasta Salad
Pasta salad is a classic snack and a great option for boating. It's easy to prepare and can be kept in separate containers for easy access during your boat ride. Make it your own favorite by adding different variations of vegetables, proteins, and dressings.
Fresh Fruits
On a hot day, there's nothing better than fresh fruits. They are a perfect snack to keep in your cooler box, offering a healthy option for a mid-day pick-me-up. Watermelon slices, fruit salad, and cherry tomatoes are bright-colored delights that are sure to refresh you.
Veggie Tray
Veggie trays are always a crowd-pleaser and are super easy to prepare. If you're ever in a rush, you easily pick up premade veggie trays from from grocery stores. Or if you're like me I like to prepare my own, include a delicious dip like ranch, and cover with plastic wrap.
Protein Bars
Protein bars are always with us when we go on the boat. It's a great way to curb you're cravings and hold you over until lunch or dinner. But they are a great snack option when you're on the go.
Cheese and Crackers
If you have small children like I do, I try to bring easy snack options like string cheese or sliced cheese and crackers. Sometimes I'll also include a fun dip for their crackers. It's an easy and tasty treat.
Hot Dogs
Hot dogs are a crowd-pleaser and a classic snack for a reason. They are a good choice for a quick, warm meal on your boat day. Serve them with all the fixings and some tasty treats like roasted pepper or mozzarella balls.
Granola Bars
When you're out on the water for a full day, you need a snack that will keep you energized. Granola bars are a great boat snack, available in different flavors and variety packs, ensuring you have enough food to last your boating adventure.
Charcuterie Board
For a touch of luxury on your boat day, consider creating a charcuterie board. Pre-cut cheese, a variety of crackers, Caprese skewers, and delicious dips can be beautifully presented on a boat-friendly platter, making it a great meal and a showstopper.
Pretzels
Pretzels are the perfect salty treat, and a classic to bring along for a day on the lake. You won't have to worry about them melting or getting too hot, you can even bring along some dip. They also come in different sizes and are great for kids to snack on.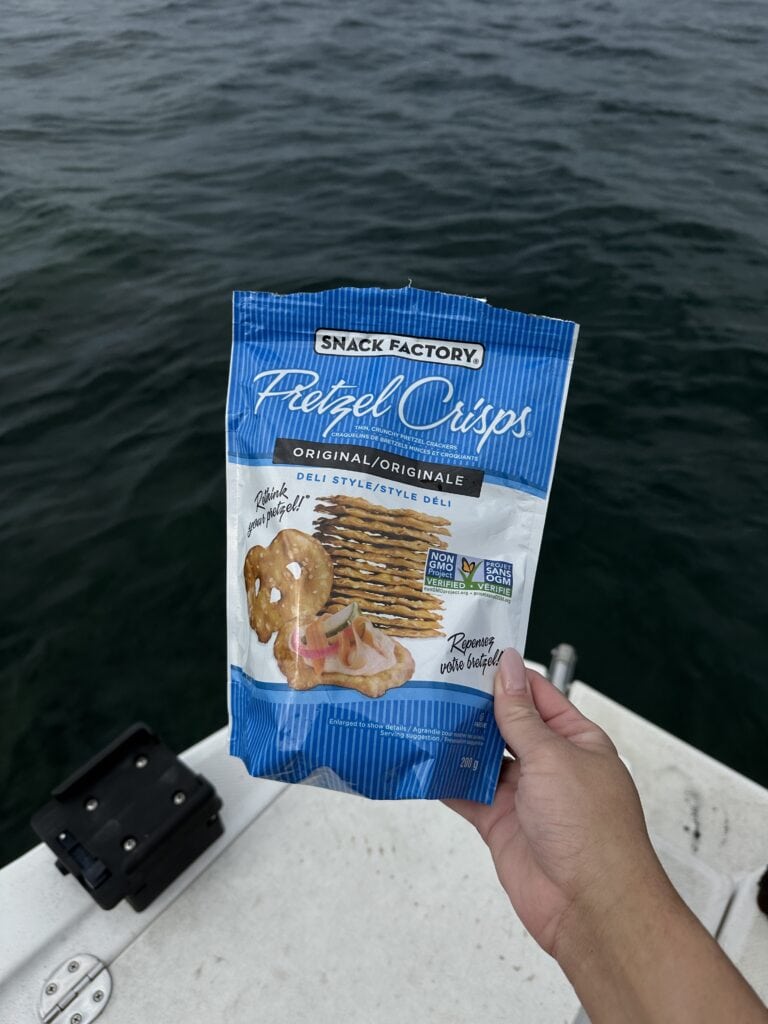 Sandwiches
Sandwiches are the perfect boat food to bring, and nothing compares to fresh bread with peanut butter and jam or other fresh ingredients. They can be a healthy option and easily prepared at home. We love that you can also provide a balance of protein and leafy greens. I'm sharing my favorite recipe for cucumber sandwiches HERE, because it's become one of our go-to's for boat trips.
Trail Mix
Trail mix is a crunchy and satisfying snack that's a great choice for boating. It's easy to carry in individual containers and provides a variety of flavors and textures to satisfy your snack cravings during your boat ride.
Sports Drinks and Iced Tea
It's important to stay hydrated on a warm day, so pack a few cold beverages, like sports drinks and iced tea to keep you refreshed and replenished throughout your boating trip. Don't forget to also bring water!
Chicken Wraps
Chicken wraps are another good idea to bring on the boat. You can also do lettuce wraps for anyone looking for a healthy snack option. But remember preparation is key to making sure you have a delicious and fresh wrap.
How to Store Food on a Boat
When it comes to packing a snack or lunch for the boat you need to be prepared to store the food. If your boat does not have a mini fridge, then it's a good idea to bring a cooler or ice chest. That way you don't have to worry about fresh produce or cold foods going bad on a hot summer day.
Individual Containers and Cooler Box
To ensure your boat-friendly food stays fresh and doesn't take up too much room, use separate containers, plastic wrap, and aluminum foil to cover sandwiches and snacks. This will make it easy to access your snacks and meals throughout the day.
Cooler Box and Containers
Click on any of the pictures above to shop for the items directly from Amazon. Cottage Living and Style may earn a small commission at no extra cost to you!
Lunch Ideas for Boating
Here's a quick list of our favorite lunch ideas for the boat.
Cucumber sandwich 
Chicken wraps
Walking tacos
Pasta Salad
Chips and Hummus
Burgers
Cheese and Crackers
Fruits and Vegetables
Dinner Ideas for Boating
If you're looking for an easy meal to bring on the boat, I suggest the following because you don't have to worry about heating or reheating. The key is in the preparation of these boat food ideas.
Cheese wraps
Steak wraps
Roast Beef Sub
Chicken Cesar Salad
Tuna Pasta
Cold Rotisserie Pasta Salad
Chicken Cesar Wrap
Vegan Burrito
Boat Appetizers and Party Food Ideas
We've been to a few yacht parties over the years with friends and these are our favorite appetizers and party food ideas to bring:
Charcuterie boards
Tortellini Skewers
Wine (red wine and boats are a no)
Pasta Salad
Mini Cobb Salad Kabobs
Steak Bites
Goat Cheese Stuffed Dates
Remember that safety is a priority on the water, so be sure to have enough food and beverages to keep you fueled for your boating adventure. With these delicious boat snacks and meal options, your boat day will be a great thing to look forward to, and you'll have the perfect way to enjoy a day on the water, whether it's a pontoon boat trip, a boat ride, or an open water boating excursion.
So, pack your cooler box, grab your favorite boat snacks, and head out for a fantastic day of boating with these tasty and convenient boat-friendly foods. Enjoy the beauty of Canada's waterways while indulging in some of the best foods for boating!