How to Incorporate Mid-Century Modern Design in your Dining Room
Welcome to Stephanie's Home Series, a new vertical that we are extremely excited to explore. While we love sharing stories of our own design journeys, makeovers, and renovations. We also know it's really hard for new readers to find us without giving the Google gods some of the articles they want to see. So our hope is by writing a new design series, we will be able to give you a better look at what goes on behind the scenes, and an opportunity to share your thoughts and opinions on these projects. That way you can be a part of the real home journey, and all the design fun that isn't shown in the magazines or on Television.
Hello friends! I am so excited to finally be sharing the start of our Mid-Century Modern dining room design. It's a project that I have wanted to do ever since we bought this house. But with everything that has happened over the past few years, a lot of our projects like this one took the back seat.
But I am happy to say we've just checked off one of the bigger to-dos on the list.
The floors!
And by "we" I really mean Tony and our amazing neighbor Jesse, who did most of the work. They installed new floors throughout the entryway, living room, hallway, kitchen, and dining room.
Saying it was a big project would be an understatement. But you can read all about the process of installing luxury vinyl flooring and the exact flooring we choose.
Mid-Century Modern Dining Room Design
This is the Dining Room Today
I'll see if I can pull up some of the realtor pictures of our dining room because this space has come a long way since we first moved in. It's actually crazy what a new dining room table, a new light, and some furniture will do for a room!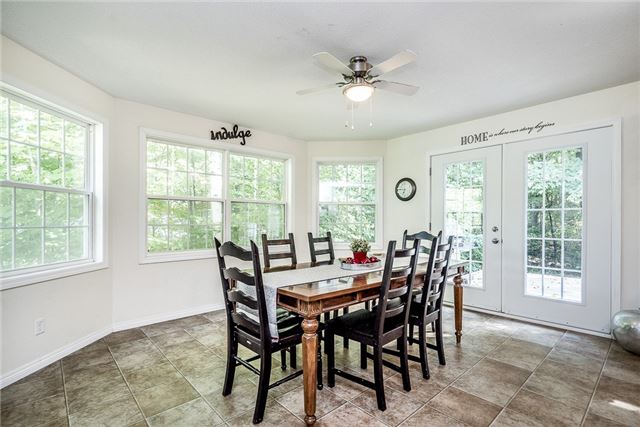 As you can see the space has a ton of potential. In fact, one of the biggest reasons we bought this house was for the dining room. I love how (in the summer) you almost feel as if you are in a hidden little cottage in the middle of a forest. Totally magical.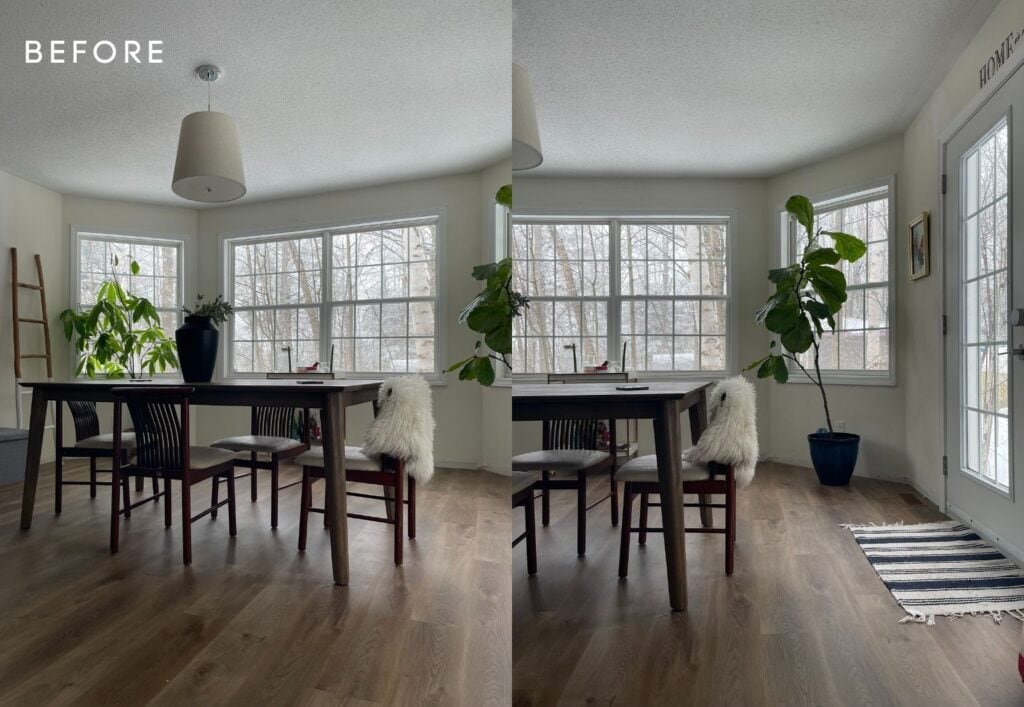 Once the leaves grow in, they cover the bay windows, and the forest leads around to the patio doors and out onto the backyard. I have dreams of turning it into an indoor, outdoor dining area. But for now, we'll just focus on one project at a time.
The Challenges
Bay Windows – As much as I love the big windows, they will be a pain to design around. Not only will I have to tear out the existing trim around the windows, but I will alos have to figure out a use for that space. Especially since our home is only around 1200 square feet, we need to make sure everything has a purpose. At first I thought maybe I'd build a window seat, but I think the space is just too large. We also thought about pushing one of the cradenza's along the windows, but they would obstruct the view since the windows sit so low. So we are still tying to figure out exactly what we can do there.
Weird Angled Walls – You'll notice in the photos there's a mirror that sits across from the patio doors. While I'd like to say I had intentionally styled it that way, I didn't. Instead that mirror ended up being the perfect size to cover (but still access) our electrical pannel. I was thinking about finding a vintage or thrifted painting there instead, but I'm open to suggestions.
Sourcing a New Light – The current light was one I bought on sale because I didn't like the original one that was there. But it does not fit our mid-century modern style. Which brings me to, the search for a light that not only compliments the kitchen island light, but one that doesnt compete with it either.
Now that we have our list of challenges, I can begin working on a proper design plan. Lately, my nights are spent cruising Pinterest in search of the inspiration for the perfect dining room.
The Inspiration
When it comes to the inspiration behind this project, we're leaning towards a mid-century modern design. It's taken a little longer for us to see the style of our home, mostly because it is a newer build, which is not always easy to define.
Dakota Johnson's home was featured on Architectural Digest a few years ago, and it remains one of my favorite homes. I think the mix of wood tones, color, and patterns remind me a lot of my family cottage. Again, playing into the mid-century modern style and form we're taking a lot of inspiration from this particular room.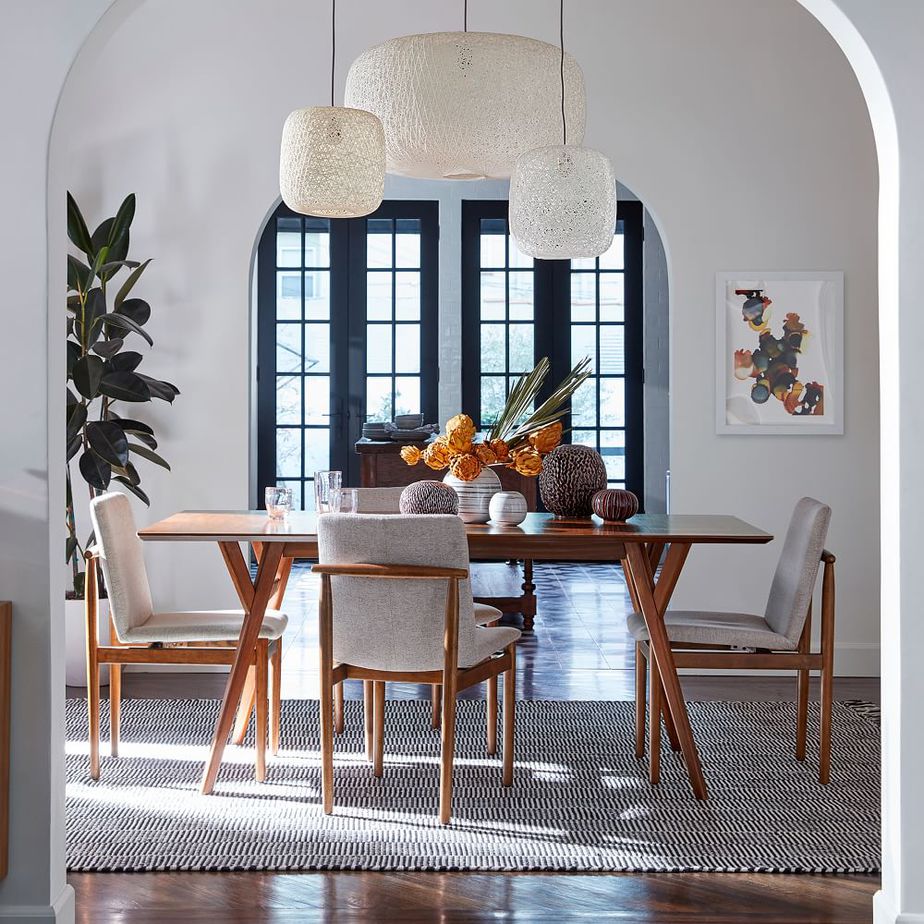 The mix of wood tones seems to be a theme here, and West Elm does it well. I am interested in mixing the redwood of my grandmother's furniture that I inherited, with the burnt oak floors and natural wood of our new dining table.
Another thing I wanted to note was the lighting. I'm paying special attention to the type of lighting that was used in this Mid-Century Modern dining room design. Specifically, the pendant lamps, seen above.
We'll finish the tour with this dining room design. Art is a big source of inspiration for me, and I really want a space that I can incorporate more of my Indigenous art into. If you didn't know, my entire family on my mother's side are all Ojibway artists and makers. Naturally, we've collected a lot of their art and crafts, plus some of my own paintings that I plan on re-purposing into this design.
The Mid-Century Modern Dining Room Design Board
Finally, the mood board you've all been waiting for. Let's get into a quick rundown of the dining room design.
1.Lucent Pendant Light | 2. Indigenous Art (locally sourced) | 3. Vintage Chairs | 4. Macrame Wall Hanging | 5. Modern Komfort Dining Table | 6. Sheep Skin Rug | 7. Fuzion Flooring | 8. Fiddle Leaf Fig | 9. Geometric Wallpaper
I'll be the first to say that this design will probably change a time or two before the final reveal. But that is usually what design is all about! Actually applying the skills, making mistakes, trying different furniture, and not being afraid of change.
Let me know what you think in the comments, let's chat! We really want to know your ideas and opinions.
Join us next week for another episode of Stephanie's Home and see her dining room come to life!