The Picky Eaters Guide to a Simple Pasta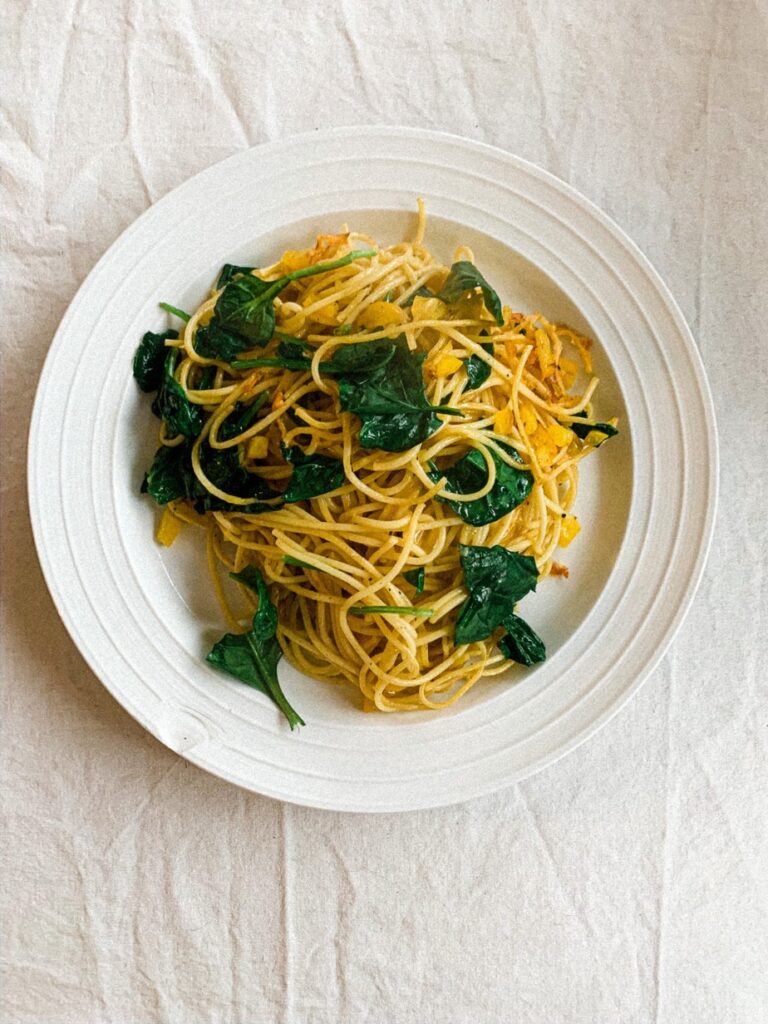 In our household, we're huge pasta fans and we probably eat pasta at least once a week. Lately, I've been trying to be more creative with recipes. The trick is to add more vegetables to our meals while still cooking something our toddler will eat.
This recipe came about a few months ago when I remembered this pasta dish my mom would make when I was a child. It's a recipe she created when I was going through a picky stage and refused to eat any kind of vegetable. She would sneak them in my pasta and being a kid I'd eat almost anything she put in my spaghetti.
Turns out this is still my favorite simple pasta recipe. It's delicious and easy to make which is a perfect weekday meal for either you or your entire family.
Picky Eater's Guide to a Simple Pasta
It's funny because as soon as I was an adult, I suddenly craved more vegetables in my meals. Now we cook almost every meal with some kind of vegetable in it, including breakfast. Some of my favourites to add to this meal is:
Mushrooms
Tomatoes
Peppers
Kale
Brussel Sprouts
Bok Choy
Broccoli
Spinach
You can obviously add as many different kinds of vegetables to this plate. But I would recommend sticking to three different types, and maybe even one if you're introducing your child to new vegetables. In case you have a picky eater as well, then make sure you use small chopped vegetables to start.
My Favourite Simple Pasta to Make!
Course: Dinner
Cuisine: European
Difficulty: Easy
This simple pasta recipe is my go-to on week nights when I don't feel like making a bit meal. It's also one of the only ways I've been able to get my child to eat more vegetables, and still enjoy dinner.
Ingredients
4 oz of spaghetti noodles

1/2 tsp. of sea salt

1/2 tsp of black pepper

6 large basil leaves roughly torn

1/2 pepper

1 cup of kale

1 medium carrot that is diced or chopped thinly

1 cup of spinach

2 tbsp of minced garlic

1/4 cup of chopped onions

1/2 stick of butter

1 tsp of olive oil
Directions
Add sea salt and spaghetti noodles to boiling water.
Drizzle olive oil on a hot skillet.
Sauté onions and garlic for 1-2 minutes before turning down the temperature down to medium heat.
Before onions and garlic is fully sautéd, add carrots and peppers.
When the noodles are done, drain and set aside until carrots are slightly browned.
Add butter to cooking vegetables.
Put in the leafy vegetables next, mixing in the butter and giving it a good mix.
Now add the noodles into the pan and mix the vegetables together.
Leave on for only a few minutes, adding more butter if needed and cheese until it is melted.
Remove from hot skillet and serve immediately.
Notes
Serve with black pepper, sea salt, fresh parmesan, and warm bread!
Pairs well with red wine.
If making for the family double the recipe
+ If you're looking for more recipe inspiration, Dini Klien has the perfect solution ( and a free monthly subscription to Prep + Rally for free!)
Have you checked out our other recipes?
Whole 30 Chia Seed Pudding Recipe
8 Keto Friendly Recipes Perfect for Family Dinner