The Best Fathers Day Gifts for Boaters
When it comes to picking the perfect fathers day gifts for boaters we've made it really easy. We've also included gifts for boaters under $50.
Father's Day is right around the corner! We've been seeing a lot of great father's day gift ideas, but we felt like there was something missing for the dads who love boating.
Which is something we know a lot about. Not only does my father love boating, but so does Tony. Which is why I hope this gift guide helps you choose the best boat gifts for your dad, husband, or father figure.
Because I know how hard choosing the perfect boating gifts for him is. Especially, if your dad is anything like mine. He's someone who has everything and more, which makes gift-giving really hard.
The Ultimate Father's Day Gift Guide for Boat Lovers
Since father's day is June 19 this year and we know that's short notice. I wanted to make sure you had a lot of options for quick shipping. So many of the git ideas we're sharing are from either Walmart or Amazon.
Father's Day Gifts for Boaters Under $50
We've put together the ultimate gift guide for the boat captains in your life. Not to mention, everything on this list is under $50!
Any boater knows you need a good pair of sunglasses. These polarized sunglasses not only look stylish but over 1,800 people rave about how perfect they are for boating, fishing or any outdoor activity.
Give the dad who loves to enjoy whiskey or scotch, some beautiful glasses with Whiskey stones for the boat.
While most boats have speakers built in the boat, our dad also loves the portable waterproof speakers the most. It's easy for him to bring in the dingy, on the beach or even when the kids are swimming off the boat.
This father's day we gifted our dad a captain and first mate hat for my mom and him.
A necessity for ANY boater are the Yeti Tumblers. They are amazing, great for taking your coffee or tea on the go. It's still one of our most used gifts we've ever given.
Abu Garcia is a classic in the fishing industry, and why not deck father's boat out in a few new fishing rods.
The Zebco is a great option as well when it comes to fishing. We wanted to include two different options that can both be purchased in time for Father's Day from Walmart.
The 6 in 1 Boatiing tool is actually genius. It has te most commonly used tools boaters use, as well as accommodates both left and right handed users. It includes two universal deck keys, a boat shackle key, flat head screwdriver and a 1/4″ hex driver.
While this is technically a grilling father's day gift, we wanted to include it with the Magma boat grill (which we're sharing below).
Spending long days on the water means your father will need some cover from the sun. Both my dad and Tony love their long-sleeve crew shirt from Backcountry.
Best Boat Gifts for Dad
In this section, we're including more luxury gifts for boaters, including some ideas for mom and dad.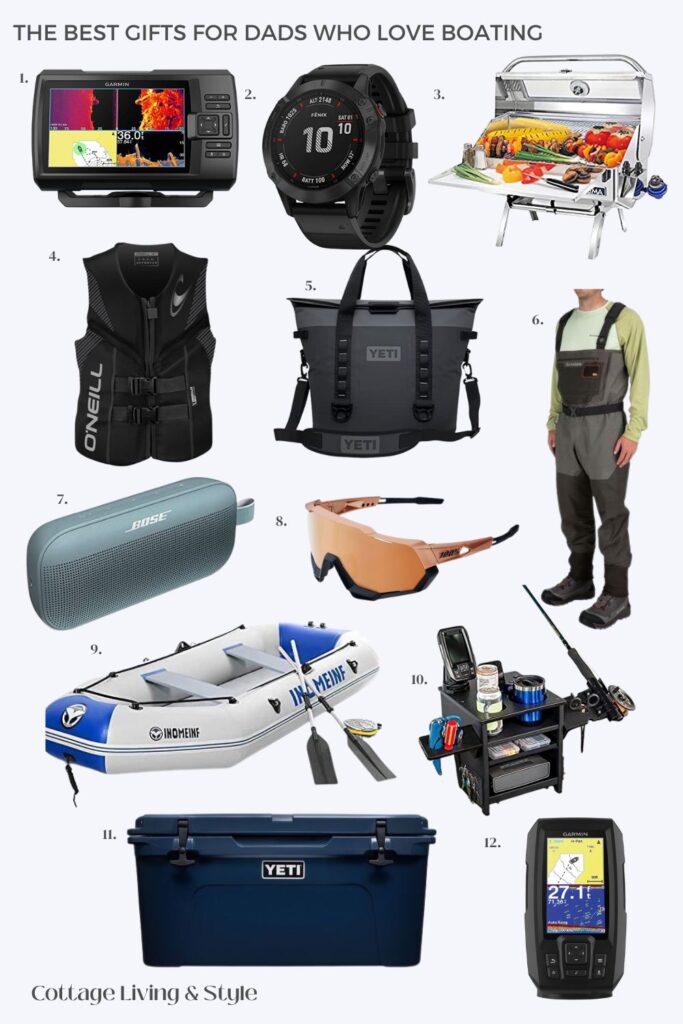 We've got the best boat gifts for boat captians in your life. We included things we've owned for our boat, gifts we've given my own dad and husband and more!
Marine electronics make a great gift, especially if it's the Striker 7 Garmin Fish Finder. This luxury gift is something the father in your life will use religiously, as it's easy to use 7-inch color screen will help distinguish fish and structures.
We love these speedtrap sunglasses from Backcountry. Not only are they stylish but they are perfect for spending time outdoors. Wheather you're father or husband is fishing, boating or spending time on the water these are the perfect pair of sunglasses.
My father has always had an inflatable Dinghy because it comes in handy. There's many times we've anchored off shore of some island and had to use our inflatable boat to get into shore. Trust us this is a gift they will use for years.
GPS watches are a luxury gift, but one that will be so appreciated! This GPS watch from Garmin has everything from mapping, music, pulse sensors and more! It's truly a wonderful gift any boater would be grateful to get.
I've had my eye on the Yeti Tundra Cooler for the hubby all year. It's great for those boats that don't have a bar fridge. We like to pack lunches, drinks and store snacks in the cooler. And why not have a cooler that looks great?!
Another practical gift that the captain in your life will appreciate. We know most boaters can't wait to be out on the water, and sometimes that means there launching in cooler weather. Which is where these handy waders come in! Keep your father dry this year with they high quality (dont cheap out trust us) waders.
Protect the guys with this Sun Hoodie. The water reflects so much light, you need to make sure you (your father or husband) is well covered as well. This is a light wear, comfortable short any man is sure to love.
Bose is a leader in speakers, and many boats now have Bose speakers. So why not gift a Bose Waterproof speaker this year! They can use it on the beach, in the Dinghy or pretty much anywhere.
The Garmin Striker Plus 4 includes a built in quickdraw contours mapping software, built-in GPS and sunlight-readable 4.3″ display.
New lifevests are on my list to buy this summer. We really need to upgrade ours on the boat and we thought it was a great idea for a gift. I prefer the O'Neill Life Vests over the old school red ones.
This is a gift the boater, grill lover father will love! This is a boat grill that attaches to the back of the boat and can be used when ever they want.
I came across this while I was searching for gifts that you can buy on Amazon, and thought it was a great idea! I just ordered it and I'm excited to see how well it works. Im sure the guys will appreciate some organization.
Pin this for later!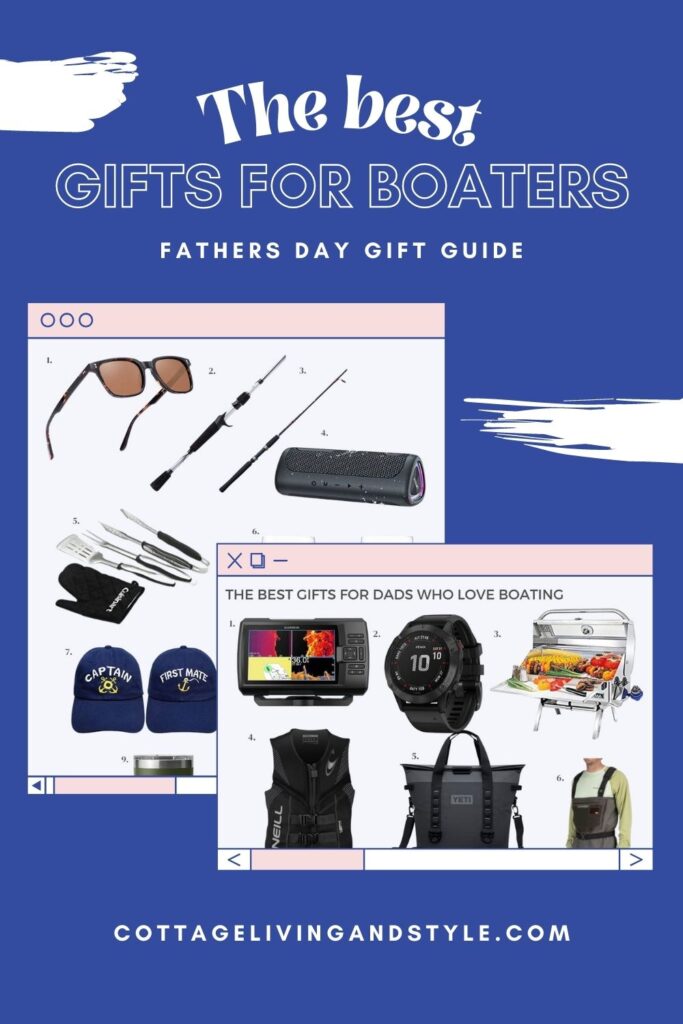 Looking for more content? Check out these great articles:
12+ Things to bring to the Lake House
15 Beautiful Ideas for your Cottage Garden