11 Space Saving Laundry Room Organization Hacks
This article shares 11 Cute Laundry Room Organization Ideas for Small Spaces and they are all affordable!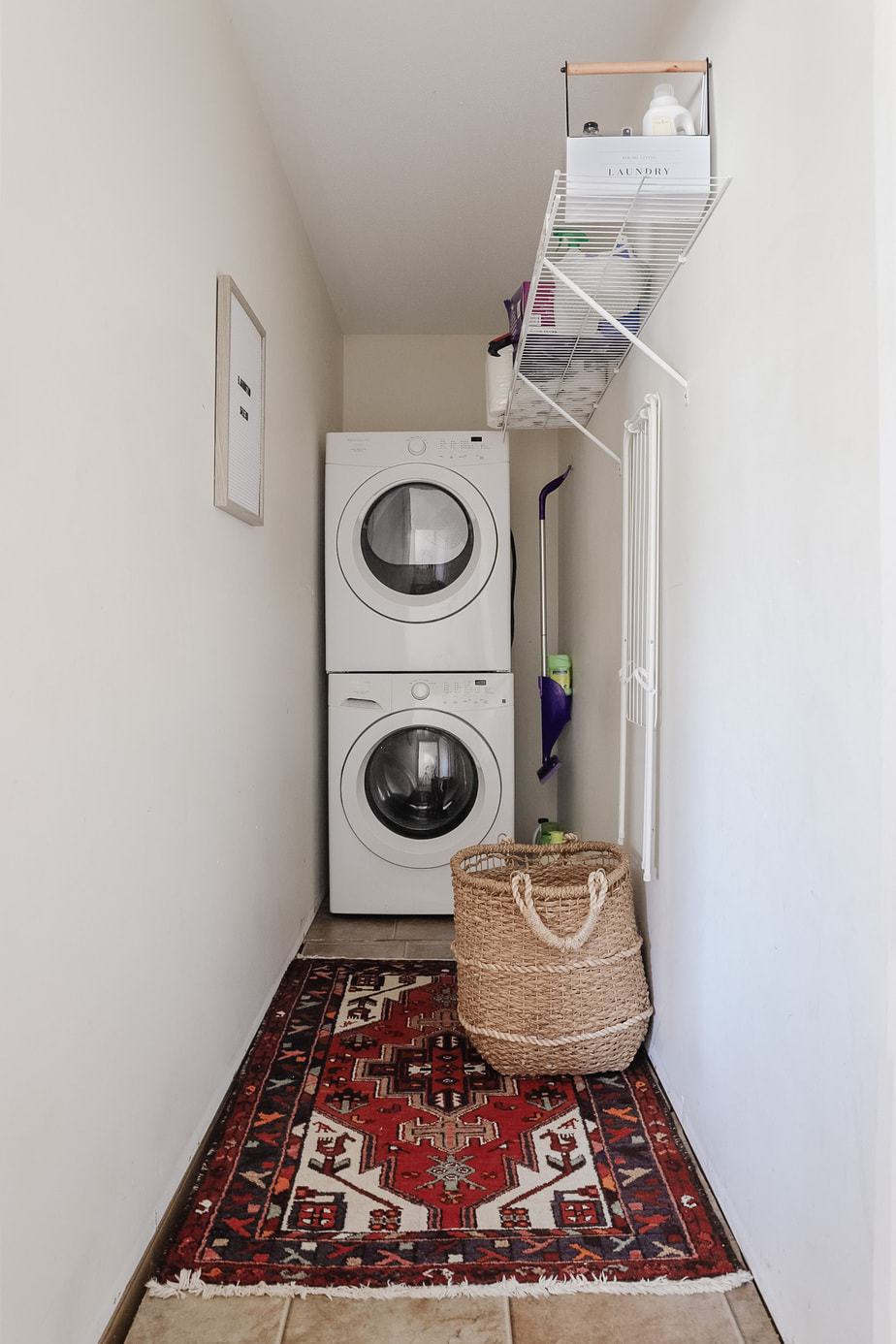 I never planned on sharing our laundry room, because well frankly, it's kind of scary. It kind of reminds me of the closet that Harry Potter lived in except this one is above the stairs.
We are planning on moving the laundry room into the basement at some point. It's a really awkward space that I'll never understand why the previous want it. But it'll have to wait to until next year.
In the meantime, I am tired of tripping over brooms, vacuums, and other random things every time I want to do laundry. I mean it's hard enough actually doing laundry some days, and going into a dungeon doesn't exactly make it any easier.
So I figured we had a few weeks to work on updating and working on some laundry room organization. Hopefully, this will help with your scary laundry room into a more functional and organized space too.
Laundry room organization Ideas when your Short on Space
Take a look at where we started with our small laundry room. But with a few simple changes we turned this into a more functional and organized room.
Our main issue isn't just the lack of space, but it's also the awkward design. If you look closely you'll see the floor actually lifts up and that's where our basement is. It's not a crawl space and I'm so mad they didn't properly think about the design. But here we are, dealing with what we can at the moment. Here are some of the tips I've recently learned when it comes to laundry room organization and small spaces.
Use Shelves to Organize
If you have a lack of floor space or space in general, try to go vertical instead. Our wire shelf was from a closet makeover we did a few months ago. But you can purchase something similar from Amazon for less than $50. It's a great budget-friendly option for right now, but we do plan on switching it out for a wooden shelf soon.
Rolling Baskets
Rolling baskets make it easy to navigate the laundry room, from sorting to folding. I usually take our basket to the kitchen or living room where I can sit, fold and then put our clothes away. I never realized how much I'd love a basket on wheels, but it sure beats carrying around the other heavy overflowing laundry baskets everywhere. Plus they look cute!

Use a Pegboard
This is perfect for small spaces, and I think we will end up adding one to our laundry room wall. I actually saw a friend use it in her laundry room and I haven't stopped thinking about it sense.

Laundry Closet Makeover
This reminds me a lot of our first place together. It was a beautiful condo downtown Toronto, and you have to make do with the space you have. We had a laundry closet, that worked really well. We used the door to hang brooms, mops, and anything else that would get in the way. Plus it was a good way to hide your laundry at the end of the day.

Use Robe Hooks
I'm a fan of making the most of what you have, and I found some old robe hooks to spray paint. The plan is to replace the command hooks that I have there now with something more sturdy. Right now we have our foldable drying rack and iron board hanging from them.

Matching Storage Bins
This is a major tip that I'm always utilizing. If there is any way to make a space look uniform it gives the illusion of looking more organized its using matching storage container. It all depends on your style but I like sticking to wooden or wire baskets.

Use Glass Bottles
Another tip that will instantly make any laundry room look good regardless of size is by ditching plastic containers for glass bottles. I hate plastic in general and we recently made the switch to non-toxic cleaning products that I can refill whenever we need. We also make our own stain sticks using glass rollers, pump bottles for soaps, and canisters for powders.

Hang Drying Bars
I loved this idea when I first saw it. I think it's a great way to make use of empty space and also be functional. We like to hang dry as much as possible and if you don't have a backyard clothing line I think this is a great option.

Cute Lint Bins
I came across lint bins when I was researching tips to share and I totally bought one! It's a cute idea and I really love the ones that are magnetic. You can hide them on the side of your dryer and it looks so clean. Linking my favorites below!

DIY a Laundry Sheet Dispenser
We're totally DIYing a Laundry Sheet Dispenser this week! This was an idea I came across on Sugar and Cloth, and I've linked it here in case you were interested.

Label Everything
I'm a huge fan of labeling things, in fact, I just got a Cricut machine so I can make my own vinyl labels. But in all honesty, I now know it will make life easier especially for my husband. He now knows where to find what he's looking for and where to put things back. Here are some of my favorite Etsy stores that sell labels.

I hope this inspired your own laundry room organization hacks and let me know if you have any to add? I'm always looking to learn more tips and tricks especially when it comes to organization.
For more organization check out these articles:
11 Nursery Organization Every Mom Needs to Know About!
How to Organize a Kids Closet Once and for All
A Guide to Styling a Shelf with Things you Already Own