The Cutest Granny Suite Cottage Tour
This article is all about our cute granny suite cottage and everything we plan on doing with it.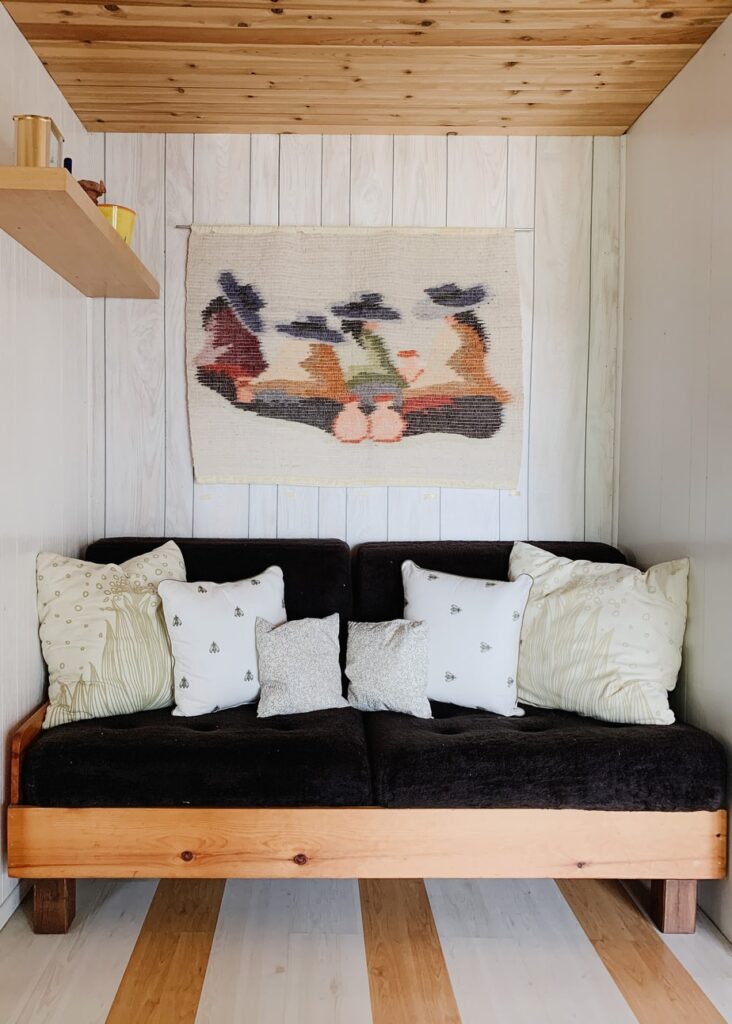 I have so many mixed feelings about sharing the granny suite cottage tour with you all. On one hand, I am beyond excited to spend summer days here, updating the decor and doing a few mini reno's over the next year or so.
But on the other hand, as the name says it was a granny suite. It was my grandmother's cottage. It was where she spent so many summers, and really showcasing her Caribbean inspired decor.
She passed away suddenly just over a month ago, leaving her cottage to me and my family and we begin a new chapter in our family life we will take you guys along for the journey.
So please join us for the granny suite cottage tour as I walk you through this space and share everything I plan on updating. I also don't want to change too much but instead make it ours by adding things like tiles, rugs, and other decor pieces to fit our family's needs.
Follow us on our tour of our cute Granny Suite Cottage!
The Granny Suite Cottage Tour
Cottage Style Kitchenette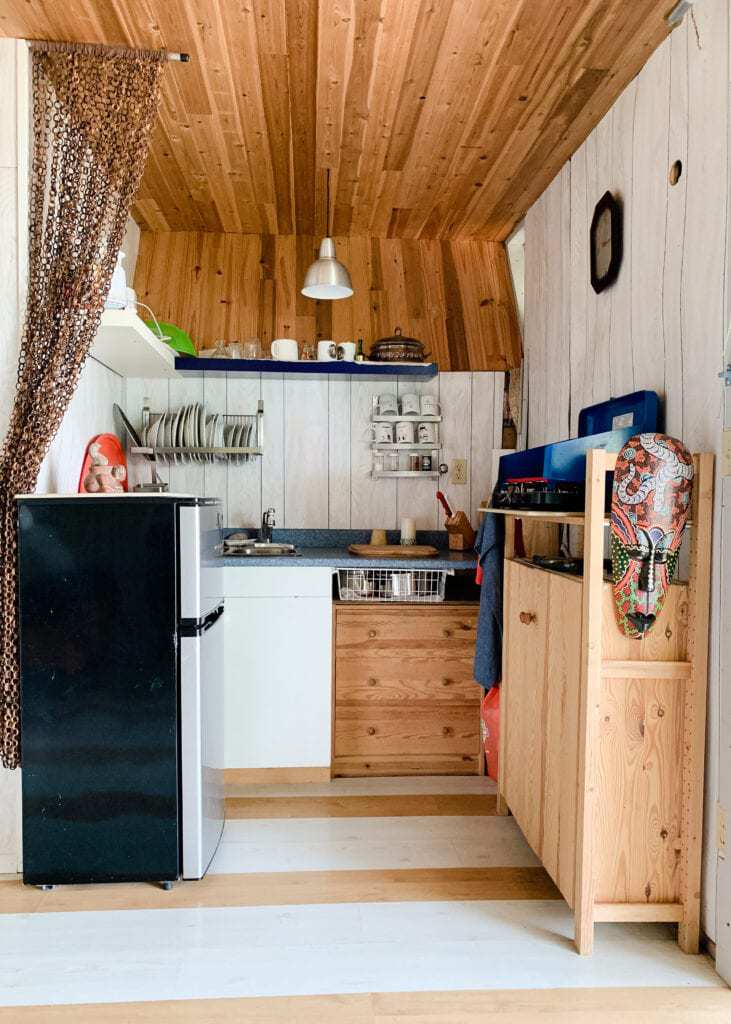 Most kitchenettes feature a stove and microwave but our cottage style kitchenette is equipped with only a mini-fridge and a gas cooker. Which is perfect for cottage mornings cooking bacon and eggs or even the freshly caught fish for dinner. We have a small toaster and kettle but I think I will be adding a small blender for my morning smoothies.
As for updating this part of the Granny Suite Cottage, I think I will be moving the mini-fridge into the front closet to make more room. We will also be looking into replacing the panel walls in the kitchen with tiles for the backsplash and drywall for the rest.
Outdoor Dining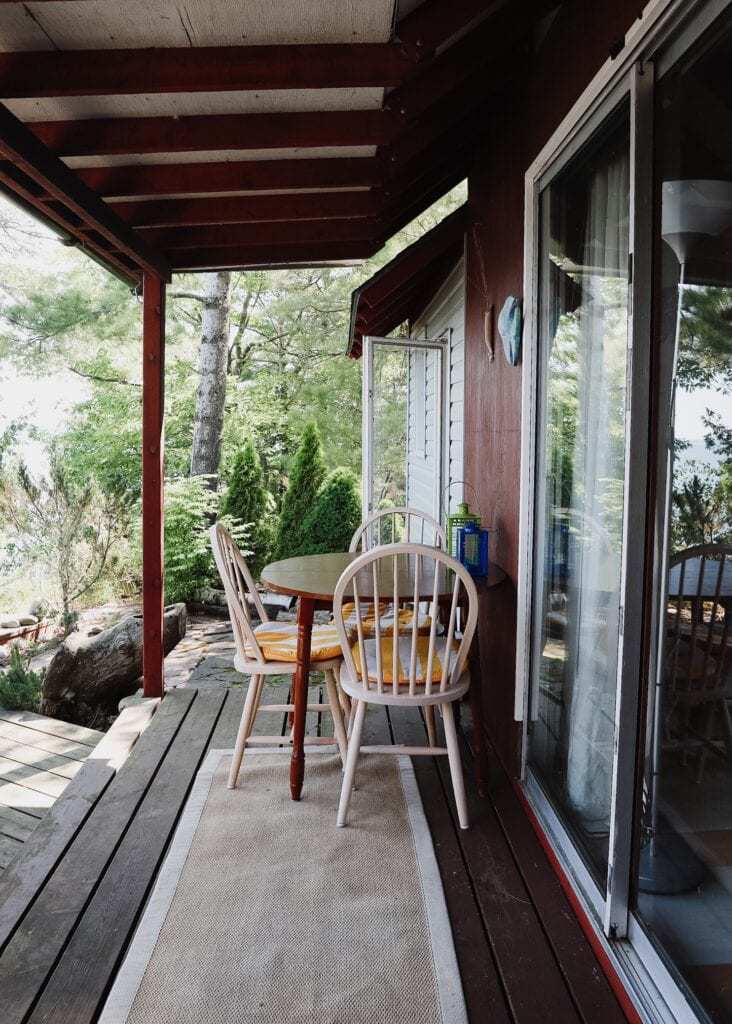 I LOVE the outdoor dining! I picture starting my mornings with a coffee and a book while Penelope eats her cereal. For dinner, we can light a candle, have a glass of wine, while we eat fresh fish, and vegetables. There isn't much I would change if anything. I'll probably just get a few new placemats and a couple of cheap candles and maybe put up the crochet hammock I bought.
Lounge Area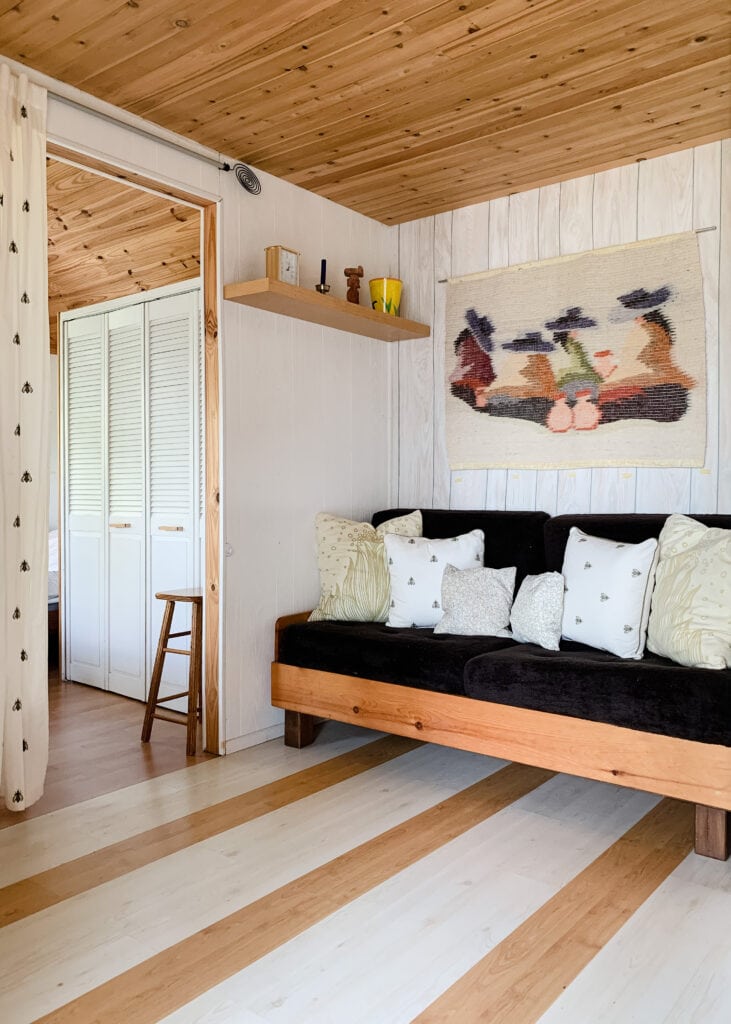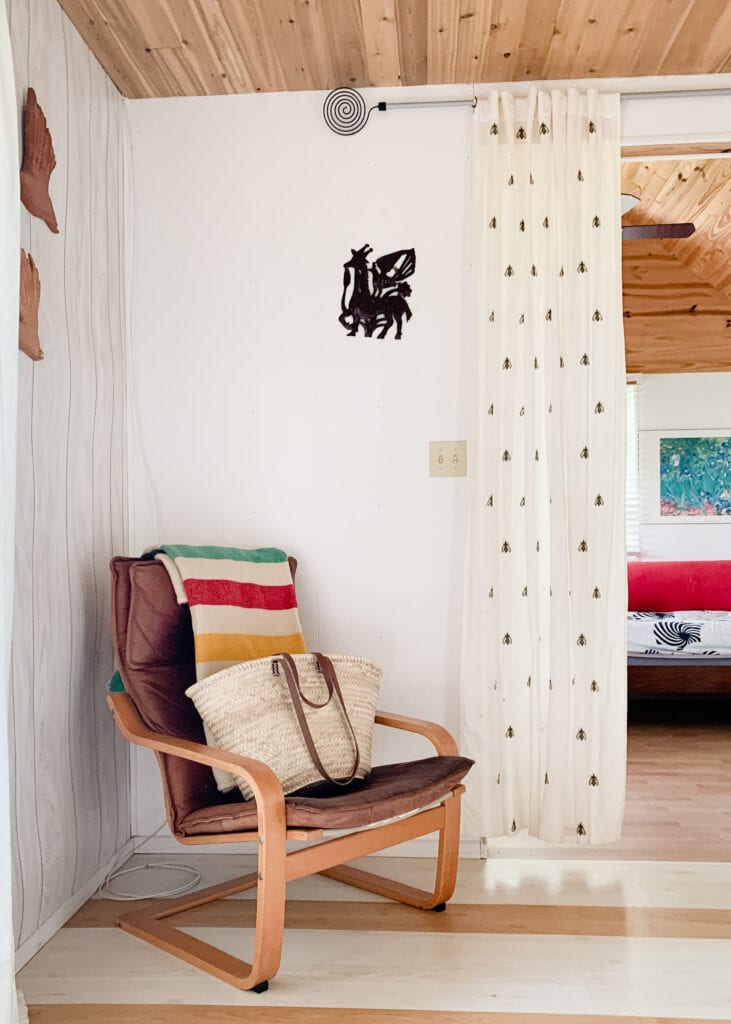 I'm not sure if this space was originally supposed to be an extra bed for company. But the dark cushions have seen better days and I will be looking to replace them either by purchasing something that will fit this space. Or I will be looking into getting some custom replacement cushions. For now, I love the accent pillows and even the Ikea chair.
The biggest impact will be when we update the panel walls with drywall and paint. I honestly didn't mind the look of them but as you can see in the picture above the panels have started to warp from the moisture. It also has a bit of a smell to it, so that will be the first thing to go when we start renovating.
The Bedroom
If I had a favorite part of the granny suite cottage tour it would be this room. It's the bedroom and with the high ceilings, wood panels, and the big double door closet. I love the brightness of this room, and I won't be changing anything structurally with it. I will just be updating the bedding, pillows, and finding storage bins for the closet to place anything we're not using. Also, I will be adding a large area rug to feel cozier especially in the evenings and early mornings when it's still cold out.
The Bathroom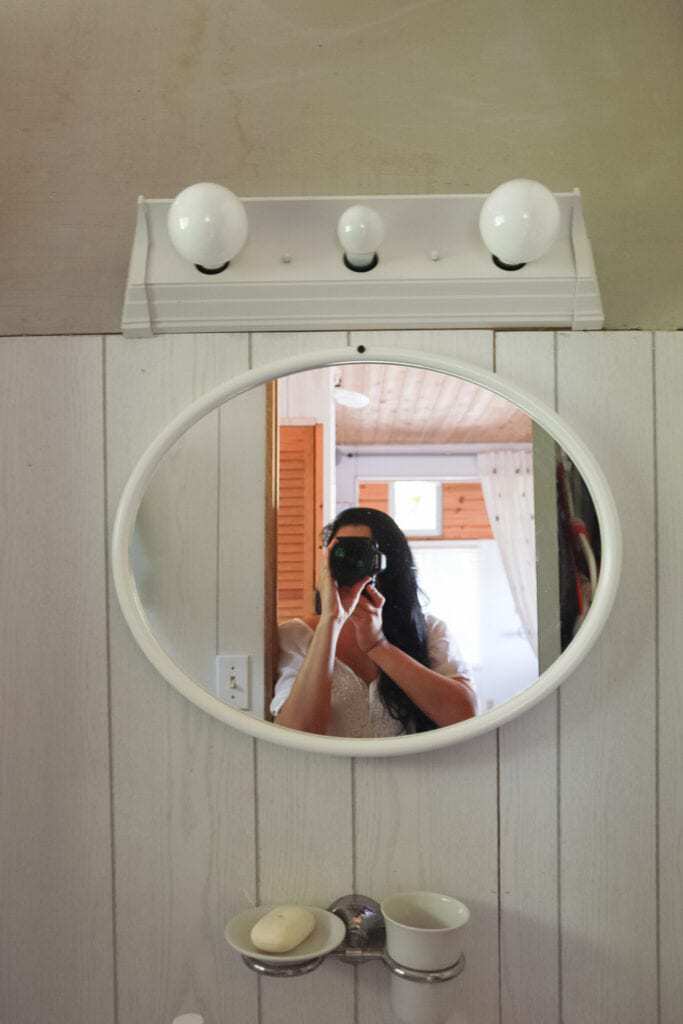 The 2-pc bathroom has everything except a shower. This isn't a big deal because we can use my parent's shower or just bathe in the lake as my grandparents would do. Again there isn't much I will update besides the panel walls that need replacing and finding matching light bulbs. I will probably add a new mirror and see if we can add tile to the floors and around the sink.
The Deck
I picture sitting out here with one of the new books I bought and just listening to the waves hit the shore. Maybe enjoying one of my favorite Ontario wines or just sitting here with my daughter and enjoying the view.
I will be adding a few new plants to the deck, I'm thinking a palm or two, maybe a few little shrubs. The paint is coming off so I will be pressure washing it and staining it. Also, I will be looking for a large pot to house a few more outdoor plants and of course an umbrella to keep us out of the sun.
I hope you enjoyed the granny suite cottage tour and a glimpse into our plans for it. Renovating it is not something I will be rushing to do anytime soon, as we are still working on updating our home. I will be looking forward to decorating and adding my unique touch to our new cottage.
If you want to see more behind the scenes check out my Instagram because I will be adding updates almost every weekend this summer.
Also, let me know if you have any questions about granny suites or any other questions if this is something you are looking at doing add to your home or cottage.
For more cottage content, check out these articles:
The 12 things you can't leave to the cottage without!
Easy DIY to update for old panelling on a budget
5 Cottage Projects we're doing in 2021
Don't forget to Pin this to come back to!