How we styled our Halloween Dining Room Decor Last Minute
This post is sponsored by Birch Lane.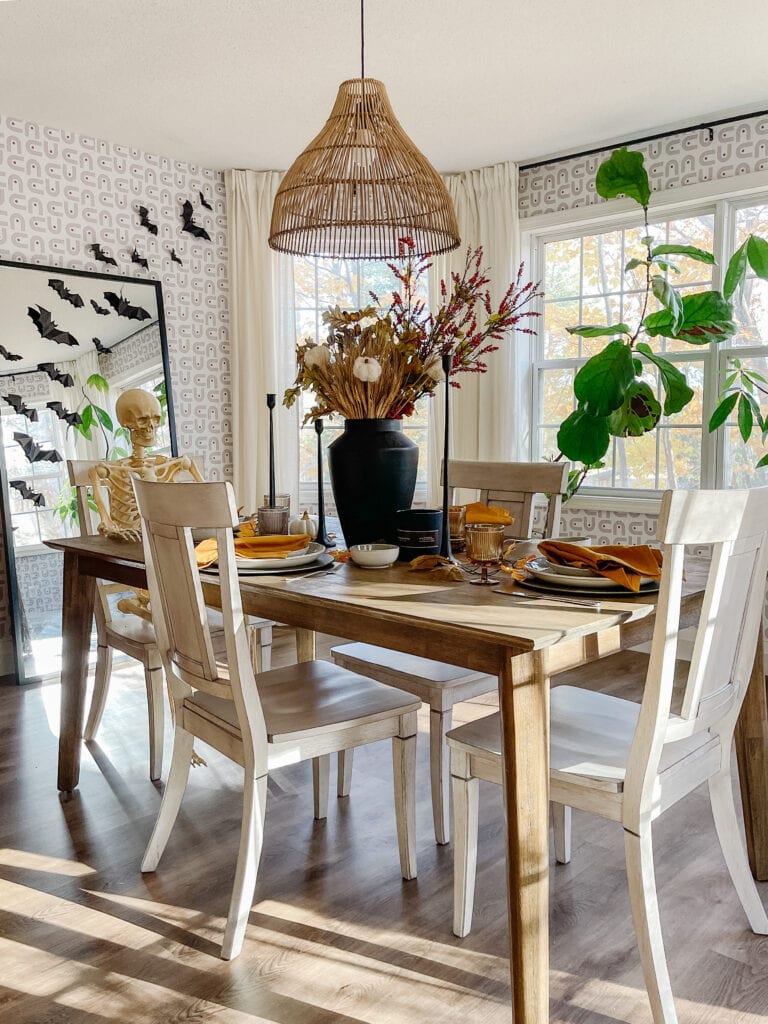 Normally, we plan our Halloween content months in advance but this year was a little different. Unlike other years, which were filled with fun DIY paper bats, and Halloween decor for kids bedrooms. I felt uninspired and certainly not in the decorating mood, possibly just exhaustion from all the renovations we've been doing.
Then Birch Lane reached out to see if we'd be interested in styling an area in our home for Halloween.
I thought would be the perfect excuse to show you how I styled our simple halloween dining room, using a mix of things we already owned and a few multi-purposed decor that can be used anytime of the year.
On a side note, I do think that it's completely normal to go through phases where you don't feel like decorating. But that's also not as easy to get away with when have kids. Which is why I wanted to share some quick and easy styling tips, with mininal decor you probably already own.
Halloween Dining Room Decor
But first a little about Birch Lane, because I think you'll love them as much as I do. If you haven't heard of Birch Lane before, they're owned by Wayfair. Meaning they make beautiful furniture and decor, and their shipping is quick. Birch Lane's furniture and decor is perfect for farmhouse, coastal, traditional and cottage style homes.
So I quickly placed an order because I wanted to hopefully style our dining room for Halloween. I had no idea if our order would arrive on time, but thankfully it did (I love Wayfair for that). I also ordered the perfect dining room chairs, finally completing the dining room makeover I've been working on for months.
Anyway, lets get into the tips I used to style our Halloween dining room decor. We had a limited budget and even shorter timeline to finish it. But we did it, and I love the way it turned out.
You can also see more behind the scenes and videos on Instagram.
Use What you Have
My first tip is to use what you already own. I was shocked the other day when I was watching the news. There was a lady talking about how she buys new halloween decor every single year. She'd be embarrassed if people saw her with the same decor from the previous year.
That alone stopped me in my tracks.
Which is why I think it's important to only buy seasonal or holiday decor that's timeless and will be used year after year. But it's also impractical and unethical to throw decorations in the garbage after one season.
Obviously, I wanted to avoid buying new halloween decor. So I shopped our house, and came across "Fred" our 5ft skelaton (currently on sale for $14). Which I styled him sitting on our Fortville Side Chairs, like he was waiting to eat a meal.
The chairs are in antique white, sturdy and perfect for our cottage-style dining room. We'll also continue to use them after halloween, as I'm sure you'll see them around for our Holiday shoots.
If you're particularly short on time, don't underestimate the power of a full size skelaton and some paper bats!
DIY Decorations
Tip number two is to DIY whatever you can. Last year, I shared how we DIYed paper bats to hang on the wall. Which I even managed to save, and did it again but this time on the mirror. We stuck them using double sided tape, and I love the way they look!
This obviously takes a bit of effort, but it's really inexpensive and can be a fun craft with the kids.
Othertimes, it's a matter of foraging for some branches like we did. Fall (depending on where you live) often provides us beautiful branches full of rich colors. So why not add those branches to your tablescape?
Find Use for Everyday Items
Our new Edinburgh Stoneware Dinnerware set is the perfect example of something that has multiple uses. It adds a little more color and texture in our tablescape without using plain white plates.
Next we added a mustard yellow cloth napkin, and these great Furman Galvanized 4 Piece Charger Set to complete the look.
These are every day items that are easily doubled as Halloween decor. Finding things that aren't necessarily meant for Halloween, but fall into a certain category either in the color or texture.
If you must buy something new, make it something you can reuse over and over again. I'd avoid themes, too much color or anything you think will look dated in a few years.
Our Olivarez 3 Piece Iron Tabletop Candlestick Set, is another great example of something that's timeless and can be used throughout the year.
Okay, I think that's it! Let's talk in the comments about easy halloween decorations. Or just what you did this Halloween, since this is coming out on Halloween night. Maybe next year I'll feel like decorating much earlier.